Bangladesh Prime Minister Sheikh Hasina must be on cloud nine due to the accolades she has received from world leaders on the sidelines of the United Nations General Assembly meet (UNGA) at New York recently.
Praise was showered on her for aptly handling the complex Rohingya crisis and for her humanitarian approach towards the over 700,000 displaced Rohingya currently sheltered on Bangladesh soil. 
The UN Secretary General, Antonio Guterres, perhaps went rather overboard in complimenting Hasina with his generous remark: "You can be the role model for many other heads of state."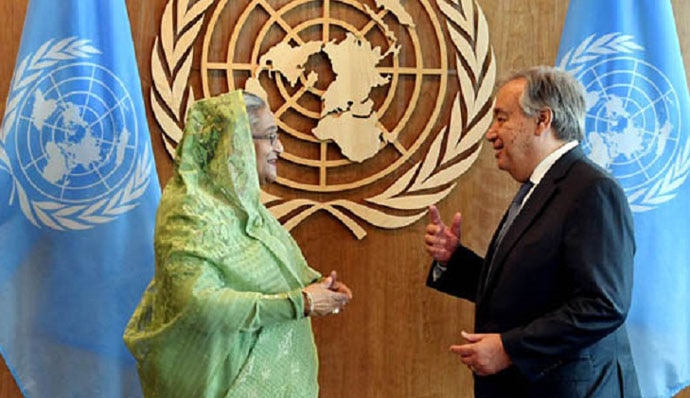 Sheikh Hasina was haild by the international community for her handling of the Rohingya refugee crisis. (Photo: Twitter)
Now, this is a huge recognition of Hasina's performance and leadership. However, the Secretary General also told Hasina, in a cautionary tone, that he hoped the upcoming elections in Bangladesh would be fair and participatory. This comment shows that world leaders are possibly apprehensive about the Bangladesh elections — expected in roughly 100 days — being free and fair.
So, with a newly glowing reputation, Hasina is now heading home amid numerous election challenges and expectations from the international community. While the Prime Minister will naturally fight hard to retain power, she equally needs to be seen in the eyes of the world as impartial. 
The western world has not taken kindly to the two previous elections (2009 and 2014) in Bangladesh. Given her political astuteness, Hasina is unlikely to factor the western "cautions" too much, and will go to polls firing from all cylinders.
However, the election does not seem to be a cakewalk for her.
Here, it is imperative to discuss the political scene prevailing in Bangladesh to put things in a realistic perspective. 
The main political adversary of Hasina's Awami League (AL) is the Bangladesh Nationalist Party (BNP). The BNP is poised to jump into the electoral fray this time, despite its leader Khaleda Zia's incarceration.
There is intense pressure within the BNP to take part in the elections, as they are gradually getting isolated from mainstream politics. Their boycott of elections in 2014 cost them dearly in political terms.
Another important aspect bothering the BNP is to divorce its ally Jamaat-e-Islami. Association with the Jamaat has brought abundant disrepute to BNP, and the saner elements within reckon that the hardline party has to be abandoned to win the trust of the people and to remain afloat in the political mainstream.
The BNP is poised to contest the polls this time, despite its leader Khaleda Zia's incarceration. (Photo: Reuters/File)
If the BNP does distance itself from the JeI, the contest then will be directly between it the AL.
In that scenario, according to political pundits in Dhaka, Hasina's AL is likely to get only about 160 to 180 seats — a two-third majority — while the BNP will probably secure 80 to 100 seats.
There are other anti-Hasina forces trying to defeat her.
Sheikh Mujib's confidante and his erstwhile foreign minister, Dr Kamal Hossain, also a constitutional expert and founder of Gano Forum, has aligned with former president and BNP-inclined Dr Badruddoza Chowdhury, along with other splinter groups of little political significance, against the AL. This, however, is a non-starter, because these leaders don't have any grass-root support.
This said, it would still be advisable for Hasina to keep a few popular faces with her in run-up to the elections, to preempt any move to eat into her vote bank. One such political figure is Kader Siddiqui or Tiger Siddiqui, a well-known freedom fighter, who is currently with the so-called Oikya Front (United front). Weaning him away from the group of dissidents may not be beneficial from the numerical point of view, but as a tactical measure and for optics, it will be a shrewd move.
Another important step the AL needs to take is induct a few dynamic entities, to inject new vigour into the party. The AL has little young blood, and lacks fire in its rhetoric. Ministers Amu, Tofail and company are antiquated because of old age, and need to be lent a robust hand to raise the momentum of canvassing.
Surveys on the ground reveal that Andalib Rahman Partho, Junaid Saki and Naziur Rahman Manjur are some of the probables meriting attention to help the AL in reinforcing its cadre through vociferous oratory.
Importantly, former President Gen Ershad and his Jatiya Party (JP) cannot be ignored altogether, as he is still a force to reckon with. His perceived proximity to India remains crucial. By a conservative estimate, JP is slated to win 15 to 20 seats, but closer to election dates, the party may demand more seat adjustments. This should be granted, keeping in view larger interests.
However, hypothetically, if the BNP does not contest, the AL must go ahead with the polls, but take along with it insignificant parties, including even the inconsequential Zaker party. There has to be an element of legitimacy to the election participation, as expected by the UN Secretary General and the international community.
Hasina, on her part, must not underestimate the BNP at any cost. They have money and muscle power and considerable material support, suspected to be coming from external sources unfavourably disposed towards secular and liberal forces. 
For good neighbourly ties, Hasina is India's best bet. (Photo: Reuters/File)
Operationally, it's equally crucial to marginalise the anti-secular, anti-India and anti-Hasina Bangladeshi forces active in the US, UK and other parts of the world, carrying out aggressive propaganda aimed to whip up adverse public opinion. This includes BNP strongman Tareq Rahman, promoted by a hostile country pumping in massive monetary support.
And last but not the least, diplomatically, the US must be kept on the right side. US-Bangla relations ran into rough weather a few weeks ago when the car of the outgoing US Ambassador in Dhaka was attacked. Bangladesh took considerable time to condemn the attack and undertake damage control measures, incurring the wrath of the US. Of course, it was a solitary incident, but before the impending elections, all major players closely monitoring Bangladesh should not be given room to find flaws, lest the much-needed goodwill is lost. 
For India, Hasina's victory is good in all respects. From the security point of view and for reinforcing good neighbourly relations, Hasina still has the charisma and the determination to deliver tangible results.