Baduria, a sleepy town in the Basirhat sub-division North 24 Pargana district of West Bengal, hardly 60 kilometres from Kolkata, has suddenly grabbed national headlines in 24X7 news channels and papers, thanks to communal tension fuelled by the Facebook post of a teenage boy.
Video footage and photographs circulating on social media – and used by several news channels – show a large mob going berserk as people ransack and torch shops, houses and public property, including police vehicles. The extent of the damage is still not known. 
After the news of a social media meme related to the holiest place of Islam and the Prophet by a young boy spread, some local clerics and leaders mobilised a large crowd on Sunday, demanding immediate action against the boy.
What followed must be condemned by all sane people. It is high time that the community leaders introspect and help channelise the energy towards empowerment rather than exploit the alienation fuelled by poverty and lack of education for their narrow political gains.
Local leaders and clerics had mobilised the crowd on the pretext of Islam khatre mein and blasphemy committed by the teenage boy, Souvik Sarkar, demanding swift action.
This is not the first time such a morphed image was circulated on social media. Like previous occasions, this was clearly a bait which the Muslims took at once, resulting in clashes. The initial anger over the Islamophobic post that led to widespread protests was largely peaceful, with the chief demand of swift action against the teenage boy. However, after one of the protesters was allegedly hit by an arrow in Shaista Nagar on Monday, the protesters went on the rampage, informs Mizanur Rahman, a local journalist.  
There are reports that many in the crowd demanded that the boy be handed over to them (allegedly to be stoned to death). Local journalists and activists the writer spoke to confirmed this demand by some in the mob but condemn it outrightly. "This is a grave mistake they were making, but remember it was after the provocative Facebook post," said one activist.
A senior TMC leader who visited Basirhat on Tuesday and faced a hostile crowd acknowledged the anger, but downplayed it. "They are semi-literate people who got provoked due to the highly inflammatory nature of the meme, but it's unjustified," he told this writer.
CM Mamata Banerjee and local administrations must be given credit for trying their best to deescalate the situation, despite hesitation in the first two days. Banerjee, in fact, issued a stern warning on Tuesday afternoon when referring to "humiliating words" used by state governor KN Tripathi against her.
She said: "The community that has started it since yesterday, I tell you, because of you I had to hear a lot (today). Someone wrote something on Facebook and the police are taking action, where is my fault? Our ma, maati, manus government gives you enough protection, but if you think you will go against us or insult our government… keep in mind, Mamata Banerjee is not on the side of anyone but on the side of humanity."
Muslim groups, particularly local leaders, soon realised the mess they were helping create and retreated back. Five days after the riot, the situation remains tense. According to the police, the area is returning to normalcy, but there have been reports of sporadic attacks and scuffle, primarily between BJP workers, comprising of Hindu Bangaal or migrants from East Bengal (East Pakistan).  There are also allegations of Hindi-speaking "outsiders" inciting the mob on both sides. 
In a video accessed by the writer, a crowd is seen chanting Bharat Mata Ki Jai with saffron flags and they are burning an effigy. Written on it in Bengali is Mumtaz Beghum (as part of Hindutva propaganda, Mamata Banerjee is said to have converted to Islam and this is the name attributed to her).
It needs to be noted here there was no reported case of serious injuries or casualty by Tuesday afternoon, when paramilitary forces were employed after footage of the riot went viral along with the public spat between the governor and the CM.
Kartik Ghosh, 65, who succumbed to multiple stabbing injuries on Thursday was wounded in a scuffle on Wednesday between TMC workers (presumably Muslims) and BJP workers. Earlier, on Tuesday, a police officer was injured in an attack by BJP supporters who blocked an arterial road in protest of the attack on property belonging to Hindus.
There are also reports of vandalism of several local offices of the TMC by Hindutva workers. Several Muslims have also got injured in the following days, and at least six of them have been shifted to PG Hospital in Kolkata.
Sangh Parivar's dream of capturing Bengal
Baduria may have grabbed national headlines on Tuesday, but efforts were on for weeks to fuel tension there. Some local media had earlier reported that Pakistan's flag was hoisted in the area on the occasion of Eid, although it was a green flag that many Muslim groups use in religious processions. Clearly, the area has been on the radar of Hindutva forces for some time now.
When there is a communal flare-up, one would expect a responsible political party to maturely try to control the situation. The Sangh Parivar, however, thrives on what Paul Brass had called "institutionalised riot system" (IRS).
There has been a direct co-relation between BJP's electoral success and communal tension across the country. The BJP IT cell and several other Hindutva affiliates spread all sorts of rumours and propaganda on social media.
There has been a direct co-relation between BJP's electoral success and communal tension across the country.
One organisation whose name has cropped up in Bengal in every communal tension recently is the Hindu Samhati, a Hindutva affiliate, and its founder Tapan Ghosh, who is famous for writing provocative statements on Facebook. On Thursday, the state government banned both the Hindu Samhati and AIMIM from holding any rallies in the riot-hit region.
According to some reports, videos of roughly two hours' duration were compiled by Hindutva workers and many were uploaded on YouTube. A YouTube channel named HINDU Nationalist, for example, uploaded several videos that got thousands of hits but were later blocked.
Videos soon started circulating on WhatsApp. In one such video, a young man was riding pillion on a bike as he was recording videos on alleged "Hindu plight".
Presumably after state BJP leaders met the governor and showed the videos, he had called the chief minister. The governor has publicly been called by a BJP secretary as a "dedicated soldier" of "Modi Vahini".
Rumours of rapes and murders, attacks on temples, etc. were spread fast on social media. When they could not find real videos of attacks (except of a huge crowd shouting slogans and charred vehicles and properties), the BJP troll army did not even shy away from using shots from a Bhojpuri film to present it as an attempted case of rape.
Alt News has also unearthed a few other photos circulating on social media, particularly one presented as parents of the young boy who wrote the Facebook post as severely beaten (without research though, as the young boy's mother passed away long ago).
A photo was circulated on social media of the "parents" of the young boy who wrote the Facebook post, and showing them as severely beaten, even though the boy's mother passed away long ago.
Many non-Bengali Hindutva trolls tried to hit on Bengali pride, saying they are so weak that they can't even protect themselves and their women; as they demanded President's Rule in the state.
Soon, invocation to consolidate Hindu votes in Bengal to defeat Islamists began on social media, all over again. Some news channels who have been reduced to "glorified versions of Doordarshan" started running all sorts of provocative hashtags (on Friday night, the top trend was #NoMamataForHindus, and on Saturday it is #SaveBengal).
TMC chief spokesperson Derek O'Brien has rightly called the Sangh Parivar 'Rumour Spreading Society' (RSS), criticising the role of the governor, BJP leaders and trolls in fomenting tension.
Meanwhile, as the media crew started visiting the place, in different Hindu localities small groups continued to express their anger, criticising the TMC leadership and urging for Hindu consolidation. This Republic TV video appears to be a re-run of Dhulagarh when I visited the place in January after the communal riots during Nabi Dibas.
A news website has, meanwhile, reported how the local BJP office in Rudrapur under Basirhat sub-division that has opened recently is abuzz since the incident, and it quotes local leaders in jubilation over their rising popularity.
Basirhat is close to the Bangladesh border and a large number of people here are those who migrated from East Bengal during Partition or the 1971 wars. While the urban and semi-urban pockets mainly consist of Hindu population, a good number of them Bangaal or migrants from East Bengal, the rural pockets are predominantly Muslim.
The BJP has made inroads into the area and in the 2011 Assembly election it had even won the Basirhat seat due to Muslim vote division in rural pockets between the Congress and CPI-M. In last year's election, however, as the Congress and Left were in alliance, the Congress regained the seat.
Meanwhile, articles after articles are being pushed in media by Communist sympathisers and Hindutva apologists alike about the so-called appeasement politics of TMC and radicalisation (for some justifiable reasons) of Muslims in bordering districts (and overall?).
It is, however, the Sangh Parivar that is trying its best to consolidate Hindu voters. There are also reports of RSS giving arms training to its cadre in recent months and their several affiliate organisations have invested heavily in recent years.
BJP president Amit Shah has on record said earlier that the party's golden period will only come when they win Kerala, Odisha and Bengal. The saffron party fancies its best chance at the moment, when the other two main opposition parties in the state, the Left Front and the Congress, are at their lowest ebb.
A national media outlet had quoted a national secretary of the party as saying: "We may not win Bengal in 2021, but there are bright chances to emerge as the number two party if we play our cards well."
Communal forces have been trying to foment tension in the state for some time now, particularly in south Bengal. On the occasion of Ram Navami, for example, they created false reports of riots in Kidderpore after a few men, who were shouting "Jai Shri Ram" outside a mosque, were handed over to the police. In other areas as well, they have tried to provoke communal tension and reports of skirmishes. But an alert police intervened in time and prevented those from spreading.
On Tuesday, the "card" played by the Sangh Parivar was largely successful in exploiting its "institutionalised riot system", with the help of social media and TV channels. The silver lining is that, despite all attempts, they have faced stiff resistance so far here from the Bengali population.
How Bengal is different and why it gives hope
On Tuesday night, as the news of riots spread, a young Bengali filmmaker, who is also a  Facebook friend, enquired about the situation, and ended the conversation saying, "This is the time we all stand with one another... You're my brother, I am yours..."
As there have been reports of spread of the saffron brigade in the state, Bengal is looking inward in its attempt to bridge the gap between the two communities. There have been several grassroots initiatives of trying to build bridges, and programmes like "Know your neighbour" or protests under the banner of #NotInMyName are reflections of how Bengal is different and how BJP may find it difficult to implement its formula in the state.
In Dhulagarh, Hindus and Muslims came together to celebrate Rabindra Jayanti in May, tied rakhi to each other and sang Rabindra Sangeet.
Take the example of the Baduria-Basirhat tension itself. When a mob of about 200 people (most of them not from his own village) tried to torch his home, locals came to his rescue. According to local media reports, the teenage boy Souvik Sarkar, whose mother had died long ago, was protected by Amirul Islam, an old neighbour who is also the president of the local mosque committee. Another person named Maqsud apparently called the fire brigade.
Hindus and Muslims of the village together tried to douse the house that was put on fire. A teacher of the government school at Magur Khola village, Tapan Halder, is quote in the media as saying: "On the day of the incident, the village Muslims had saved the family of Souvik. If the people were not there, the entire family would have been killed."
In fact, not many in his village are convinced that Souvik would post that meme online and suspect that his Facebook account was used by Hindutva forces or that he was manipulated.
As someone who has covered communal tensions in Assam, Uttar Pradesh and Haryana, and even recently in Dhulagarh, Basirhat clearly appears unique. On Monday-Tuesday there were clashes, but on Wednesday there were at least four-five peace marches, local all-party meetings, etc.
A peace mission was brought out in Baduria by locals, an all-party meeting was held in Swaroop Nagar police station, local counsellor of Basirhat, Chitra Ghosh, took a peace march that was attended by locals. In Taki, the chairman of the municipality, Somnath Mukharjee, and vice-chairman Azizul Haque together held an all-party meet. Some civil society members from Kolkata visited Basirhat and along with locals brought out a peace march with the slogan "Ram-Rahim bhai-bhai".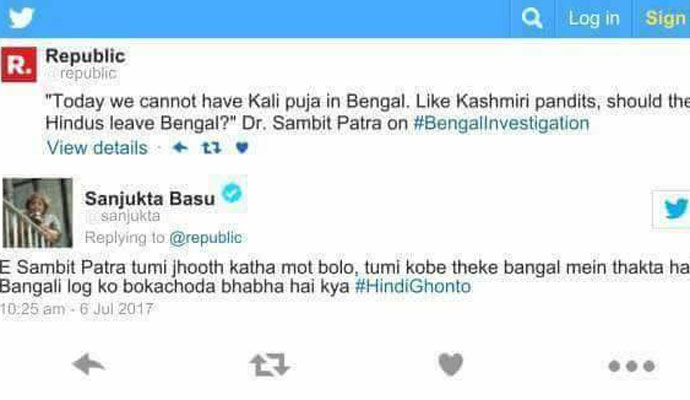 rrr
On Thursday as well, a grand bhoj or community meal was organised by the panchayat samiti at Matia Pulligram and Joypur Kalibari bazar where Hindus and Muslims together had a feast. By Thursday night, and particularly from Friday, the resistance from Bengalis was visible on social media as well, and a large number of those tweeting with those hashtags appeared to be non-Bengali trolls.
Statements by BJP spokespersons like Sambit Patra - that Hindus are not free to even perform Kali Puja and comparison with Kashmiri Pandits - or Meenakshi Lekhi - saying that Hindus from the state are scared - may backfire in the state as Bengalis are extremely conscious of their identity and proud of their heritage.
On Wednesday, CM Banerjee announced that her government will soon take the initiative to form a Shanti Vahini or a Peace Force across 60,000 booths in the state that will comprise of local volunteers and aid the police in preventing any untoward incident.
Meanwhile, preparations are on in Kolkata for the annual "Martyr's Day" rally of the TMC on July 21 that the West Bengal CM may use as her show of strength.