@ArunAnandlive
Bharat Bandh fizzled out. But the real problem stays
India has become too influenced by a western 'consumption' economy and too open to global vulnerabilities. We need a swadeshi growth model.
The all-India bandh call, or Bharat Bandh, organised by the Opposition to protest a hike in fuel prices and a fall in the value of the rupee, has evoked mixed reactions. While the Opposition is claiming this event to have been a huge success, independent observers have serious reservations about these lofty claims as the Bharat Bandh fizzled out in most states — except at certain places where Congress workers reportedly unleashed violence.
Is this what the Bharat Bandh was meant to accomplish? (Source: PTI)
While the politics of protest would continue, especially in view of the 2019 Lok Sabha polls, the real point that needs to be pondered on is — which way is the Indian economy itself heading?
What we are witnessing today in terms of unabated hikes in fuel prices and a fall in the rupee's value shows how India is unable to resist the cascading effect of changes in the global economy. It is clear that while the political parties are trying to score points over each other, the real issue is being neglected.
The core issue is that we have failed to create a swadeshi model of our economy.
There is a distinct section of economists which has been a votary of developing an Indian model of economic development and growth. But what successive governments have been doing is trying to find western solutions for India's economic problems. This has been hurting the Indian economy — and this has opened us to all the vulnerabilities of the global economy.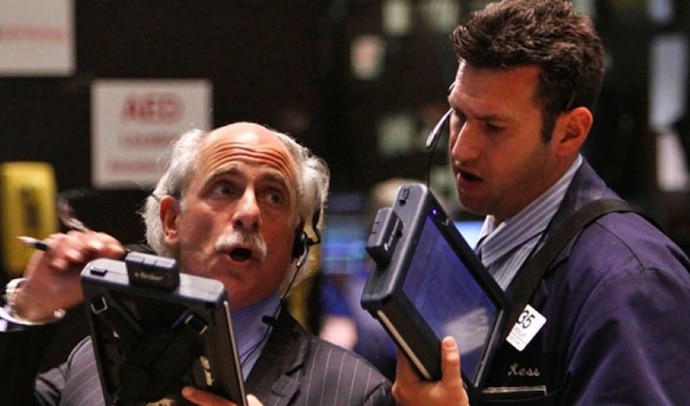 When the world markets shakes: India is also more open to global economic shocks now. (Source: Reuters)
It is time to look at developing an economy which is not driven by the western paradigm of 'consumption'-driven models. It is time to develop a model which moves the Indian economy away from 'consumption' and towards a more sustainable development pattern. Also, while the Indian economy may remain integrated with the global economy, it needs to retain its resilience.
However, notwithstanding which party's government is at the Centre, not much work has been done in this direction.
The Narendra Modi-led government though has given indications by cracking down on foreign consultants in the government and replacing economists with a strong western bent of mind with those whose thought process is more rooted in an Indian ecosystem.
Former RBI chief Raghuram Rajan: His stint with the Modi government was famous for differences, not similarities of view. (Source: PTI)
However, there are no quick solutions to this immediate problem of rising fuel prices and the falling rupee. More than a problem, these are symptoms that we need to review our basic approach towards decision-making when it comes to economic policies.
The Modi government has taken some initiatives — it would be better for the political class to come together on this issue instead of playing a blame game that hurts the common person the most.
Also read: Congress leads Bharat Bandh as fuel prices hit the roof
The views and opinions expressed in this article are those of the authors and do not necessarily reflect the official policy or position of DailyO.in or the India Today Group. The writers are solely responsible for any claims arising out of the contents of this article.