11 reasons why the last phase of Bihar polls will change everything
Can the Nitish-led mahagatbandhan, batting on a deteriorating pitch, steal Modi's thunder?
The last leg of the keenly followed and contested Bihar elections (Phase V) will commence on November 5. This will draw the curtain over the arduous and long battle Bihar has seen over the past three months. "Who will win Bihar" is a million-dollar question and everybody has their own take on it, backed by logic as well as bias. Poll observers' divided opinion has made matters worse. However, a common theme (barring those adopted by outliers like Zee News and CNN-IBN surveys) is that it's a very close contest, and both sides have a chance to win.
All eyes are set on Phase V (with 57 seats), which is believed to be a strong bastion of the Nitish-Lalu-Congress alliance (mahagathbandhan - MGB). They are expected to do well in this phase. If they sweep this phase, their chances of winning the elections would brighten. The Muslim community, which voted in large numbers for the MGB in Lok Sabha polls, has a sizeable population in these 57 seats (close to 30 per cent). Clubbed with the support of the Yadavs (14 per cent), the MGB have a solid vote bank in these seats.
Many political pundits believe that the NDA has stayed ahead of the MGB till Phase 4 (by how many seats is debatable) as Phase 3 and, especially, Phase 4, were NDA bastions. The MGB's solid performance in Phase V is hence essential to cut the lead and emerge victorious on the final day of the closely-watched test match.
Here are eleven factors that could impact the performance of both alliances in Phase V and ultimately decide the winner of the polls:
1. Caste-wise representation of candidates
Caste rules the roost as usual in this phase as well. Both alliances have picked up candidates from their key vote banks - MGB (Yadavs & Muslims); NDA (Upper caste & Other OBCs):
MGB NDA
Political compulsions and regional caste dynamics have forced the alliances to put up candidates from opponent's caste support groups - like MGB fielding upper caste (11 per cent) and NDA fielding Yadav candidates (19 per cent).
2. Muslim votes in every seat
The Muslim population in 49 of 57 seats is higher than 17 per cent, their average population in the state. Kishanganj has the highest population of Muslims at 78 per cent, followed by Katihar at 43 per cent, Araria at 41 per cent and Purnia at 37 per cent. These 4 districts are part of the Seemanchal region and account for 24 seats.
Even in Darbhanga and Madhubani (20 seats) the population is high at 23 per cent and 18 per cent respectively. 85 per cent of Muslims voted for Janata Dal United (JDU) and Rashtriya Janata Dal (RJD) fighting separately in Lok Sabha polls held in May 2014. MGB banking on their full support in this phase.
3. Historical performance of BJP versus MGB
In 24 seats of Seemanchal, which have the highest Muslim population, the BJP has done well in the last three state elections. Except in Kishanganj, it has won higher seats than MGB in all the remaining three districts of Araria, Katihar and Purnia. However, it's important to note that BJP did get help from the division of Muslim votes as RJD and Congress fought separately in 2000 and 2010. This time though, it's not the case.
Chart: Proportion of Seats won by Various Alliances in Seemanchal in last three state polls
4. 2010 Assembly election results
In the 2010 state elections, NDA won 25 seats (44 per cent of the total), MGB 31 seats and the independent just one seat. The fate of these sitting NDA MLAs, apart from caste calculations and polarisation, will also depend upon their performance in the constituency and anti-incumbency factor, if any, against these MLAs. The fact that 25 NDA MLAs won by handsome margins (average 16,000+) in 2010 also makes the calculations/predictions complex.
Victory margins of BJP candidates in 2010 elections in 25 seats out of 57 going to polls in Phase V
5. Trends in 2014 general elections
In the 2014 general elections, NDA was leading in 18 out of 57 assembly segments. RJD and JDU fought separately and if we aggregate their votes, MGB was leading in 44 seats, Pawar's NCP in five seats and NDA in eight seats. MGB was leading in majority of the seats despite a Modi wave gripping the state where NDA won 31 of 40 seats. Not only this, even the vote share difference by which MGB candidates were leading in LS polls is huge as shown in data below in these 44 seats. Will MGB be able to maintain the lead? Can NDA negate some of these huge leads?
6. Last-minute spoilers
Pawar's Nationalist Congress Party (NCP), which was part of United Progressive Alliance (UPA) in Lok Sabha polls in 2014, is now part of the Mulayam-led Third Front. NCP won the Katihar Lok Sabha seat and was leading in five of the six Assembly segments. Though NCP won riding on Lalu-Congress votes and may not be in a position to win these seats, it could still adversely affect the chances of MGB candidates.
Pappu Yadav, who won on an RJD ticket from Madhepura, has floated his own party and is part of the Third Front. He was leading in four of six Assembly seats of Madhepura in Lok Sabha polls. He has decent influence in areas around Madhepura as well and could split the MGB-Yadav vote bank. Owaisi's AIMIM is also fighting in six seats, which may lead to division of Muslim votes. However, Owaisi has come down from the 24 seats, which he had announced to contest earlier, which may be a breather for MGB.
7. Again, number of Muslim candidates per seat
In most of the Muslim-dominated seats in Seemanchal, many candidates from the community are in the fray, which may lead to a division of votes. Four out of 24 Seemanchal seats are reserved for the SC/ST category. In 20 of the balance seats, there are altogether 119 Muslim candidates contesting (six per seat). That's high!
NDA has also fielded six Muslim candidates (considering their importance), three of them are in direct tussle with Muslim candidates of the MGB, which has fielded 17 Muslim candidates. One of the sitting BJP MLAs is from the community.
Number of Muslim candidates per constituency of Seemanchal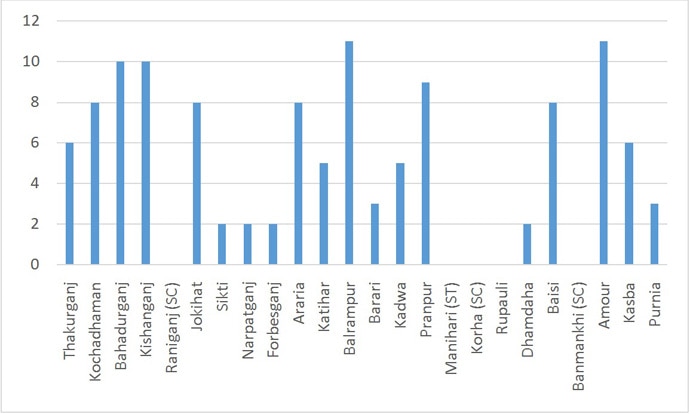 8. Ripple effect of the beef ban
This issue has been raised by both alliances in an attempt to polarize the respective vote banks. Slaughter of cows has always been banned in India. For a politically charged Bihari voter, how much of this will really create an impact in this phase is hard to say.
9. The anti-OBC reservation remark
After news that anti-reservation comment by RSS chief is creating a negative impact among OBC voters, Modi tried to balance this out by commenting that MGB plans to take away a slice of reservation from OBCs and give it away to "other community". This has created a lot of controversy and is particularly aimed at splitting the OBC support base of MGB. How much of this will really impact the results remains to be seen.
10. High-turnout seats
The region is known for massive turnouts and I bet could post the highest turnout in these elections. All districts except for Darbhanga and Madhubani (with comparatively a lower Muslim population) recorded a turnout of 60 per cent+ in the Lok Sabha polls of 2014. On an average, these districts recorded a turnout of +4.9 per cent over the average state turnout of 56.7 per cent. Intuitively, higher turnout helped the MGB negate the Modi wave.
Even during the state elections of 2010, these districts posted a higher turnout of +3.9 per cent over the state average, with Darbhanga and Madhubani being the laggards.
The average turnout in these 57 seats was 54.5 per cent in 2010 (as opposed to the 52.7 per cent state average) and 60.5 per cent in 2014 (as opposed to the 56.3 per cent state average).
Comparison of district wise turnout vs 2010 state polls and 2014 Lok Sabha polls
11. Impact of crossing over and rebel candidates
The Bihar elections may well be decided by the votes garnered by rebel candidates. JDU earlier defeated RJD and Congress candidates in most of the seats it contested. Now the three are fighting together. This means, theoretically, two discontent/dissident candidates per seat. Some of them have hopped parties and are contesting as rebels, others secretly working to defeat the official candidate and some have just conceded and taken it in their stride.
Similarly, BJP defeated LJP in many seats the last time around and now the two are contesting together, leading to rebel candidates/dissidence. Such candidates may not win many seats, but are capable of damaging the prospects of official candidates.
Then there is a new breed of cross-over candidates, who, on being denied tickets by the NDA, have hopped on to the MGB bandwagon and vice-versa. In six seats, this phenomenon dominates Phase V - Kusheshwar Asthan, Hayaghat, Thakuragnj and Balrampur (where NDA's sitting MLAs have switched to JDU) and Chhatarpur, Jhanjharpur (where JDU sitting MLAs have switched to BJP). Can these cross-over candidates bring with them all the votes they polled earlier? Were those cadre votes or polled in due to popularity? We will know the answers to these questions only after the results.
The interplay of the above factors will decide the results of the phase, and ultimately, this phase could well decide the winner of the match. Can the MGB batting on the last day of the test match on a deteriorating pitch steal NDA's thunder? That's a difficult call to make. We can safely say that the final leg will be better than a nail biting five-day test match.
The views and opinions expressed in this article are those of the authors and do not necessarily reflect the official policy or position of DailyO.in or the India Today Group. The writers are solely responsible for any claims arising out of the contents of this article.