Why BJP is looking to win Karnataka Assembly polls
Congress failing to retain its southern stronghold would be a setback for Rahul Gandhi's manoeuvring power among potential allies.
Never before have state elections, once considered routine and episodic, been fought as do-or-die battles than the ones first witnessed in Uttar Pradesh and Gujarat last year, and currently in Karnataka. In recent times, pre-poll predictions have turned out to be abracadabra, and wise journalists refrain from any electoral forecast. Since Karnataka, like Gujarat, seems poised for a rivetting finish, the outcome is predicted to be anything but binary in terms of a clear mandate.
Mini-referendum
Karnataka has thrown up results contrarian to the Lok Sabha elections, as was seen for example in 1989, 1994, 1999 and 2004. So while these elections may not be a dipstick into prevailing national sentiments, nor do they presage the national mood prematurely a year ahead, Karnataka would set some defining trends for 2019.
First, a Congress loss in retaining its southern stronghold would be a setback for Rahul Gandhi's manoeuvring power among potential allies. As for the BJP, every test in state election turns into a mini-referendum for Modi.
It's like a student in perpetual exam mode who has succeeded in passing 15 mini-referendum tests since 2014. The BJP needs to desperately win a state south of the Vindhyas to offset likely losses of the party-ruled states that go to polls later this year.
However, the Siddaramaiah government does have a set of positives working in its favour. For starters, the level of anti-incumbency appears lower than expected, and the CM remains the boss in election strategy, like Amarinder Singh was for Punjab, with Rahul playing a supporting role.
Second, Rahul has become more assertive and combative to the BJP's salvos, with the Congress IT cell turning proactive. Further, the CM has successfully replicated the welfare "Amma schemes" of Tamil Nadu, and is playing up Kannada "ashmita" to the hilt by foisting the state flag and anthem.
Siddaramaiah, by extending his solidarity to the four other southern states, has joint forces in exploiting the north-south divide by endorsing the grievances of the economically progressive states that resent subsidising the northern states and getting lesser allocations in return.
Also, in playing the Lingayat card, he has upped the stakes for a high-risk combat, by pressuring the Centre to accede to job reservations on lines of localised demands in other states made by Jats, Patidars and Marathas. What makes the Karnataka particularly significant is that being the capital of India's IT hub and innovators, it makes it an important economic state for revenue and job generation.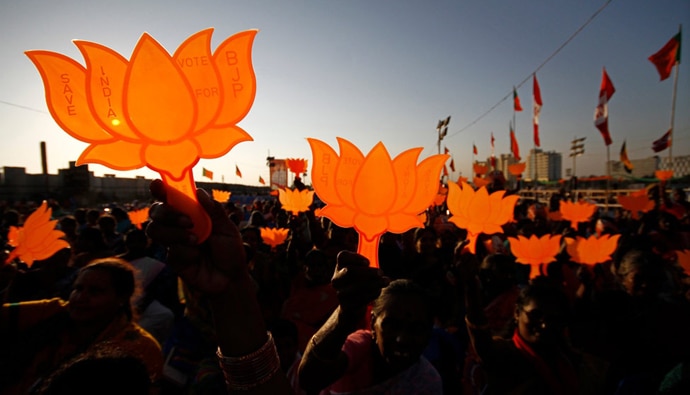 Competitive populism
Even as the contending BJP and Congress are ideologically poles apart, in this two-horse race little sets them apart. The electioneering in Karnataka shows both parties are flip sides of the same coin on issues of polarisation, fighting on caste lines, and releasing manifestoes of competitive populism, et al.
Add to the lowest set of common denominators are corruption allegations stinging both parties. So the smear of the "10 per cent Siddaramaiah government" evenly balances out with the BJP having compromised on its corruption-free credentials by including the once-tainted, now absolved BS Yeddyurappa as its CM face. And including the Reddy brothers associated with illegal mining scams back in its fold further compromises PM Modi's image.
Waveless election
In a waveless election, once Modi descends on the scene in the last lap of electioneering, he determines the finishing line. The predictable template pursued in all Hindi heartland campaigns is Hindutva plus development plus historic injustices plus the victim card. The last one, of playing the victim card, is awaited, for which only a Mani Shankar Aiyar-like guffaw can provide the trigger.
Or, as Sonia Gandhi's arrival is awaited this week, an encore of her "maut ka saudagar" like jibe of 2007 could well complete the finale, and bring Modi back to his dynasty versus humble tea-seller rhetoric. The BJP's campaigns have followed this module to the tee, irrespective of geographies. But with a lacklustre, unimpressive local leadership, can Modi succeed in tilting the scales?
Ultimately, the cliffhanger would be determined by the X factor which hinges on JD(S) chief HD Kumaraswamy. He could possibly insist on power disproportionate to the seats his party wins by wanting the post of CM (should his party win around 50 plus seats). Alternatively, he could agree to support any Congress leader other than Siddaramaiah, if Congress achieves anything close to a finishing line.
However, the third scenario is the most likely one to play out — of a JD(S)-BJP coalition, as Gowda is wily enough to realise that the BJP is a frontrunner in the race to Raisina Hill in 2019, and will need allies in the south. So striking a post-poll working relationship with the stronger party makes strategic sense, instead of incurring the Centre's wrath by getting the Income Tax and Enforcement Directorate unleashed on them, for supporting the Congress.
(Courtesy of Mail Today)
Also read: Kolkata is panicking about rotten animal meat, but the truth is uglier
The views and opinions expressed in this article are those of the authors and do not necessarily reflect the official policy or position of DailyO.in or the India Today Group. The writers are solely responsible for any claims arising out of the contents of this article.