Why hasn't BJP condemned Lal Singh for warning journalists of 'Shujaat-like incident'?
On a day the party was tweeting about the muzzling of press freedom during Emergency, no one spoke against the former minister of PDP-BJP government.
Senior BJP leader Lal Singh of Jammu recently issued a warning in public interest. Journalists, he said, should "draw a line", or "be prepared to meet the fate" of Shujaat Bukhari, the editor of newspaper Rising Kashmir, who was gunned down in Srinagar on June 14.
BJP leader Lal Singh Chaudhary says in Jammu, "journalists of Kashmir created a wrong environment there. You should draw a line in journalism, so that brotherhood is maintained & there is progress" (22.06.18) pic.twitter.com/8TXaU3rPaZ

— ANI (@ANI) June 23, 2018
On June 25, The New Indian Express quoted BJP Jammu and Kashmir president Ravindra Raina as saying that no action would be taken against Singh for his statements. No other leader from the party has so far condemned Singh.
The J&K BJP, thus, seems officially okay with one of its leaders threatening journalists on a public forum.
However, Singh's statements are not just improper, they are arguably illegal. If his party is failing in its duty, why is the state machinery silent? Jammu and Kashmir is under Governor's rule, which is in effect the Centre's government. Why have the prime minister or home minister not reprimanded him?
Incidentally, the J&K police have said that Bukhari was killed by terrorists acting on instructions from Pakistan, because he was trying to promote peace in the Valley. So does Lal Singh want journalists to toe Pakistan's line and not work towards soothing conflict in Kashmir?
Or does he have some other information about the murder? In the latter case, the BJP leader should share it with the police, or they should interrogate him, as the Kashmir Editors Guild has rightly pointed out.
Open threat
Singh has accused Kashmiri journalists of "creating an erroneous atmosphere". "Kashmiri journalists have created an erroneous atmosphere and I would like to ask them to draw a line…You want to live like what happened to Basharat (Shujaat Bukhari)…Take care of yourselves and draw a line so that the brotherhood is not broken and it is maintained so that progress and development is ensured," he said on June 22.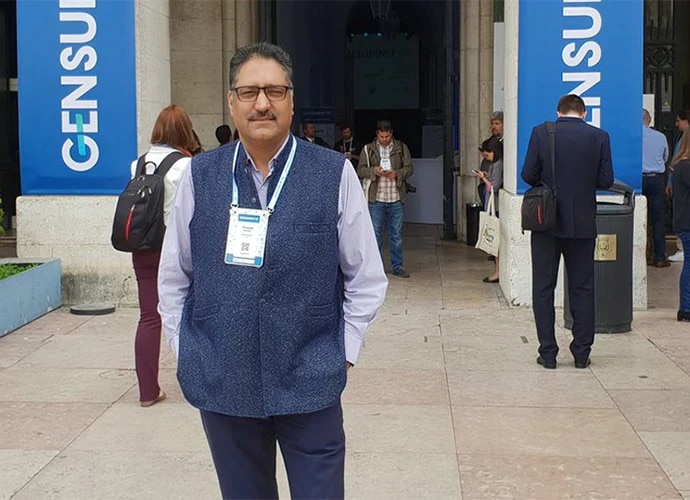 The BJP had cited Shujaat Bukhari's killing as one of the reasons to call off its ruling alliance with the PDP. Photo: Facebook
This, in unambiguous terms, is a threat. Section 503 of the Indian Penal Code defines criminal intimidation as threatening a person with harm to make them do something, "or to omit to do any act which that person is legally entitled to do".
Reporting and writing about the happenings around them is a journalist's job. The Constitution guarantees them the freedom of speech and expression. Singh has a personal grouse against mediapersons – he has been railing against them since April, after he was forced to resign as the state forests minister over his role in defending the Kathua gangrape and murder accused.
His recent statement, if not outright illegal, is in every way condemnable. Yet, on the day the BJP was issuing statements over the dark, dark days of the Emergency imposed by Indira Gandhi, not one word was heard from them on the attack on press freedom by one of their own partymen.
The sound of silence
Why this reticence, by a party full of eloquent leaders, and which cares about the freedom of the media, as evident from BJP president Amit Shah's tweets on the Emergency?
1975 में आज ही के दिन कांग्रेस द्वारा मात्र सत्ता में बने रहने के अपने राजनीतिक स्वार्थ के लिये देश के लोकतंत्र की हत्या कर दी गयी। देश की संसद को निष्क्रय बना कर उच्चतम न्यायालय को मूकदर्शक की हैसियत में तब्दील कर दिया गया और अखबारों की जुबान पर ताले जड़ दिये गये। pic.twitter.com/pq3iatp0BA

— Amit Shah (@AmitShah) June 25, 2018
In fact, only on June 23, Shah in Jammu had demanded an apology from Congress president Rahul Gandhi over statements on Kashmir made by party leaders Ghulam Nabi Azad and Saifuddin Soz, and asked that Gandhi act against the two.
The BJP, thus, cares about the press. It also understands the concept of collective responsibility, and believes that the head of the party is responsible for what its members say and do.
In this light, the party's – and the government's – silence over Singh becomes truly alarming.
This is not the first time that Singh's conduct has been less than ideal. He was among the leading voices in support of the Kathua rape accused and demanding a CBI probe into the case. During his tenure as the forests minister, he had promised to "retrieve forest land", which the Muslim Gujjar Bakarwal tribes had feared was a ploy to evict them.
In 2016, he had threatened the Gujjar community, reminding them of the killings of Muslims in Jammu after Partition.
More recently, his brother was arrested for calling Mehbooba Mufti a dog.
The BJP cannot possibly be blind to all this. It is not acting against Singh because it does not want to.
This is not the first time that Singh's conduct has been less than ideal. Photo: Facebook
Is this the BJP's version of a muscular, 56-inch chested party? Where bullying and threatening opponents is fair game, and decency in public discourse is unnecessary, easily dispensable?
Having called off its alliance with the PDP in J&K, the BJP is now likely to go to town with its "tough" line against separatists and militants, using it as a convenient cover for communal polarisation and minority bashing ahead of the 2019 Lok Sabha polls.
In the process, it is normalising hate, making violence a part of everyday discourse.
Whose job to curb people like Singh?
However, the bigger worry is how top leaders seem to be conflating the party with the government.
The BJP is one political party, guided by ideology, driven by electoral concerns. The government is of the country. Prime Minister Narendra Modi is the head of the government, and upholding law and order throughout the country is, at the end of the day, his responsibility.
During the Gujarat riots of 2002, then Prime Minister Atal Bihari Vajpayee had asked Modi, then the CM of the state, to observe his "Raj dharma" (duty of governance) without discriminating between people on the basis of caste, creed or religion.
Someone needs to give that message to the prime minister again. Sadly, no one in his party seems willing, or capable, of doing the job.
Also read: Why anger in Kashmir is welling up against the armed forces
The views and opinions expressed in this article are those of the authors and do not necessarily reflect the official policy or position of DailyO.in or the India Today Group. The writers are solely responsible for any claims arising out of the contents of this article.