So, metaphorically speaking, a pied piper - with an uncanny talent for catching rats (read votes) - is all it takes to drown the BJP in a pail of water?
So, a "king of bling" and his captive cluster of neurotic followers is all that it takes to turn a "party with a difference" into a lump of clay - that can be merrily stomped upon by its electoral patrons and benefactors?
Sure, the party had benefited from a last-minute surge in 2014 when Dera Sacha Sauda - with its offering of Dalit voters - had jumped onto the BJP bandwagon. But how many rapes will it take the BJP to overcome its deep sense of gratitude and indebtedness to someone who is not even fit to be a comic underling of Johnny Lever?
And, mind you, this is the same party that has, over the years, put us to sleep with its mindless drone about minority appeasement; that was crying itself hoarse, until the other day, about Muslim women's empowerment, virtually taking credit for a court decision liberating them from the obnoxious triple talaq practice!
The Panchkula tragedy has turned into a farce!
But, curiously, it has no lurid tales to tell about the two sadhvis who were raped by their repository of trust, whom they reverentially addressed as "pita ji! " The BJP spokespersons are not part of any such brouhaha in the TV studios; rather they scampered for cover when provoked by an anchorperson into calling Ram Rahim a rapist!
Apparently, for the moment, only Muslim women - abused and abandoned - are within the pale of the party's "Aurat bachao" andolan. Because they help wean away a vote from each Muslim household?
How did BJP politics mutate into such rampant and unabashed tribalism? Perhaps, it is a sheer waste of time trying to decode its conduct - One can make rational excuses for politicians going down on their knees and grovelling for votes, but not for turning into a doormat for a grubby rape convict with some even hailing him as an ennobling soul.
If the party has such a fixation - a deep seated psychological need for a rock star rapist as a poster boy - it can kick off its 2019 election campaign from the Tihar jail!
The BJP leadership needs to look hard in the mirror: the party is beginning to be perceived as one without scruples, and it is slipping by the minute deeper into the rabbit hole; if this mindlessness over hooliganism persists - come 2022 - it would have established itself as a retrograde rag-tag party that is a draw only for the lumpen; and which can no longer claim proprietary rights to its traditional urban middle class constituency.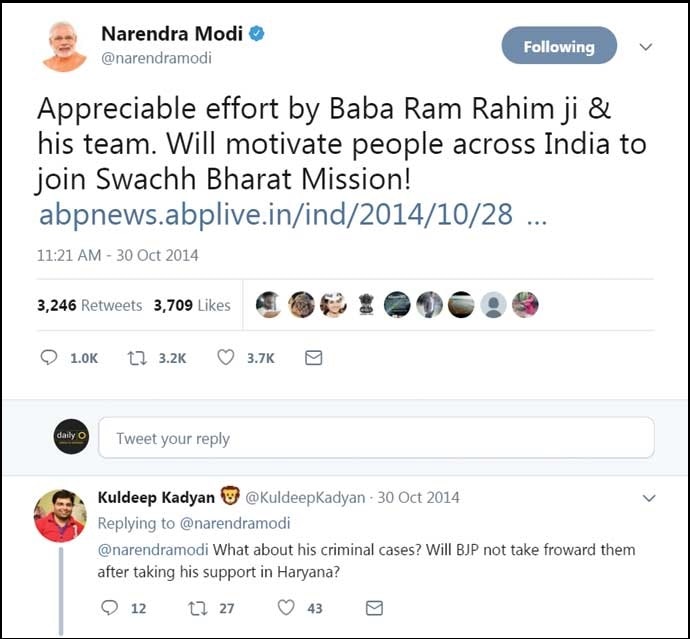 Voters, Mr Prime Minister, care more about actual societal progress than the fortunes of a particular political party. 
Not that the empowered rural voter and the aspiring classes cannot see the folly of endorsing a party that is determined to ferry them into the medieval times with its fantastic tales about mythical inventions and the historical suffering and oppression of the cow.
One could have patiently listened to tripe about Lord Rama's arrows having the potency of an anti ballistic missile if one did not have access to modern science and education. This is not to detract from the merit of being rooted in ancient shastras, but one does not feel invigorated when the Prime Minister gives homilies from the ramparts of Red Fort on social cohesiveness and cites instances of the mythical "Banar Sena" or the "Ram Sethu" and makes oblique references to squirrels that helped in building that engineering marvel.
It stands to reason that anybody with a modern outlook or remotely connected with the world of science and technology would not like to languish in the mental ghettos of the BJP's ideological gatekeepers who are incidentally themselves a fugitive from the backwaters of the freedom movement.
And anyone who wishes to catch up with the likes of Sakshi Maharaj - we all have our darlings - can stop the world and disembark in Somalia, a place for which the leadership has a special affection (Remember, the obnoxious analogy given by PM Modi to highlight the plight of street urchins in Kerala?).
Sure, the prime minister took the trouble in his Man Ki Baat to repeat his I-Day tutorial on "violence in the name of faith" and assured the nation that action will be taken against such perpetrators, but what are we going to do about the fringe elements that keep sneaking out of the woodwork and hailing Gurmeet Singh of Sirsa as God's gift to humanity?
It would be apparent to even the politically naive that nobody in the BJP has the courage to speak out of turn, least of all the foot soldiers. Sakshi Maharaj, too, does not have a voice of his own: he is like the dummy in the lap of a ventriloquist. The voice is coming from elsewhere: it could be from within the party or emanating from the saffron closet. Anyhow these voices do irreparable harm, reinforcing the notion that we are confronted with half-educated morons steeped in obscurantism and blind faith.
Voters, Mr Prime Minister, care more about actual societal progress than the fortunes of a particular political party. Ironically, the state of Haryana is under ML Khattar's thumb rule and the BJP has a non-Jat social coalition well entrenched until the next election. Where then was the need to fall heads over heels for a rape accused?
And now, to go into an overdrive - showcasing the might of the State - when Gurmeet Singh, alias Love Charger, is safely tucked away, out of harm's way, in a Rohtak "prison" ?
The Panchkula tragedy has turned into a farce!