The three-day annual summit of BRICS countries began on September 3 in China's Xiamen city. The BRICS, an intercontinental club of powerful non-Western countries, comprises of Brazil, Russia, India, China and South Africa. China has not only assumed the rotational presidency of the BRICS this year, in all practical purposes it is the real anchor of this exclusive group.
While China is fast becoming a major global power house, not only economically but also politically, the future of BRICS does not look promising at all. Besides the ongoing economic crisis in Brazil and South Africa, the fast deteriorating bilateral relationship between China and India might soon kill this hope of the non-western world.
The idea of BRICS, in order to bring together the combined strength of non-western major powers, was first mooted by Jim O'Neill in 2001, the then chairman of Goldman Sachs Asset Management. In 2006, the idea turned into reality when the four emerging economies, Brazil, Russia, India and China met in 2006 at the margin of UN General Assembly in New York.
In spite of scepticism about their geographical distance and cultural difference, these countries started meeting annually since 2009. BRIC became BRICS in 2011, after South Africa joined the group. Till a couple of years back, BRICS was considered to be the future of globalised economy and to have the potential to not only replace G-7's domination of the World Bank and IMF but also to dominate the global security architecture.
The BRICS countries not only host more than 40 per cent of the global population and nearly one third of world's land area, they have large potential for future economic development, carry abundant natural resources and constitute a very big market. In the last decade, they have managed to establish the New Development Bank, BRICS Business Council and the BRICS Contingent Reserve Arrangement.
However, the idea of BRICS seems to have reached a dead end.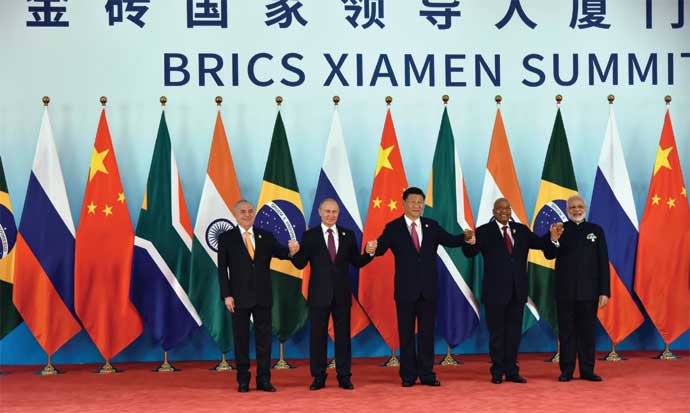 Without bilateral cooperation, BRICS is headed for a dead end. Photo: PMO India
The group's dream of replacing the dollar with its own global reserve currency has not been successful. The United States continues to dominate the global security structure and also has near total control over the information technology sector. Over and above, the potential of sustainable economic growth of BRICS countries is in serious doubt.
Brazil hosted the World Cup in 2014 and the Olympic Games in 2016, but due to political crisis and rampant corruption, its GDP growth rate plunged to 0.1 per cent in 2014 and contracted to 3.8 per cent in 2015 and 3.3 per cent in 2016.
The economic growth story of South Africa is no better. The country's central bank estimates its full-year GDP growth in 2017 will be only 0.5 per cent. Political instability also adds to the possibility of South Africa's economy continuing to be sluggish in the near future.
However, the Russian economy is showing some signs of recovery from a serious recession since 2014 due to the drop in oil prices. International economic sanctions have also complicated the recovery process - China and India also have witnessed decline in their economic growth trajectory and they grow annually at 5-6 per cent these days compared to 8-10 per cent few years back.
The economic volatility of the BRICS countries, particularly of Brazil and South Africa has raised some doubts over the potential of economic clout of the club. Goldman Sachs, which was the first to moot the idea of BRICS, closed down its BRICS investment fund in 2015 after its assets lost 88 per cent of the value from their 2010 price.
The economy of China and India - unlike the other BRICS nations - is part of global supply chain and not solely dependent on selling the country's natural resources.
China's economy is still growing at 6.7 per cent annually and India's at around 5.7 per cent. On the other hand, Russia has substantial foreign exchange and gold reserve. The increasing oil price has also started to aid Russia's economic recovery. Moreover, the country possesses impressive technological and military strength - so, even without substantial contributions from Brazil and South Africa, BRICS still had the potential to be a major challenge to the existing structure of the "international community" and to be an indispensable force behind global financial stability.
In spite of the economic downturn in Brazil and South Africa, the combined economic and political clout of China, India and Russia could have made BRICS an enviable global economic and political powerhouse. But, the open conflict between China and India in the last two years has evaporated any hope of a successful BRICS emerging in the near future. There are growing concerns about the survival of the group itself.
There is no doubt that China's global clout is going to increase further in the future. India might also recover from its post-demonetisation economic slump and get 7-8 per cent economic growth in the near future. But, both the countries working together for mutual economic and strategic gains in the global arena looks increasingly difficult.
China is already an established global superpower - India is at best aspiring to be one. There is no doubt that China does not need India as much as India needs China for its economic development and to be part of global power clubs.
Since Rajiv Gandhi's visit to China in 1988, India's policy vis-à-vis Beijing was one of developing a mutually beneficial bilateral relationship through regular dialogues and bolstering commercial ties.
However, Prime Minister Narendra Modi - in the last two years - has adopted an open confrontational approach and not left any opportunity to infuriate China.
The ruling party's politicians have, from time to time, openly called for the boycott of Chinese goods. Modi government's signing of the Logistic Exchange Memorandum Agreement (LEMOA) in April 2016 and its decision to boycott the formal launch of Chinese president Xi Jinping's pet project One Belt, One Road (OBOR) in May 2017 have ruined the bilateral working mechanism developed in the last three decades.
The nine-week long tense standoff between the two armies at Doklam, which came to an end just a few days before Modi undertook his trip to attend BRICS summit at Xiamen, shows the relationship between two countries has hit rock bottom. Moreover, India's signing of the LEMOA and increased military cooperation with the US has brought Russia closer to China.
Not just China, even an old and reliable friend like Russia has strengthened military cooperation with Pakistan. While the BRICS delegation has deplored the acts of terror groups in the region, the tense bilateral relationship between two key members of the BRICS on the ground does not offer much hope over any substantial outcome of the summit.
BRICS had raised the possibility of China, India and Russia working together for mutual benefits and win-win outcomes through cooperation. It could have easily transformed today's quasi-unilateral world order into a de facto multipolar power constellation.
However, the bitter bilateral rivalry between China and India could have killed that hope. With these two key warring members, BRICS is neither going to be effective as a forum for mutual cooperation among its member countries nor it will be successful in challenging the existing global power domination.
China's global clout is not going to be diminished, and also most likely its strategic cooperation with Russia will be further strengthened.
But, it is very unlikely that BRICS will be a successful institution for multilateral cooperation.
India could have gained a lot both economically and strategically from a strong and vibrant BRICS, but Modi government's open confrontation with China may unfortunately ruin that possibility.