Nirmala Sitharaman's maiden Budget speech has been criticised for being long on politics and short on economics. There may be a point in that.
But those who think so are yet to fully get Narendra Modi even after five years.
Bit by bit. There is only one 'big-bang'. (Photo: Reuters)
Traditionally, the Budget speech and document were of primary interest for journalists, politicians, industrialists and businessmen. It was also a seasonal pastime for a motley group of economists who hover around the North Block of Raisina Hill — usually former advisers to the government, now resting in various think tanks of the capital or emeritus professors of Jawaharlal Nehru University (JNU). The common public were not bothered beyond the changes in income tax rates (generally revision of standard deduction and tax relief for investments) and Value Added Tax (VAT) or customs duty on certain items of personal and domestic consumption, home durables and, of course, cigarettes.
For the vast majority in rural India, that too was limited to only beedi, pan masala and gutka.
The Goods and Services Tax (GST) has taken half the fun out of Budgets. The entire section on indirect taxes has disappeared. Gone are the days when people had to sit with magnifying glasses and comb through the Budget papers to discover changes in excise duty. Changes in GST rates and slabs now get decided in GST council meetings.
Direct taxes have become much simpler. For corporates, the era of complicated industry-specific and investment-linked tax incentives are gone. It now basically boils down to the effective tax rate. Almost ditto for individuals — barring some token concessions like relief for interest on home loans.
So, what does the Finance Minister talk on for two hours to keep her Parliament colleagues engaged — and provide enough airtime material for TV channels? One can, of course, dwell on economic policy and specific investment proposals in infrastructure, social welfare schemes and allocations to different departments and ministries. But that would be drab unless embellished with rhetoric and lofty ideals.
So, by default, the Budget speech has to be more of a political than economic statement.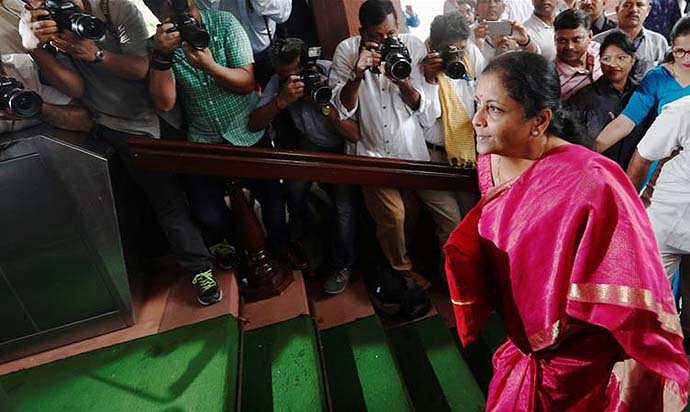 Following the PM: Nirmala Sitharaman echoed Modi's vision in her Budget speech to the last word. (Photo: Reuters)
This is where people fail to understand Modi. If a political statement has to be made, he will not restrict it to only a limited audience of economic experts, politicians and industrialists who traditionally dabbled in the Budget. Modi's audience, and, therefore, by extension, his Finance Minister's, is the whole nation. He will not be unduly bothered about what a small coterie of armchair critics and TV regulars think of his Budget.
A former Finance Minister of the UPA era took a dig at Nirmala Sitharaman's red 'bahi khata', saying that a Congress FM would have gone with an iPad. That is precisely the problem with the Congress. They do not understand that for a woman in rural or small-town India, who can now watch India's first female Finance Minister on colour TV, a bahi khata would mean much more than a tablet PC (no pun intended), which she would barely recognise.
There is much lament that Modi shied away from big-ticket changes like labour reform. Apart from the fact that a 'hire and fire' policy is by itself not a guarantee for investment pouring in, it would have been a politically suicidal move in an atmosphere of despondency over the unemployment rate. Besides, the Budget is no time to announce amendments in labour laws. This can be best done incrementally — probably a few sectors at a time when the economy shows signs of picking up and alternative employment avenues are created.
The government will, in any case, have to face the backlash of large-scale retrenchment if the promised disinvestment of PSUs and merger or privatisation of nationalised banks take place. To tackle major displacement of labour by introducing radical shifts in employment paradigms would have been fraught with huge political risks. While waiting for an economic upturn, Modi has been systematically spreading the social security net for the unorganised sector.
Modi knows best that in the short term, the only way to pump up the economy is through infrastructure spends. Towards the end of Modi 1.0 — led largely by Nitin Gadkari — work on road connectivity had picked up pace — Modi 2.0 has to build on that momentum and take it to the next level. The Sagarmala and Bharatmala projects with the National Highway Grid are expected to be game-changers.
Time for much more of this. (Photo: Reuters)
Be it in building roads or in construction of rural housing under Pradhan Mantri Awas Yojana (PMAY), the critical difference Modi 1.0 made was in the speed of execution. This will be further accelerated in the coming years through upgraded technology and policy interventions in areas like land acquisition at the state level. After the substantial cleaning up of bank balance sheets in the previous term, credit for infra projects should also begin to ease.
Simultaneously, the push in rural infrastructure — housing, roads, toilets and electrification — will continue unabated. Move to invite PPP in railway rolling stocks, tracks and freight services would be a step change. Thrust on air connectivity (UDAN) is already showing dividends in tourism and trade for hitherto underserviced parts of many states. Policy intervention in Maintenance, Repair and Overhaul (MRO) and making India a hub for aircraft financing and leasing would provide a boost to the aviation sector.
Ministry of Micro, Small and Medium Enterprises (MSME) issues with regard to finance and ease of doing business have been addressed, though some might say it is too little, too late. With banking sector reforms of the previous government beginning to yield results, attention has been turned to revive Non-banking Financial Companies (NBFCs) with a better governance framework. Measures to enhance sources of capital for infrastructure financing have been envisaged in the banking reforms roadmap.
The new education policy, a renewed thrust on Digital India and a further boost to the start-up ecosystem should excite the youth as results become more apparent.
There is concern that the Budget arithmetic does not quite add up.
Modi plans on aiming big and then working towards achieving it. Everything need not be spelt out in the Budget. Now, with total dominance in the Lok Sabha and a Rajya Sabha majority within striking distance, Modi 2.0 has the flexibility of bringing legislative changes along the way as per the situation.
Twists with turns: The economy is likely to see significant reforms in the next five years. (Photo: Reuters)
Like he did with GST in his last innings, it can be safely assumed that Modi also has some mega reforms planned in the next five years. But he will do so at the time of his own choosing — when the circumstances are more conducive.
The only 'big bang' Modi seems to believe in are the elections. For the rest, his style is to maintain a steady pace with a strict timetable — with last mile execution as his mantra.
Sitharaman has stuck to the Modi philosophy of change with continuity. That itself should inspire confidence in the people and Modi-watchers at home and abroad.