The sharing of Cauvery river water has always been a source of tension between Tamil Nadu and Karnataka. 
Acting on the Supreme Court's February 16 direction, the Centre on June 1 constituted the Cauvery Water Management Authority (CMA) to address the dispute over sharing of river water and issued a gazette notification. According to the notification, the Centre framed a scheme constituting the CMA and the Cauvery Water Regulation Committee (CWRC) to decide and implement the sharing of Cauvery river waters among the riparian states of Karnataka, Kerala, Tamil Nadu and the union territory of Puducherry.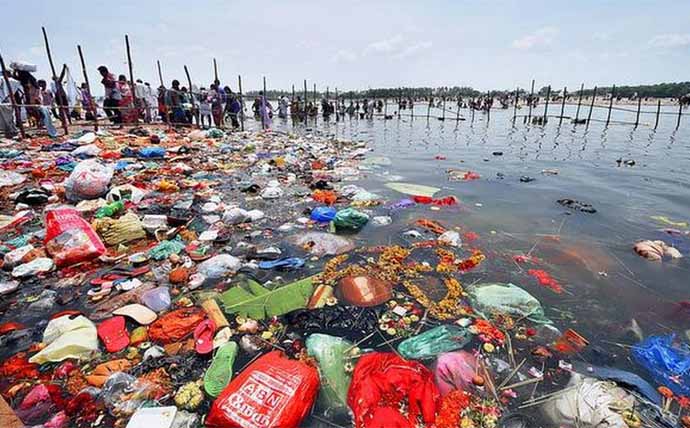 The banks of the Cauvery at Amma Mandapam in Srirangam, Tamil Nadu. [Credit: M Srinath/The Hindu]  
On June 30, a miffed Karnataka said it would challenge the setting up of the CMA and CWRC by the Centre in the Supreme Court as they were formed without consulting the state. "As the CMA and CWRC were constituted without considering our state's views, we have decided to challenge their notification in the Supreme Court," minister for medium and major irrigation DK Shivakumar had earlier told reporters after an all-party meeting. 
As recently as July 1, Tamil Nadu BJP president Tamilisai Soundararajan said the Cauvery issue had been resolved, but Karnataka was politicising it again by challenging the constitution of the CMA in the Supreme Court. Referring to the decision taken at the all-party meeting in Karnataka, she said, Tamil Nadu should refrain from politicising the issue further.
Lost in the din, however, is the fate of the drying and polluted river.
According to this report, Cauvery is one of the most toxic rivers because of the untreated effluents released in "its tributaries Noyyal and Amaravati rivers. Findings of a study conducted by Anna University say the river "is carrying more chemical load such as Sodium, Magnesium, Bicarbonate and Chloride to the Bay of Bengal when compared to other rivers in southern India". 
Quoting the same study, Soumya Sarkar writes in The Hindu: "The Cauvery, it is becoming increasingly clear, is dying. So all that political posturing and fighting over the sharing of its water between Karnataka and Tamil Nadu when it can't be used for any practical purpose is nothing but a pathetic attempt to score brownie points."
It's sad the river has been silently witnessing its death while politicians continue to fight over it.