How Kashmir's youth are caught between a bullet and a CRPF van
Ramzan ceasefire faces the fallout of both militant attacks and a man crushed under a CRPF vehicle recently. What do Kashmiri youth envisage of their future?
On Friday, three youth were mowed down by a paramilitary forces' vehicle, which came under heavy stone throwing, just outside Srinagar's Grand Mosque.
One of the injured – Qaiser Ahmad Bhat, all of 21 years of age – succumbed to his injuries later at a hospital.
The incident sparked a debate over social media over whether this was an accident — or not
The incident sparked a debate on social media over whether this was an accident — or a murder even. As the debate grew heated, I received hundreds of abuses for sharing a photograph of Bhat getting mowed down under the vehicle.
A majority of users on social media were like "Oh, stone throwers deserve it."
But do they really?
Bhat aside, whose death is being investigate, do young Kashmiris really "deserve" such a death for raising their voice on what they perceive as legitimate demands — done peacefully or through stones?
Even if we take the extreme end of the argument — the truth is no one wants to pick up a gun for sheer adventure. It is the circumstances around them and what have they lived through that intensifies an urge amongst the youth to fight back. The armed rebellion in Kashmir today is a response. In recent years, the Kashmir Valley has exponentially changed – its own youth have taken over the frontlines in the decades–long movement against India.
A major shift in the engagement of Kashmir youth, mostly born during this conflict, with the region's politics came in 2008, when a civilian uprising went on for months. Two years later, in 2010, another uprising sparked multiple civilian killings, and for the next few months, over 120 civilians – mainly Kashmiri youth – were shot dead by various government forces.
No, it's not fun and games
Today, a decade since 2008, the anti-India, pro-freedom narrative in Kashmir is led by such youth, who are out on the streets as protesters – or stone throwers – as militants in the forests, or even those propagating the resistance movement through various platforms, including social media.
Alongside, it is as true that many youth are openly questioning the role of such resistance leadership too – and no one can deny them that space, as it is Kashmir's youth who are at the frontlines.
On 8 July 2016, Burhan Wani, a popular militant commander, was shot dead by the forces in South Kashmir.
Burhan Wani grew even more powerful in death, his passing actually rebooting armed militancy
Wani's death led to a protest that carried on over six months – during which over 80 civilians were killed. Wani's death not only fuelled the uprising, but it also rebooted armed militancy.
In the next year, according to official figures, over 275 militants were killed by the forces in what they called "Operation All Out". But even that did not deter Kashmiri youth from picking up guns against the mighty Indian army, one of estimatedly over half a million men posted in the region.
All that show of might has changed little. Perhaps this also reflects a lack of strategy alongside military might, for ground reality in Kashmir continues to be the same.
This year alone, so far, at least 80 youth have joined militancy, even though 65 have been killed among the total active militants who estimatedly number more than 200, including most of the popular commanders. As per reports, in the last two years and four months, 460 militants and 235 civilians have been killed by the forces.
A situation like this must lead us to question – what do Kashmir's youth envisage from this ongoing cycle of violence? There is a sentiment, with a historical background and a political issue that need to be addressed and solved. The use of force against the political sentiments of Kashmir's youth — above 60 per cent of the population — will not be of much use. The futility of force has been evident over the last two years in the Valley, where youth have come out to save militants — even at the cost of their own lives.
The state government's wish to bring such youth into the mainstream has not worked either.
The People's Democratic Party (PDP), going into alliance with the Bharatiya Janata Party (BJP) since 2014, has only polarised the region further, rather than connecting "North Pole and South Pole". The scale of violence against civilians has only increased, evident from the numbers of gunfights, civilian killings, arrests and other repressive measures.
This generation of young Kashmiris has only seen conflict and bloodshed.
After this weekend, and the death of an unarmed man under a CRPF van, the situation has reached a point where the young are utterly tired of two things — the status quo and such suppression.
Against this bloodied backdrop, many Kashmiri youth have even sought dignity in death.
As a journalist in Kashmir, I have visited hundreds of families of young persons killed either by the forces during clashes or in gunfights. The highly serious fact is, such families find a sense of dignity even during such a loss. On April 1, when 13 militants and four civilians were killed in South Kashmir's Shopian district, for a journalist, it was not easy to ask, what happened here? The answer came with anger, distress, and with eyes filled with revenge – a vengefulness that has developed in the absence of palpable justice.
In Kashmir, justice is indeed a dream – retaliation has thus become a way out.
Within this choking paradigm, for many youth in Kashmir, death has become an act of resistance in itself.
Retaliation – even death – has become a way out in Kashmir.
Many mainstream politicians have been writing in local newspapers that Kashmir's youth should shun violence. But there is another angle – that this situation has been brought to this point by the same political circles. It is their failure that Kashmir's youth don't trust any institution even for the most basic justice and accountability. Each government in this region has betrayed its young – by corruption, unemployment, nepotism and by using violence against dissenting civilians.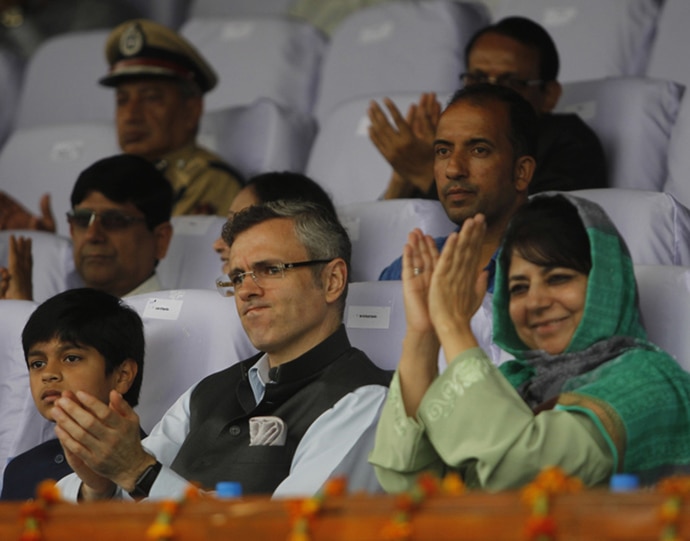 Who are you appplauding for? It is the failure of its netas that Kashmir's youth don't trust any institution any more
If one asks the question – what do Kashmir's youth want? – the answer is simple.
They want justice, dignity, respect and freedom, but on their own terms, not on terms dictated to them, by every person finding the age and rage of the young, a perfect opportunity to make sermons and political capital for themselves.
Preaching to the young?
During my reporting trips, it is now frequent to meet many young Kashmiris who say, "What is this life for, we are anyway going to die – look around, what is happening?" There are thus two streams of thought prevailing in Kashmir today among its youth – one is, what do we get out of giving such sacrifices? Another is, there is no other way of living other than resistance at every front. This second thought has kept the hope of azadi alive in Kashmir, despite so many losses, human and economic.
They also want accountability for a man who can get crushed under a military van.
Accident or not, a life was lost.
Answers are needed as to why – before that gap is again filled by the same old sense of anger and revenge, and the responses through a gun.
Also read: Writing on the wall: Only a united Opposition can stop the Modi-Shah juggernaut
The views and opinions expressed in this article are those of the authors and do not necessarily reflect the official policy or position of DailyO.in or the India Today Group. The writers are solely responsible for any claims arising out of the contents of this article.