How music influenced the War of Liberation of Bangladesh
The Concert for Bangladesh was organised at Madison Garden in New York on August 1, 1971, by George Harrison and his mentor, Pt Ravi Shankar.
Music influences the tempo of the everyday. It creates emotions — makes us happy, sad, or calms us down. But one of the lesser-known aspects is the role music played in setting the tempo for the War of Liberation of Bangladesh.
First, let us begin with the tempo set by a cyclone. We are all largely familiar with the role of the Indian armed forces in the liberation of East Pakistan, but little is known about its preceding events. Cyclone Bhola (meaning "Innocent") remains one of the deadliest cyclones known to mankind — killing between 3,00,000 and 5,00,000 people when it made landfall in East Pakistan in November 1970. The cyclone can be credited with the political events that led to the creation of Bangladesh in 1971.
Indifferent and callous, political reactions to the disaster would bring to the fore the deep divisions between East and West Pakistanis. The elections of 1971 held against the backdrop of this indifference to East Pakistani sufferings led to a landslide electoral victory for Bengali nationalists, followed by a bitter and bloody civil war when the beloved of the East Pakistanis, 'Bangabandhu' Mujibur Rehman, was arrested.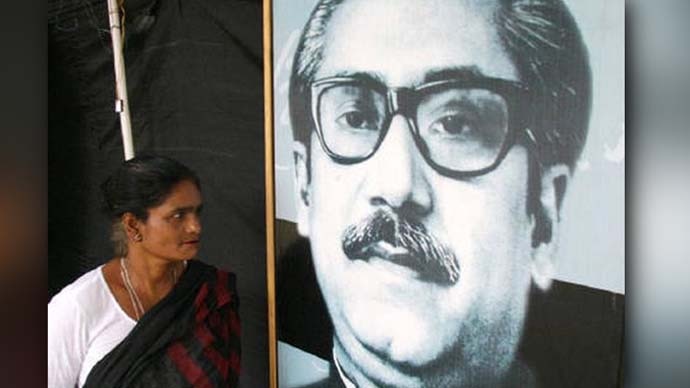 The 1971 elections in Pakistan was followed by a bloody civil war when the beloved of the East Pakistanis 'Bangabandhu' Mujibur Rehman was arrested. (Photo: Reuters)
A reign of terror was unleashed on the Bengalis which was at par with that of the Nazis nearly four decades earlier. It had all elements — genocide, ethnic cleansing, mass rape — all masterminded by General Tikka Khan, who was known as the "Butcher of Balochistan". As part of his efforts at psychological warfare, Khan would order the halt of the popular music program — Rabindra Sangeet — calling it subversive because it was too closely linked to a Bengali identity, as distinct from a pan-Pakistani identity. This very popular program featured songs by Nobel Laureate Rabindranath Tagore and was — and still is — an integral part of Bengali identity. Feelings of patriotism and pride are what Rabindra Sangeet conveys. It is said that there is no Bengali home — rich, poor, cultured or unlettered — where Rabindranath's songs are not sung, or at least attempted to be sung. It is intensely nationalistic and remains ingrained in the psyche of Bengalis of all religions and classes — through the fall of the British empire, the reshaping of national boundaries, and the resultant mass migration.
Around the time of General Khan's moratorium on music that inspired patriotic Bengalis, the signature Bengali tune of the Rabindra Sangeet radio program would be replaced by Mera Sundar Sapna Beet Gaya (My beautiful dream has ended), sung in Hindi by Geeta Dutt and composed by SD Burman, who were both Bengalis. Ironically, the only people in East Pakistan who understood either Hindi or Urdu were the West Pakistanis and indeed, their dream was soon to end soon.
A reign of terror was unleashed on the Bengalis in East Pakistan masterminded by General Tikka Khan, who was known as the "Butcher of Balochistan". (Photo: Reuters)
All this while the Western bloc remained largely unaware or detached from the atrocities being meted out in East Pakistan. While Tikka Khan rode roughshod over the country, the American duo of President Richard Nixon and National Security Advisor Henry Kissinger, moved the Seventh Fleet into the Bay of Bengal and also led a secret mission to China, inviting them to stand against India in the event of a war. As a result, the world, including much of Europe and the Chinese, would ignore the suffering and blindly support Pakistan.
The lack of support for East Pakistan would extend further, with the United Nations and leaders like Prince Aga Khan choosing not to raise the issue or bring the much-needed attention to a growing humanitarian crisis that killed and displaced millions. This global ignoring of events in East Pakistan would continue even after Senator Ted Kennedy's visit in mid-1971. Kennedy would go on to visit refugee camps housing nearly seven million East Pakistanis who fled persecution, saying in frustration that President Nixon's policy "baffles me and after seeing the results in terms of human misery, I think it's an even greater disaster."
The missteps by American leadership would lead to the famous "Blood Telegram". Signed on April 6, 1971, by the US Consul in Dacca, Archer Kent Blood and 20 of his staff, the message read:
"Our government has failed to denounce the suppression of democracy. Our government has failed to denounce atrocities. Our government has failed to take forceful measures to protect its citizens while at the same time bending over backwards to placate the West Pak[istan] dominated government and to lessen any deservedly negative international public relations impact against them. Our government has evidenced what many will consider moral bankruptcy... But we have chosen not to intervene, even morally, on the grounds that the Awami conflict, in which unfortunately the overworked term genocide is applicable, is purely an internal matter of a sovereign state. Private Americans have expressed disgust. We, as professional civil servants, express our dissent with current policy and fervently hope that our true and lasting interests here can be defined and our policies redirected in order to salvage our nation's position as a moral leader of the free world."
Music, however, proved an unexpected ally despite Tikka Khan's efforts. It changed the way the world viewed events in East Pakistan, forcing the US government to notice and react. The event was the Concert for Bangladesh. It was organised at Madison Garden in New York on August 1, 1971, by the iconic Beatle George Harrison and his mentor, Pt Ravi Shankar.
Jesse Ed Davis performs with George Harrison and Eric Clapton at the Concert For Bangladesh on August 1, 1971. (Photo: AP)
Pt Ravi Shankar had family ties to East Pakistan through his father Shyam Shankar Chowdhury. He approached George Harrison with an idea of a concert that would highlight the misery of millions in a land he held dear. Pt Ravi Shankar had tutored George on the sitar for many years. The association of The Beatles with India goes back to some years prior to that. The Beatles, having acquired fame and popularity, were looking for something more meaningful. They had studied meditation under Maharishi Mahesh Yogi. Till date, no pop group or individual group has approached the iconic status of The Beatles.
Besides George Harrison and Ravi Shankar, the concert drew other musical legends to the stage including Ringo Starr, Alla Rakha (also of Bangladesh origin), Eric Clapton, Bob Dylan, and Joan Baez. The lyrics of the title song — Bangla Desh — was written by Harrison himself.
The lyrics go: My friend came to me with sadness in his eyes, told me that he wanted help before his country dies. Although I couldn't feel the pain, I knew I had to try. Now I am asking you, all of you to help us save some lives...
The Concert for Bangladesh album tracklist goes: Introduction by George Harrisson; Bangla Dhun by Pt Ravi Shankar; Something by George Harrison; Bangla Desh by George Harrison; Wah-Wah by George Harrisson; My Sweet Lord by George Harrison; Awaiting On You All by George Harrisson; That's The Way God Planned It by Billy Preston; A Hard Rain's Gonna Fall by Bob Dylan; It Takes A Lot To Laugh, It Takes A Train To Cry by Bob Dylan; Blowin' In The Wind by Bob Dylan; Mr Tambourine Man by Bob Dylan; Just Like A Woman by Bob Dylan; It Don't Come Easy by Ringo Starr; Beware Of Darkness by George Harrisson; While My Guitar Gently Weeps by George Harrison; Medley: Jumpin' Jack Flash / Youngblood by Leon Russell; and Here Comes The Sun by George Harrison.
The concert was a huge success with tickets sold out within the hour of opening. The two shows at Madison Square Garden raised USD 243,418.50 (back then), which was given to UNICEF on August 12, 1971. The concert and record sales were eventually heavily taxed by the governments of the USA and Britain over allegations that they had failed to register the event as a concert for charity. Rather than have the monies to charity reduced, as a result, Harrison would later pay nearly USD 5 million out of his own pocket.
This was the first time that a concert was held for a cause. It preceded Bob Geldof's brainchild — Live Aid for Africa — by almost 14 years. Live Aid for Africa had raised over USD 120 million, compared to the less than USD 20 million that had been raised by the Concert for Bangladesh.
Harrison said later that while this figured paled in comparison to later ventures such as Live Aid, "you have to remember, that was at a time when nobody was really aware of this kind of benefit concert, certainly, there hadn't been anything like that." The UN now holds the royalty and Harrison estimates the music has raised about USD 45 million to date.
Pt Ravi Shankar approached George Harrison with an idea of a concert that would highlight the misery of millions in East Pakistan. (Photo: Twitter/ @GeorgeHarrison)
Finances aside, the concert achieved something far more remarkable: its music instantly raised awareness of an ongoing genocide. Pt Ravi Shankar would later say of the overwhelming success of the event: "In one day, the whole world knew the name of Bangladesh." Public opinion in Western countries was now firmly on the side of East Pakistan, forcing governments to moderate their views. And that international support would, once the conflict led by Mukti Bahini was aided by Indian armed forces, lead to the creation of a new country: Bangladesh.
And Tagore's music would once more provide a musical bridge between past and future. His song, Amar Shonar Bangla became the national anthem of an independent Bangladesh in 1971. As a historical aside, the song was first written to protest the 1905 Partition of Bengal along communal lines. Today, you can find Rabindra Sangeet online.
Music of every genre connects to the spiritual, emotional and historical — direct from the heart and instinct — bypassing the conscious thinking mechanisms of the brain. It has the power to arouse feelings of intense patriotism through lyrics and music, often pushing mankind to achieve feats of heroism and grandeur. We tend to largely underestimate the power of music and the ability of great musicians to become the standard-bearers of national identities and movements. The Concert for Bangladesh proved that. It is said, "As is the music, so are the people."
One of the most traumatic things for an individual or a country is to live through a war. Music helps soldiers cope with fear stress and trauma of war and this goes back thousands of years in all cultures. The message of music can inspire national pride and uplift one. Patriotic songs are important and an easy way of building an identity and serves to remind people and soldiers what and why they were sacrificing or fighting for. Musicians use their music to convey a message, which could be to encourage those suffering to live through the frustration and resistance or could be to rally people to protest.
Also Read | Stifling song: You may disagree with TM Krishna's views. But you cannot stifle his singing
The views and opinions expressed in this article are those of the authors and do not necessarily reflect the official policy or position of DailyO.in or the India Today Group. The writers are solely responsible for any claims arising out of the contents of this article.