Their villages are called "cheetmahals". The palace of the "cheets". In colloquial "Rajbangshi Bengali", they are simply called "cheet". The word can only be explained through a metaphor: if you splash blue ink from a fountain pen on a white canvas, the dots are called "cheet". That is, they are simply "cheets" – dots on the map. Indeed, till July 31, 2015, they did not even exist in the map. Not even perhaps on Google Earth.
Across the stretched out barbed wires in the lush green India-Bangladesh border in North Bengal, with "dhan" and jute fields spread across like an infinite bedspread, in the vicinity of the erstwhile flourishing kingdom of Cooch Behar, which did not succumb to the British, between several outposts of the Border Security Force (BSF), the "cheets", or enclaves, have existed since 1947, since the Partition of India and the creation of East and West Pakistan. Indeed, they have existed here since 1949, because the Cooch Behar kingdom joined India two years later.
The 'dhan' and jute fields spread across like an infinite bedspread in Cooch Behar. (Photo: Amit Sengupta)
All their land documents, until now, are derived from the revenue records of the Cooch Behar kingdom, including across the border, with Rangpur and Lalmonirhat in Bangladesh in the neighbourhood. There are stories that the kings of Rangpur and Cooch Behar would hunt and play dice and trade the villages they gambled. Or that they made a treaty for a trade passage, in a porous border, in the hunting fields of the forest, and then shared a meal — hence the famous name of the current tourist spot: Raja Bhaat Khawa (the raja eats rice).
There were 51 Bangladeshi enclaves in India and 111 Indian enclaves in Bangladesh across both the countries in the border. These are enclaves surrounded by villages of both the countries. For instance, if villagers wanted to move from one enclave to another, they might have to cross "foreign" territory. Before 1947, there was no problem. After 1947, ancient habits have failed to die.
After the treaty of July 31, 2015, the Indian enclaves were included in Bangladesh, and the 51 Bangladeshi enclaves joined India. The Indian tricolour was unfurled after the treaty. People now have photo identity cards, but they are not sure if the cards are officially valid. They have electricity and voting rights. And, yet, they still seem to be terribly left out of most scheme of things. "We are not outsiders. We are Indians," said Sadhu in one enclave. "So why are we treated as outsiders?" One of them was deported to Bangladesh from Delhi because the Delhi Police declared his photo identity card and Aadhaar card as illegitimate. A certain collective fear psychosis stalks the enclaves.
Before 2015, the people of these enclaves lived in a twilight zone, with no voting rights, no citizenship or political and social identity, no school or health centre, no market or transport, outside all zones of governance or administration, beyond all public and private space, outside the Indian Constitution, bereft of all social benefits and fundamental rights — not even a geographical dot on the map of India and Bangladesh.
Since 1947, they had no police to monitor them, no law and order machinery, no gram panchayat or community leader, no electricity or water connection, no land rights, not one document to prove if they are Indian or Bangladeshi.
Marjina Bibi and Anjali Burman of Falnapur. (Photo credit: Amit Sengupta)
If they would go to the "Indian" market, they would be called "Bangladeshi" and abused. If they rushed to Bangladesh, in case of medical emergency, they would be packed off to jail for endless periods. Most of them have lived with multiple identities in India. Almost all the children have "two fathers" — one, the real father in the enclave with no documentary evidence to prove his existence, the other, a distant friend or relative, whose name is listed as father to take admission in schools and colleges, or to get admitted in a hospital.
If a crime would happen, there would be no police. Women were left to their fate, if assaulted. There are villages with vast expanses of empty land. One particular village with vast expanse of empty space became a dumping ground for dead bodies and raped women. The police would not enter the village so the criminals had a free run. Despite the heat, even now, nobody sleeps in the open.
Their land has been taken over by the state, so they are virtually landless in their "new country". Their land records anyway are derived from the revenue records of the Cooch Behar king. They call themselves "Rajbongshis" — the subjects of the king. Most Bengalis are scheduled caste, the Muslims are listed as OBC. Most of them have no certificate to prove their caste identity.
Significantly, they live in absolute harmony, and barring odd incidents, allegedly engineered post-2014 by Hindutva forces, there has been no history of communal violence since 1947.
Despite no rights, the education standards are high. Almost all enclaves have graduates and post-graduates, though they could not get government jobs since they had no document to prove that they were Indians. Children go to school, even of those families who are abjectly poor, that is, when they are not helping their entire family, mother, father and brother, to work for 16 hours at the brick kilns, as in Falnapur and Nolgram, in Mathabhanga subdivision of Cooch Behar district. "Earlier there was total darkness. We used to study with a lantern. Now we have electricity. So it is nice," says little Brishti, in the Falnapur enclave.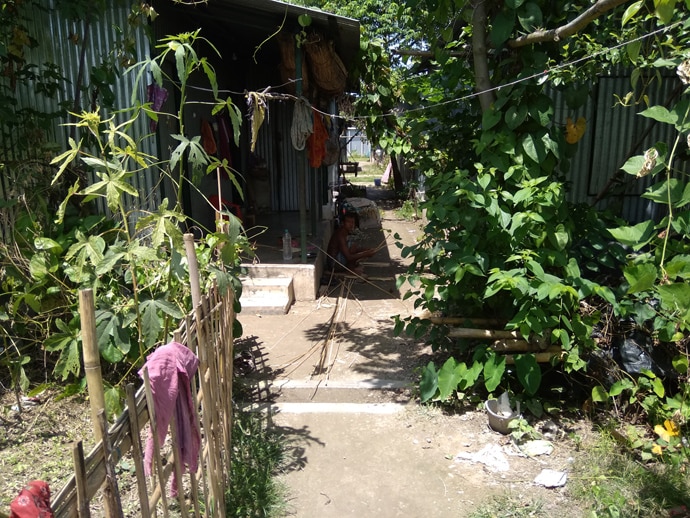 Tin-shed home at the Dinhata refugee camp. (Photo: Amit Sengupta)
Those who have returned from the Indian enclaves in Bangladesh, live in small tin sheds in three camps in North Bengal: Dinhata, Haldibari and Mekhliganj. They have left all they had in Bangladesh, including land. "The Indian government promised us land, home, compensation, jobs: after three years we are still waiting," said Kachua Burman at the Dinhata camp. Most of them work as landless agricultural labourers for three months; rest of the year they are jobless or do odd jobs. Life is hard. Said MD Usmangani, an ayurvedic doctor (without a degree): "It was the longing for my country that compelled me to leave my land and village, to come to India. I am an Indian, and, yet, I feel that I am a second-class citizen. For instance, we don't even have access to primary health care."
For most, Hindus and Muslims, the border, or the new map does not really exist. Marriages and festivals, as much as trade, are still on, despite the BSF this side and the Bangladesh Border Guards (BDG) on the other side of the barbed wires. There are Indian villages beyond the barbed wires, touching the zero point border line of Bangladesh. There are vast expanses of Indian agricultural land beyond the border fence. Villagers have to take permission from the BSF every time they go in (between 8am and 9am) and come out (4pm to 5pm) to till their land.
A peaceful protest staged by people of the enclaves in Cooch Behar. (Photo: Amit Sengupta)
Almost every villager complained of harassment and abuse at the hands of the BSF. "We are helpless. They treat us like dogs," said a villager. Another said, "If a woman has labour pain, or if a snake bites us, we can't get out of the BSF post except in the morning and evening. The gates will only open at the scheduled time. In between, if we die, so be it." In the border, surely, the BSF calls the shots. Even the local administration has no control over them.
The flip side is that there has always been love and bonhomie between the stateless enclaves and the surrounding villages in India. People get their children married across the border, there are relatives and families across the fence, and festivals are shared. Despite the BSF outposts, and the endless barbed wires, there is routine cross-border movement, including, smuggling — of cows, drugs, cough syrups, food stuff, pouches of sunsilk shampoo etc.
Marjina Biwi and Anjali Burman are friends. They are Indians who were born in Indian villages. And, yet, they got married to men a decade ago in the stateless enclaves. From light to darkness, from identity to a life without identity. Why, I asked.
They laughed and said: "Why not?"