Opinion and advice are flying thick and fast on how to reboot the economy post lockdown. While experts may differ on strategy prescriptions, they all appear to be broadly aligned on demand generation being the key to salvation. The intellectual tussle is on how to put money into the hands of the people. The Left would like to do it through doles. Those on the right-of-centre expect strong fiscal stimuli and increased government spending. The answer probably lies in doing a bit of both.
In its first tranche of Covid-19 relief measures, the Centre announced a slew of benefits for the rural poor under Pradhan Mantri Garib Kalyan Yojana (PMGKY), including enhanced wages under MGNREGA. But these were essentially palliatives. Much more needs to be done over and above the existing welfare schemes. But those should preferably be income-generating activities rather than freebies. The bulk of the spends can go into the creation of rural infrastructures, such as village roads and housing for the families below poverty line (BPL). The learnings from the earlier phases of Pradhan Mantri Gram Sadak Yojana (PMGSY) and Pradhan Mantri Awas Yojana (PMAY) can be leveraged for more efficient and cost-effective delivery.
These initiatives will give quick yields in the form of employment and income in the villages. Gainful employment is as important as money in these hard times. This is even more critical now, with multitudes of migrant workers returning home, who will need jobs. One of the lacunae of MNREGA in its original avatar was large leakages that resulted in the payment of idle wages to many ghost beneficiaries. With Aadhaar and Direct Benefit Transfers (DBT) through Jan Dhan bank accounts, those loopholes can be plugged.
Village roads open up the rural economy by building connectivity. This will help in the kharif harvesting season after monsoon. Roads will also improve the last-mile delivery of relief and welfare programmes. The Prime Minister has seeded the idea of making villages self-sufficient replicating Gandhiji's "Gram Swaraj" concept. Connecting villages physically and digitally will be essential for village enterprise to thrive.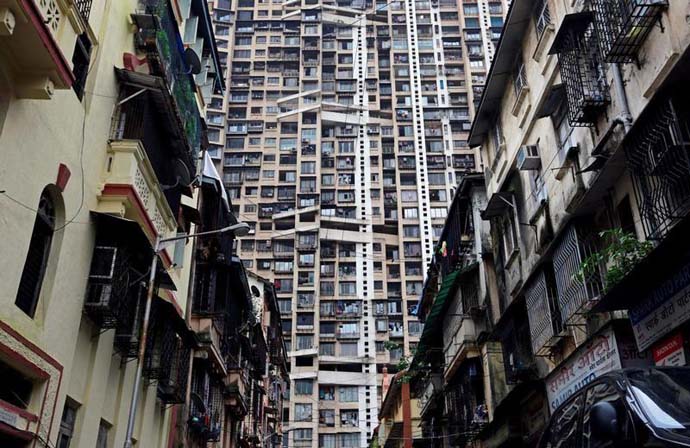 The concept of affordable housing will change from pigeonholes in high-rise apartments. (Photo: Reuters)
However, rural investment is not 'sexy', so to speak. What fires up public imagination is big-ticket investments in mega-infrastructure projects. Despite the good intentions and announcements, the achievements in this area fell far short of ambition in Narendra Modi's first term. Mired in problems of finance, with infra-construction companies stuck in debt traps and waylaid by land acquisition and environment clearances, highways simply did not take off.
In its second innings, the government cannot cite excuses. It will have to move on with ruthless determination in executing Sagarmala and National Highway Grid like arterial systems. The Golden Quadrilateral was former PM Atal Bihari Vajpayee's lasting legacy. The same way, Sagarmala and NH Grid can be Narendra Modi's pillar edicts for posterity.
This raises the age-old chicken and egg conundrum of what should come first – large scale national projects or rural infrastructure. The simplistic answer would be that both need to happen simultaneously. While that is true, megaprojects would still take some time to ramp up. However, rural infrastructure work can begin almost immediately if money is pumped through the state network. 
Urban projects may also get impeded due to the shortage of construction labour. Migrant workers have returned home and would be reluctant to return any time soon in view of the uncertainties. This would invariably lead to greater automation, reducing the labour coefficient at a later date. However, development of logistics links will be imperative in the medium and long term. Highways will be a prerequisite for the new investments that India is trying to attract, with global manufacturing out of China after the pandemic. It will also benefit the MSME sector that the government wishes to revive on a fast clip.
Covid-19 has been a harsh reminder of the need to reduce urban congestion. New satellite cities and suburbs will grow only if they are connected by expressways and mass transit networks. The pandemic may also trigger the preference for standalone individual housing. Absence of space will drive people into the suburbs and beyond. Concept of affordable housing will change from pigeonholes in high-rise apartments, to the assembly line of easy-to-build small homes, like in many countries abroad. But, none of this will happen overnight.
Farmers are often referred to as the annadata of the nation. Now, they will be so in more senses than one. (Photo: Reuters)
Private sector projects under construction can be the other low-hanging fruit. Many of these may now be stalled due to a cash crunch in a recessionary scenario. Government intervention for easing their credit woes may sustain the momentum in remote areas and also help check reverse migration of labour. Real estate sector may require similar moratorium for work in progress. But, the start of new projects will take time. Even if the interest rates on housing loans are reduced, it will be some time before buyers feel confident to commit themselves to EMIs. Should the white-collar job losses and shrinking of the service industries like hospitality happen as feared, demand will be further impacted. If builders are able to self-finance projects with bank loans or foreign investments, they may try to generate demand with innovative schemes like delayed payment options. Coupled with a drop in real estate prices, this could entice some investors. But at best, it will have a marginal impact. There is a greater likelihood of the affluent wanting to move out of apartments and gated communities to individual homes as social distancing becomes the new norm. But none of this will happen in a hurry until there is greater visibility about the future.
In conclusion, the short-term salvation lies in 'Bharat', or 'the other India', as it is called. Farmers are often referred to as the annadata (food provider) of the nation. Now, they will be so in more senses than one. Today, rural India is the growth engine not just for fastmoving consumer goods (FMCG), but also durables, two-wheelers, farm equipment, construction and many other sectors. So, without firing up the rural economy first, the rest of India will not pick up momentum easily. "Back to the villages" may be the new mantra in the post-Covid world.