I like the way Union HRD minister Smriti Irani carries herself in public. She has a confident voice, and great body langauge to match that, making a combination that can send shivers down the spines of her political adversaries, and at times, mediapersons who try to poke at her. But the respect I had for her suffered a serious blow when she made some comments against the Bihar education minister Dr Ashok Choudhary.
Irani took offence when Choudhary addressed her "Dear Smriti ji". She wondered since when did Choudhary start addressing women "dear". I am aghast to learn that the iron lady of BJP who can speak about any subject thrown at her, couldn't understand the courtesy (at best, satiric) in the Bihar minister's tweet.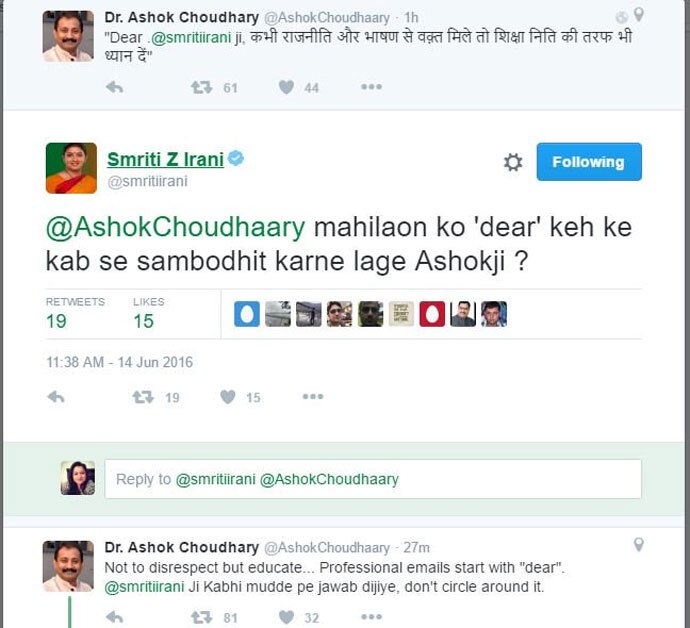 Screenshot of the conversation.
Soon after that, I saw several social media posts for and against her, the former obviously from her supporters. Some people argue that it was not in good taste to address someone "dear" even in professional communication. Some said it is an Indian system, which is not followed elsewhere.
Some said it is not professional to use "dear" if you do not personally know the person you are addressing. For the benefit of those, let me share this photo. This is a letter that the US Department of State sent me last year. Me, a total stranger to the US government, was addressed "Dear Mr Panickar".
A letter the US Department of State sent me last year.
But wait! Irani's was only a political gimmick to divert the issue Choudhary had raised. She tried to play safe, perhaps to buy time. Otherwise, how will Irani explain this tweet she posted to journalist and author Bhupendra Chaubey less than two months ago?
Is it okay for a woman to address a man "dear"? Is that gender equality, Mrs Irani?
And those that may doubt if she knew Chaubey in person, here is another gem. This one is completely professional, in which Irani calls the editor of The Economic Times "dear". This tweet was posted a year ago. 
What do I, a layperson, make out of all these? Either Irani is suffering from short-term memory loss, or she is writing her own rules of English usage.
Either way, such distinctly below-the-belt punches will only strengthen the doubts about her educational qualification. Thumbs down for this, "dear" Smriti ji!