Delimitation of Kashmir Explained: What a plan to re-draw the state's constituencies can mean
The new Central government has set the cat among the pigeons with its suggestion around a delimitation exercise which will impact existing boundaries in the state of Jammu and Kashmir (J&K).
A political controversy has erupted in J&K over the government's reported move towards a delimitation exercise in the state. But what is delimitation — and why is this contentious in J&K?
As the population of India grows and changes, a need has been felt to have the exercise of delimitation of constituencies. This is usually done to increase or change the number of representatives in the Lok Sabha.
Delimitation is the process of redrawing and fixing afresh the boundaries of constituencies. Over the years, delimitation has been done to redefine the area of a constituency based on its population size. It is the process of dividing a country's total area into smaller units, in order to conduct elections smoothly and efficiently and aim for better governance.
Why is it necessary?
Delimitation is not done by a political party but by the Election Commission of India. The process of delimitation, at its core, is to make constituencies that are representative of population groupings and changes therein. Ideally, constituencies should have an equal number of people — however, since births, deaths and other natural factors create disproportions in these numbers over time, fresh delimitation has to be conducted prior to the conclusion of every government.
Is it done in other countries?
Yes, delimitation was last done in Pakistan in 2018. According to the new provision, Punjab's share in the lower house has been reduced from 148 to 141 seats in accordance with the Population Census 2017.
Election Commission Pakistan will start new delimitation process from 15 January 2018. Secretary ECP says the process will likely conclude in three and a half months. pic.twitter.com/UT2cbEg0EN

— Govt of Pakistan (@pid_gov) December 22, 2017
In countries like the UK, there are 650 MPs with each one representing roughly 1 lakh individuals.
In India's case, each MP represents about 24 lakh citizens (1.3 billion divided among 545 Lok Sabha MPs).
 Why does India need delimitation?
The demands for new and newer states like, say, Harit Pradesh, Vidarbha and Saurashtra, all currently located within existing states, have been growing and with delimitation, it would be possible for smaller regions with different cultural, ethnic and regional compatibility to form their own states and constituencies.
A similar demand has been made by many groups within Jammu where a growing need for much more regional representation against the traditional reins of power being held tightly by Kashmiri political groups has been seen in recent years.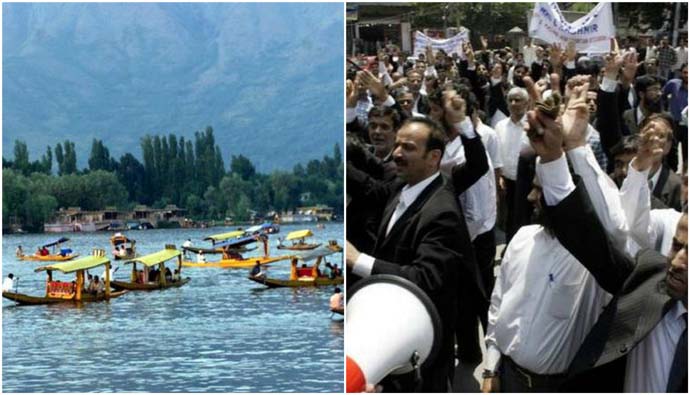 The strains within J&K have only been growing, with Jammu demanding a greater voice. (Photo: Reuters/PTI)
 Why is J&K different?
J&K are two regions combined in one state — the area is vast and  the argument is that there is a necessity to have the constituencies redrawn for better and more contemporary representation. In 1957, the Constitution in the state was based on the Maharaja's Constitution of Jammu and Kashmir. When Kashmir came into the Indian domain and the state constituent assembly came about in Sheikh Abdullah's administration, 30 seats were drawn from Jammu, 43 seats from Kashmir and two from Ladakh.
This disparity further extended, with Kashmir getting 46, Jammu 37 and Ladakh, four.
Which netas figure here?
When Ghulam Nabi Azad was the chief minister of the state (2005-2008), he recommended a proposal of a 25% all-round increase in the number of Assembly seats of all the three geographical regions in the state — which would have resulted in an additional 22 constituencies in the Assembly. At that time, political parties had opposed this move.
In 2002, the Farooq Abdullah government froze delimitation in J&K. Only the Governor can intervene now. (Photo: PTI)
In any case, in 2002, the Farooq Abdullah government chose to freeze delimitation until 2026, by amending the Jammu and Kashmir Representation of the People Act 1957 and Section 47(3) of the Constitution of Jammu and Kashmir.
Can it be done immediately then?
No, it can't. The next delimitation can only take place after census 2031 — unless the Governor intervenes. 
Also read: How millennials in Kashmir are being set up for militancy