The railways have been abuzz since the night demonetisation was announced by the Prime Minister. But this buzz is of a different kind. The kind where employees talk in hushed tones about senior officers, but never have the guts to talk to them, challenge them or bring things in order.
The sudden withdrawal of larger currency notes and the subsequent relief that they could still be used at railway counters had brought much relief to commuters and to railway officials as well. Senior railway officials are said to have hounded cashiers at various stations, not just in Mumbai and neighbouring junctions but across the country, to get their 500 and 1,000 rupee notes changed to Rs 100 notes that were being given by people coming to book tickets.
Most commuters came to booking counters with the demonetised notes but, while buying tickets, also gave out a few 100 rupee notes. However, the money, which should have been kept with the cashier and circulated among the public to help matters, was used to exchange railway officers' booty.
Cashiers say that had it been a matter of just a few thousands, then it would have been okay for them to handle. But on the night of the announcement itself, a senior officer in Mumbai exchanged about Rs 3 lakh in cash, made up of 500 and 1,000 rupee notes, with Rs 100 notes from cash counters.
The next day, the pressure only increased, with some cashiers across the city alleging that they were under pressure to shell out 100 rupee notes to senior officers from the commercial department. What's worse is that some say they even had officers from the vigilance department coming to them to change their demonetised notes with 100 rupee notes – with figures running into lakhs!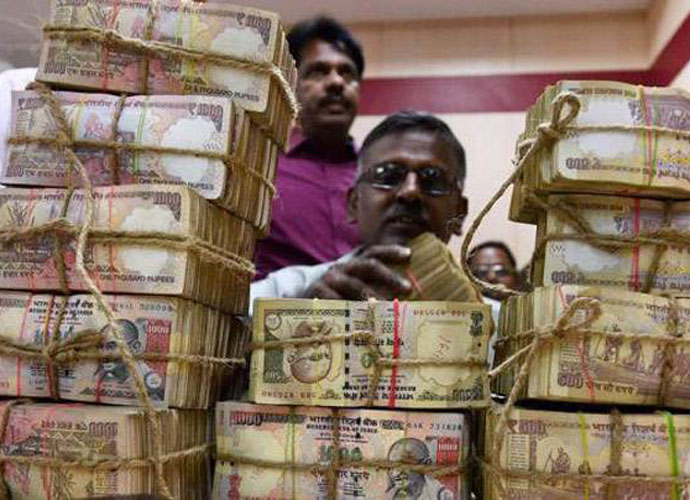 There are all kinds of pressure on cashiers. (Photo: India Today)
Now imagine this being done across the country. And do you think there would be evidence? Well, there are no CCTV cameras inside counters where the cashiers sit but, according to people who had visited a few booking counters, they saw the CCTV cameras covered with a cloth.
Akhil Chitre, secretary of the Maharashtra Navnirman Sena's youth wing, filed a PIL in the Bombay High Court, saying that small change is getting stashed by hoarders and that he has personally seen "currency in 100 rupee or lower denomination selling at a premium of around 20 per cent for exchange with high denomination notes at CST".
Chitre said in his petition that parking contractors, public toilet contractors and BEST cashiers who collect huge amounts of change fall prey to the immediate premium available for exchanging change.
One is left wondering at times like these where officers of the vigilance department and anti-corruption bureau are. Shouldn't they have been working in tandem with the police and income tax department to check illegitimate conversion of money and hoarding of the most wanted Rs 100 note?
However, in the past few days, the deputy station manager of Grant Road railway station was suspended for swapping notes and the Maharashtra anti-corruption bureau also caught an officer who was asking for bribe in 100 rupee notes.
So here's hoping that when the rationing of the Rs 2,000 note ends, the 100 rupee note will be back in the market for people like you and me.