Beijing Diary
Sushma Swaraj vs Rahul Gandhi - Who is telling the truth about Doklam?
If there was indeed a resolution, what were the terms?
India's handling of the 72-day border stand-off with China last year, which ended on August 28, 2017, is once again in the spotlight.
On Thursday, August 2, Congress president Rahul Gandhi attacked external affairs minister Sushma Swaraj on Twitter, saying she had "buckled and prostrated herself in front of Chinese power". "Absolute subservience to the leader means our brave jawan has been betrayed on the border," he tweeted.
Amazing how a lady like Sushma ji has buckled and prostrated herself in front of Chinese power. Absolute subservience to the leader means our brave jawan has been betrayed on the border. #Doklamhttps://t.co/UALkmH0jZ1

— Rahul Gandhi (@RahulGandhi) August 2, 2018
This followed Swaraj's statement to the Lok Sabha, where she said the issue had been "resolved with diplomatic maturity" and "without losing ground", with "no change in the status quo" at the face-off site.
Here, we try to provide some answers to five key questions behind the row:
1) Is there a change in status quo?
This is the bone of contention. The answer isn't straightforward, and both sides here have a point. The Modi government has, since the August 28, 2017 disengagement, chosen its words carefully, insisting "there have been no new developments at the face-off site and its vicinity. The status quo prevails in this area".
This is correct, insofar as the actual site of the stand-off is concerned, located at a turning-point where China was extending a road a few hundred metres from India's border. It is to be noted here that India has no territorial claims on Doklam, which is a roughly 100 sq km plateau that abuts India, China and Bhutan and the construction is on land disputed by China and Bhutan.
But that isn't, as Rahul Gandhi and others have said, the complete picture.
There is also a lot of obfuscation on what exactly China is doing — and where it is doing it. (Credit: Reuters Photo)
The MEA has been silent on the noticeable increase in Chinese activity elsewhere on the plateau. Here, the question of a change in status quo becomes more complex.
Asked in the Rajya Sabha on July 26 on Chinese construction of roads, minister of state for external affairs Gen (retd) VK Singh only provided a boilerplate response, repeating the MEA's statement on "no new developments at the face-off site and its vicinity. The status quo prevails in this area".
In short, he didn't answer the question.
This despite the fact that the defence ministry has acknowledged that there indeed have been changes on the Doklam plateau since August 28, 2017. Defence minister Nirmala Sitharaman told the Rajya Sabha in March that the PLA had constructed trenches and helipads to sustain its positions in the winter. So while technically the government is right in saying there is no change in the status quo in the site of the face-off, that doesn't apply to the entire plateau.
2) So, is Rahul Gandhi right in dubbing India's response a "buckling" to China?
No. If India's response was a failure, this begs the question: how should New Delhi have responded otherwise? Here, Rahul Gandhi and many critics of the Doklam handling are curiously silent. Crossing the border into Bhutan, in itself, was unprecedented. That can hardly be called a caving in. The Chinese road extension near the Indian border at the face-off site has stopped. This was Delhi's biggest concern given the location.
Yet a failure to stop Chinese encroachments elsewhere is a legitimate criticism. Did Delhi not insist on a Chinese commitment to not do so when it disengaged from the face-off on August 28, 2017? If it failed to do so, that is no small lapse. Having said that, the larger question remains: even if the Chinese presence elsewhere on the plateau continues, is it Rahul's suggestion that India should send its troops several kilometres deep into a third country (Bhutan) and confront China over its new infrastructure (that is arguably less threatening) elsewhere on the plateau? What will be the costs of this escalation? Without asking (better yet, answering) these questions, slamming India's "buckling" makes little sense.
What complicates the picture is that there is also a lot of obfuscation on what exactly China is doing - and where it is doing it. Some of the supposedly damning satellite images of deployments have shown Chinese construction on Chinese territory in Yadong, which neither Bhutan nor India claims. It is absurd to suggest China can't deploy on its own land. As for what China is doing elsewhere on the contested plateau, it is Delhi's argument that this is of less direct concern to India and not in the direction of the trijunction. But Delhi has failed to make this case clearly, and by ignoring questions on the matter, has left itself open for criticism.
3) Was Modi wrong to travel to Wuhan for the summit with Xi?
No. The second main criticism from Rahul Gandhi was at the Prime Minister for going to Wuhan for what he calls a "no agenda" summit with Xi Jinping. The Wuhan summit was extremely important in bringing ties back on track. It is also inaccurate to say the summit was merely a photo-op (would China's most powerful leader in decades travel all the way to Wuhan for two days just to oblige the Indian PM for a photo-op?).
Wuhan was a much-needed course correction, and if the consensus on controlling the border holds, it will be a significant summit. It has also been important in signalling to the Chinese system that ties with India had moved past Doklam. There are already signs of this message filtering through in recent moves to cut tariffs, increase Indian imports of sugar and rice, and allow some cancer drugs. To be sure, the trade war with US President Donald Trump has also pushed China's hand, but the fact is that without the Wuhan rapprochement, ties would probably still be in deep freeze. This suits neither India nor China.
The other criticism was why the PM didn't raise Doklam with Xi at Wuhan. The question is, what would that have achieved beyond the August 28 disengagement? The idea that Wuhan should have focused on Doklam also makes little sense, as it would have defeated the very purpose of the summit.
4) Is only Rahul Gandhi to blame for playing politics over Doklam?
No. Here, both the government and Opposition have been at fault. Indeed, it is difficult for the Modi government to complain about Rahul Gandhi politicising a national security issue when all parties in Opposition have done no differently, and all the more when its own ministers should have refrained from seeking to gain political mileage from the disengagement, or repeatedly painting a meeting between Rahul Gandhi and the Chinese envoy as sinister, when suggestions are it was merely ill-advised.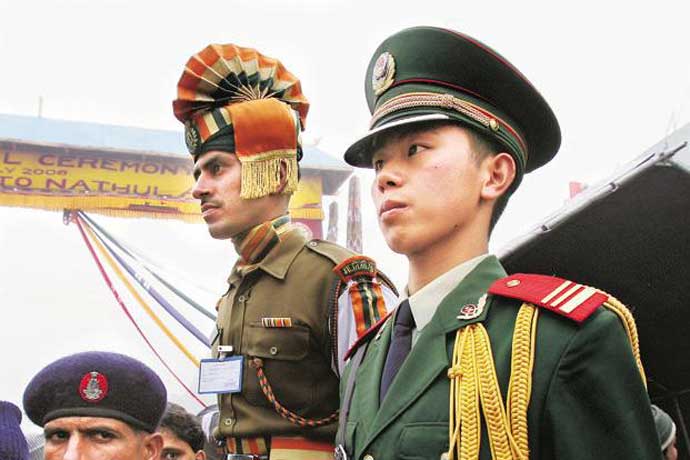 The government also only has itself to blame for allowing Doklam to become a political issue. (Credit: Reuters Photo)
As home minister Rajnath Singh put it: "India is no more a weak nation, but a strong country. You ought to know how India resolved the Doklam issue with China, especially when most people across the globe were anticipating an India-China conflict. If India was a weak country, it could not have been in a position to resolve the Doklam issue."
As argued above, the government also only has itself to blame for allowing Doklam to become a political issue.
To begin with, its puzzling reluctance to shed any light on many of the unanswered questions about Doklam that has fuelled Rahul Gandhi's persistent political attacks. This is evident in the MEA's now boilerplate response repeated ad nauseam of insisting there is no change in the face-off site even when asked an entirely different question about new Chinese infrastructure elsewhere in the plateau, which the defence minister publicly (and belatedly) confirmed only after satellite images had shown this to be the case.
This, understandably, fuelled suggestions that that the government was being far from forthcoming. If, as many Indian officials privately say, the new infrastructure elsewhere on the plateau — aimed largely in the direction of Bhutan — is far less of a concern than a road extension that leads right up to the trijunction with India, then they should say so.
The government was also ill-advised in painting the August 28, 2017 disengagement as either the Doklam issue being "resolved" — which both Swaraj and other ministers have done repeatedly, despite no such suggestion till date from the Chinese side, which is yet to acknowledge any permanent commitment.
If there was indeed a resolution, what were the terms?
As asked above, did India negotiate on just the limited face-off site? What of Chinese activities elsewhere in the plateau? What were the terms? What is the guarantee of road construction not resuming? This needs to be spelled out. Without doing so, claiming a resolution will hardly convince anyone.
Worse, some in the government have sought to paint Doklam as a resounding success, with some reports saying even the Prime Minister has done to varying degrees, suggesting it showed a newly confident India (with the implicit suggestion that the previous government would have handled it differently, when there is no evidence to suggest that was the case).
5) So, who is the winner?
In the final analysis, no one benefits from point-scoring over a national security issue involving China. Yes, Rahul Gandhi isn't the first Opposition leader to seek domestic political point-scoring on a foreign policy matter (there is a long list of issues where the BJP did the same when it was in Opposition). All the same, it doesn't make it right, and one can only wish that going forward, issues of such importance don't descend into political blame-gaming that doesn't do any good for national interest.
The government, for its part, should have done much more in bringing all parties on board and keeping them in the loop on how — and why — it handled Doklam the way it did.
Until then, the political point-scoring will continue. China, for its part, will be watching with much amusement.
Also read: Doklam standoff won't escalate. But India, China must stop scaremongering
The views and opinions expressed in this article are those of the authors and do not necessarily reflect the official policy or position of DailyO.in or the India Today Group. The writers are solely responsible for any claims arising out of the contents of this article.