Farooq Abdullah heckled for saying 'Jai hind'? Why J&K can't afford ambiguous ideologies anymore
Kashmir doesn't need another contender in the mad race of soft and competitive secessionism.
As the sunshine reached its zenith on the day of this year's bright Eid Ul Azha, our smartphones — an essential possession for everyone — were spammed with a video from the revered Hazratbal Shrine.
In the video, former Chief Minister of Jammu & Kashmir Dr Farooq Abdullah was seen to be booed and attempted to be heckled by an apparently frenzy lot amidst pro-freedom sloganeering, reverberating the sacrosanct shrine.
Farooq Abdullah Heckled, shown shoes during Eid prayers at Hazratbal in Srinagar Kashmir. People objected his presence & disturbed Eid prayers compelling him to leave even before the culmination of Khutba. #Kashmir #FreeKashmir #EidAlAdha pic.twitter.com/jB0ch1MaTW

— Basma (@BasmaYousufKhan) August 22, 2018
Today, the time has come to have a peaceful dialogue between India and Pakistan. There is a need to get rid of hatred. This country belongs to Hindus, Muslims, Sikhs and Christians and all those who live here: Farooq Abdullah pic.twitter.com/EUJAczRF9c

— ANI (@ANI) August 22, 2018
One who wouldn't be a news buff would've wondered about what possibly could've triggered this melee in the otherwise historic and strong bastion of J&K National Conference.
Vajpayee and Farooq Abdullah addressing a news conference after a talk with all separatist groups in 2000. (Reutere file photo)
But given the age of social media that we live in and its immeasurable pace to amplify the voices and happenings from one corner to another across the globe, everyone could make an easy prediction that this was a fallout of Dr Farooq's emotive national sloganeering at a prayer meeting for former Prime Minister, Late Atal Bihari Vajpayee, just two days prior to this incident.
What turned out to be that tinge of black pepper on the gourmet delight was Dr Farooq's curt one-on-one with Arnab Goswami by the time dusk settled in on the first day of this eventful Eid.
Netizens got busy crafting and engineering one-liners, cheeky posts for their Facebook and Twitter timelines to express their opinions about the big grand happening of the day, or to share the same on various WhatsApp groups, mostly in a bid to entertain the ones they're connected with on these platforms.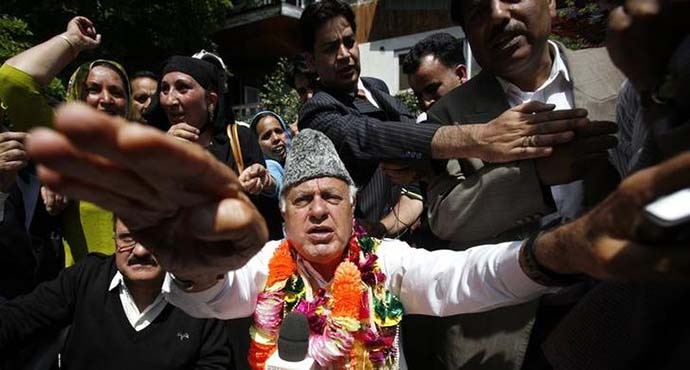 Where would one expect an octogenarian politician like Dr Farooq to go looking for his space amidst all this? (Reuters file photo)
This morning, while discussing the happening on a casual note with a journalist friend of mine, I came across one school of thought in this context that whatever goodwill has been generated by J&KNC as an opposition party over the last three years has been brought to the ground zero by Dr Farooq Abdullah in a matter of few moments of emotive impulse.
The question that suddenly came to my mind was "goodwill on the plank of what?"
The plank of anti-incumbency, competitive secessionism, or romanticism with the secessionism, in the least?
My friend didn't waste a moment to flip through his smartphone and show me an article by noted journalist Saleem Pandit (TOI) about Dr Farooq's utterances at the mausoleum of Late Shiekh Mohammad Abdullah sometime ago where he'd asked separatist leadership to be steadfast in their struggle and even went on to the extent of extending his support for the struggle.
Frankly speaking, I wasn't bewildered a bit being aware of the Maverick persona that I know Dr Farooq is in possession of and more important than that the fundamental etiology that has triggered the disease of this competitive separatism in the mainstream politicians of the K Valley.
I mean without unfurling too many pages from the annals of history where we had election posters of these mainstream political parties with the map of Kashmir tied in chains and with a dagger positioned in the middle of this map (of course with craftily calibrated flow of blood oozing out of this wound), did not we witness a recent era where a specific mainstream hue institutionalised and glorified competitive secessionism by every possible and available means at hand?
The competitive secessionism was widely pooh-poohed in a host of formats and the brains of electorate were programmed and painted with a facade of 'battle of ideas' in order to lend that 'inch of space' to the opponent.
Alas! The uncalculated 'Tiger Ride' ended in the giver begging and battling for his 'inch' in turn.
Now, where would one expect an octogenarian politician like Dr Farooq to go looking for his space amidst all this?
Kashmir needs leaders who will free the state from this mess of ideological abiguity, not those who add soft secessionism to it. (Reuters file photo of the Abdullahs)
The fact is that the man who contested terror and secessionism politically as well as militarily in an equiproportional quantum in the worst possible phase of it, creating a semblance of peace and favourable terrain for a free & fair poll in 2002, about which the former Chief Minister Ghulam Nabi Azad went on to say on record that it's a government of independents whereby independents have stitched a coalition with INC & JKPDP, was pushed and left to fend for the remnants of his constituency by these frantic, whimsical and impulsive attempts of keeping up in the race of competitive secessionism.
I do not possess the necessary records and indices to judge Dr Farooq on the governance front at the moment, but can surely vouch for his unblemished nationalist credentials based on the understanding of certain events, his demeanour and tenor over a period of time.
I wish Dr Farooq has by now zeroed in on the reality that his very being in the race of soft secessionism isn't something that befits or adds a tinge of value to his stature of being the only politician to have dealt with the cancer of secessionism appropriately. I wish for the times to come when he (Dr Farooq) desists from the spells of oral and impulsive deviations from his quintessential locus standi or a bid to steal a situation in the race of competitive secessionism, rendering his persona and constituency of workers vulnerable to scathing attacks by the opportunist pathogens of the political space.
Heaps of scuttlebutt have scented the air in Kashmir about shaping up of an alternative political hue after the BJP and J&K PDP chose to part ways on June 19, 2018.
How I wish the political hue emerges as a potential force in sweeping clean the mess of the spoiled broth of ambiguous ideologies from the hearts and minds of electorate!
How I wish the emerging hue works towards rebuilding and cementing the termite-ridden beliefs of people on democratic and constitutional institutions of the state rather than just being that another contender in the mad race of soft and competitive secessionism!
How I wish in the times ahead, we have leaders from this hue who lead people out of the morass of this 'ideological ambiguity'!
Also Read: Why scrapping Article 35A could deliver a final blow to Kashmiriyat
The views and opinions expressed in this article are those of the authors and do not necessarily reflect the official policy or position of DailyO.in or the India Today Group. The writers are solely responsible for any claims arising out of the contents of this article.