Normally, when we think of a Bishop, an image of a person wearing a cassock and a mitre, holding a staff (crosier) comes to mind. He is usually considered to be a living vessel of grace, through whom the holy spirit flows.
But a diocesan bishop in Jalandhar, Punjab, appears today to be no less than a dreaded figure to his adversaries, which includes nuns, their family members and clergymen.
Rape-accused Bishop Franco Mulakkal was recently given a grand reception, fit for a hero by nuns, female followers and clergy members, among others, after he was released on bail. Unlike other rape-accused, he eluded the police reportedly for over three months. He had even told India Today that he enjoys clout, not only in his own but also in other religious communities, including Sikhs and Hindus, and among politicians too. All that, according to Mulakkal, was due to his involvement with other communities.
Hero's Welcome: Challengers to Mulakkal meanwhile included Father Kuriakose, who was found dead recently. (Photo: PTI)
Eyebrows were raised though when Mulakkal was given a rousing reception with followers showering petals on him. Slogans were shouted and a special prayer organised for his well-being upon his arrival. For some nuns we spoke to, Mulakkal is innocent and has apparently been falsely implicated in the sexual exploitation case.
Of course Mulakkal had denied the allegations, but the way in which he apparently managed to avoid police action for over three months and get bail after spending just 25 days in custody, has induced a sense of fear into everyone, especially his adversaries and the family members of the rape survivor. She had accused him of raping her 13 times in two years, apart from allegedly forcing her into unnatural sex.
Sources close to the Jalandhar Diocese allege Mulakkal's allies are now reportedly approaching his adversaries to withdraw their statements.
Kerala Police SIT has questioned more than 100 people in connection with the alleged sexual exploitation case. Those who vociferously spoke against Mulakkal also included Father Kuriakose Kattuthara, 62 — who was found dead on the morning of October 22.
According to the Kattuthara family, the 62-year-old was allegedly getting calls from people who called themselves Mulakkal's allies to withdraw the five-page statement he gave the Kerala police, accusing the bishop of immorality and exploitation of the poor nuns.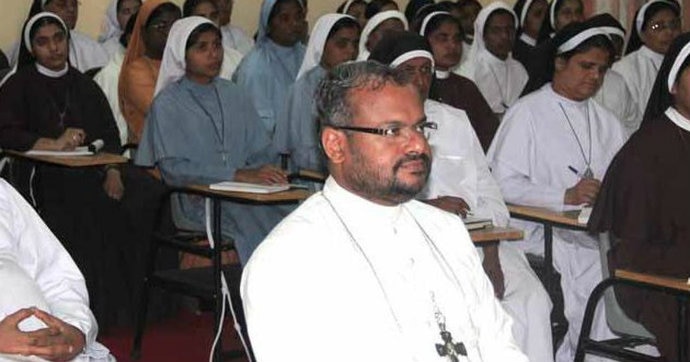 Uneasy Presence: Along with others, the sister of the rape survivor nun is also worried about possible threat to her family. (Photo: jalandhardiocese.com)
Kuriakose's brother, Jose Kattuthara, told the police that he (Kuriakose) had shared his worries over the fact that once Franco got out on bail, his life would likely be in danger. He even feared his phones were being tapped and he was being monitored all along. Kuriakose worked at the Jalandhar Diocese until Franco was arrested, and was then transferred to the Dasuya church, 15 days before he was found dead.
Jose is not the only person who is in fear of the former bishop now. The sister of the rape survivor nun also senses threat to her and her family. In a complaint to the Kerala police, she has appealed to the authorities to provide protection to the family's lives and assets.
The five nuns who are currently living with the survivor are also very scared, especially after Father Kuriakose was found dead. They believe there is a deeper mystery behind the death of Father Kuriakose who had spoken up against Mulakkal.
Jalandhar Diocese spokesperson, Father Peter, termed the allegations as false, adding that Bishop Franco Mulakkal is apparently a law-abiding citizen and had appeared before the SIT as and when required.
Those who believe Franco Mulakkal is just a tainted priest now may be shocked to learn that he is in fact an alumnus of St Mary's Petit Seminary, Kerala, holds two Masters degrees in English and Sociology from Gurunanak Dev University, Amritsar, and a doctorate in moral theology from the Alphonsian Academy of Lateran University, Rome. He was ordained priest for the Diocese of Jalandhar in April 1990.
Yet, his image has metamorphosed rapidly for some, from a respected man of God and letters, to a figure currently resembling a deeply feared being.