It was finally four bullets that silenced the fearless Gauri Lankesh, the 55-year-old editor of Gauri Lankesh Patrike. The vocal opponent of Hindutva oppression was murdered in cold blood by multiple (unidentified) assailants, who shot her at point-blank range just outside her home in the Raja Rajeshwari Nagar neighbourhood of Bangalore.
Lankesh's assassination was met with obvious horror, anger, shock and grief, by not just media persons across India – who have long revered her as a journalist and activist – but also by the general public who see this as yet another example of rising intolerance for dissent in our country. 
But even as the nation struggled to accept the horrid reality of yet another journalist, whose pen was met with a sword, there were those who seemed unable to suppress their glee over the death of a "commie".
Nikhil Dadhich, a garments manufacturer/Hindu nationalist from Surat, wasted no time in declaring sans any shame the following distasteful words: "Ek kuttiya kutte ki maut kya mari, saare pille ek sur mein bilbila rahe hain (It took a bitch to die a dog's death, for all pups to howl in the same tune). Nikhil's statement may have been easily ignored as the ramblings of an apathetic, media-hating, Left-hating, Narendra Modi fan, but for a tiny detail. Prime Minister Narendra Modi reads his toxic tweets.
Dadhich was not the only one of the "amazing" band of people who the PM follows from his Twitter handle, who has tweeted disgusting things about Lankesh post her death. Ashish Singh, an IIT Bombay and IIMP alumnus, a supposed "political strategist and cartoonist" and a Hindu Narendra Modi supporter, tweeted, "Jaisi karni, waisi bharni (you reap what you sow)", quoting a tweet about the murder, and "After Burhan Wani Gauri lankesh also killed how sad" from his account that is followed not just by the prime minister but also by Ravi Shankar Prasad, the Union minister for law and justice, and Vijay Goel, the former minister of state (MoS) for sports and the present MoS for parliamentary affairs, reported Alt News. 
Photo: Screengrab/Twitter
Photo: Alt News
Even if one tries to ignore the fact that Singh compares a journalist to a militant (which illustrates just how a sizable section of the nationalist Right views all dissenters), the prime minister, a union minister and a MoS seem to now have on their Twitter timelines a tweet that justifies cold-blooded murder with her political leanings.
Jagrati Shukla, a journalist herself who has been called out in the past for derogatory tweets against Dalits, seemed apathetic to the death of a colleague as she tweeted, "So, Commy Gauri Lankesh has been murdered mercilessly. Your deeds always come back to haunt you, they say. Amen."
Yet another person happily justifying the murder of Lankesh. As it turns out, Shukla was not the only journalist who channelled this apathy. Vishweshwar Bhat, the editor-in-chief of Vishwavani Daily and former officer on special duty (OSD) to BJP MP Ananth Kumar called Lankesh a "Naxal sympathiser" while tweeting about her death.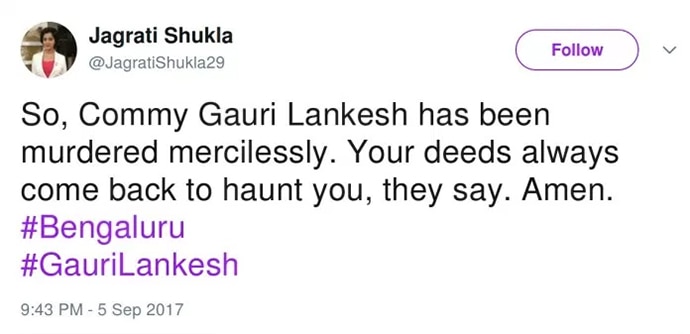 Photo: Screengrab/Twitter
Photo: Screengrab/Twitter
But this impudence is hardly surprising. One has to look no further than the BJP's IT cell head Amit Malviya to understand how and why people treat the death of a revered journalist with such contempt and disregard.
In 2008, Lankesh had published an article against BJP leaders Prahlad Joshi, Venkatesh Mestry (former mayor), Umesh Dushi and Shivanand Bhat in Gauri Lankesh Patrike, about a racket where BJP corporators were allegedly selling fake gold. Following the report, the BJP leaders filed a criminal defamation case against her.  In November 2016, when Lankesh was convicted in a defamation case against a BJP MP Prahlad Joshi by a judicial magistrate, Malviya tweeted, "Prahlad Joshi, BJP MP from Dharwad, gets Gouri Lankesh convicted in a defamation case. Hope other journos take note."
Alt News reported about several other accounts, some of whom followed by the PM, labelling her as a "Naxal sympathiser" and gloating her death. A photo of Gauri Lankesh and Kanhaiya Kumar, tweeted by the AISF leader and former JNUSU president, captioned, "She was like a mother to me. She will always be alive in my heart" received a string of replies from several accounts that ranged from, "ghabra mat, tujhe bhi teri muhboli maa ke paas jald hi pohnchaya jayega (worry not, you'll be sent to your adoptive mother soon enough)", to "Kutte tu bhi aise hi suwar ki maut marega (you dog, you'll die a swine's death too)". 
Journalist Raghu Karnad had once written, "There is as much to learn from what the prime minister reads on Twitter as there is from what he writes on it. His personal feed ends up a reminder of the fundamental nature and origins of Moditva. As the mainstream media averts its attention from these details, it is the trolls, in this one sense, who reflect the facts. They are the facts." We imbibe what we read and Prime Minister Narendra Modi, judging by the kind of people he follows on Twitter, does not inspire confidence.  
But it is not just active death threats and glee that should be cause for concern. In fact, between the shaming, blaming and name-calling, there were also those displaying their murder-apologia by handing out religious alibis to offset the possibility of the murder being the handiwork of the Hindu Right. Gayatri Jayaraman, a journalist and an author, said the following in several tweets. 
"Bear with me, if I'm not mistaken, yesterday was anant chaturdashi and the start of pitru paksha. Every raging Hindutvavadi knows significance. No one aware of significance would undertake an act of murder on that day, least of all of one's enemies. Makes me question source of attack… Doubt any Hindu motivated to kill by religion would choose a deeply auspicious day on which moksha is granted to trapped souls."
Photo: Screengrab/Twitter
It is no secret at all, that Gauri Lankesh was staunchly critical of Hindutva forces and the BJP government. In an interview to Newslaundry in 2016, Lankesh had said, "In Karnataka today, we are living in such times that Modi Bhakts and the Hindutva brigade welcome the killings (as in the case of Dr MM Kalburgi) and celebrate the deaths (as in the case of Dr UR Ananthamurthy) of those who oppose their ideology, their political party and their supreme leader Narendra Modi. I was referring to such people because, let me assure you, they are keen to somehow shut me up too. A jail stint for me would have warmed the cockles of their hearts!" 
While the investigation is still underway, a huge section of the media has been quick to point fingers at "fascist Hindutva forces" as the culprit behind this heinous crime, given that the modus operandi matches that of how Narendra Dhabolkar, Govind Pansare and MM Kalburgi were murdered – and they too had irked Hindutva forces like the Sanathan Sanstha and the Bajrang Dal. To provide vague, baseless alibis as face-saving exercises for what is often dismissed as "fringe elements" within political Hindutva, is, therefore, terribly unbecoming of some among us journalists.
Gauri Lankesh stood for truth, the power of words and the constant fight against oppressive regimes. She may have had Left leanings, and she may have been "convicted" in a criminal defamation case (though she was of the opinion that criminal defamation laws should be scrapped), she was above all, a fearless journalist, ruthless editor and a wonderful mentor to several journalists.
Those trying to besmirch her should understand that her death will only make the press more determined to do its job better.