Pollution jalebi to Dhoni criticism, Gautam's gambhir samasya
Ace cricketer Gautam Gambhir, known for his poor judgement on the pitch, leaves much to be desired in his politician avatar.
When he was recently asked about his thoughts on missing out on the century in the 2011 World Cup finals, former India opener Gautam Gambhir said, "Dhoni told me that 'three runs are remaining, get these three runs and your hundred would be complete.' When your mind suddenly turns to your individual performance, then somewhere you get a rush. Before that moment, my goal was only to chase Sri Lanka's target. If only that remained in my mind, then maybe I would have easily scored my hundred." Gambhir was batting on 97 with India at 223/3 at the end of the 41st over and still required 52 runs to win in the remaining nine overs.
What happened next aptly explains Gambhir's state of mind.
On the second ball of the next over, Gambhir stepped out of his crease to a back-of-length delivery from medium-pacer Thisara Perera and went for a full-blooded slog through the off-side. Sadly for him, the ball took an inside edge and crashed into the stumps behind him as the crowd went silent. Ravi Shastri, who was on commentary at that time, described it as a "needless shot". Nonetheless, Gambhir's poor judgement had opened the doors of hope for Sri Lanka and sent shockwaves down the spine of Indian fans. Though there was still some batting to come in the form of Yuvraj Singh and Suresh Raina, it wasn't lost on anyone that it was a World Cup final with a once-in-a-lifetime chance for the players to win the sport's highest honour. This is the time when nerves kick in and no one can be sure which way the tide could turn with a few dot balls.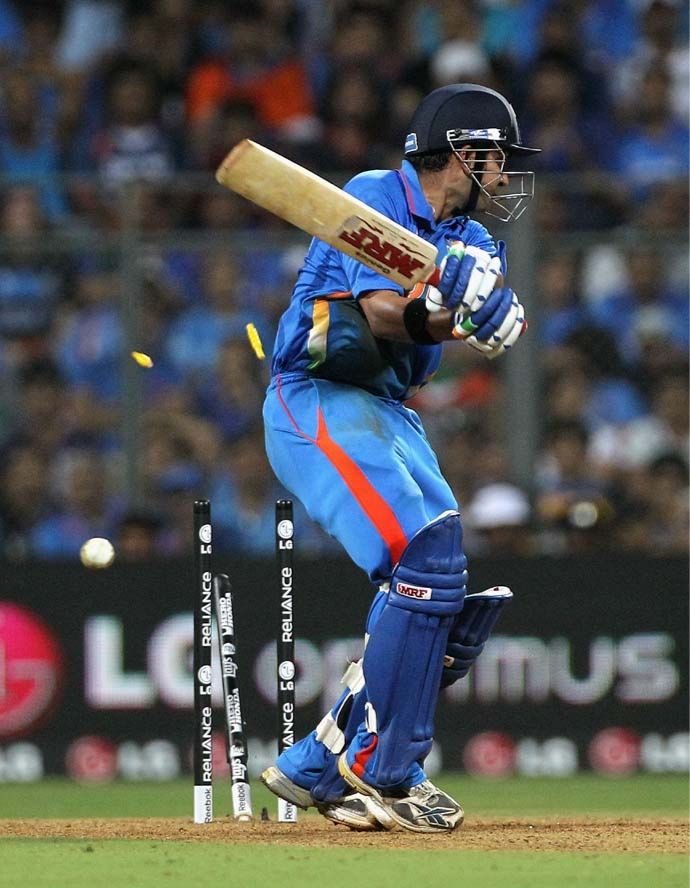 Gautam Gambhir was bowled out at 97 during the 2011 ICC World Cup Final between India and Sri Lanka. (Photo: Getty Images)
Thankfully for India, Dhoni and Yuvraj kept their cool and finished the chase with 10 balls remaining. That time on the pitch revealed as much about Dhoni's calm under pressure as much as it did about Gambhir's lack of it. There are few players in the history of the game who have been as calm under pressure as Dhoni. However, Gambhir's recent statements reveal his poor mindset.
Even if we take Gambhir's word that Dhoni indeed asked him to keep his hundred in mind, going for a wild slog to get to the landmark when your team is facing a stiff chase, shows that the blame for his dismissal — at least partially — lies on Gambhir.
This was not the first time that Gambhir had slammed the former captain.
Dhoni's decision to promote youngsters while rotating the veterans Gambhir, Virender Sehwag and Sachin Tendulkar during the 2012 Commonwealth Bank (CB) series in Australia had also not gone down well with the Delhi cricketer. While Dhoni's reasons for the move were based on the below-par fielding levels of the ageing trio, Gambhir was of the opinion that Dhoni should have stuck to his decision and not played all three of them when he was desperate for a win. Though Gambhir the cricketer can be excused for feeling hard done by the decision, there was still some merit to captain Dhoni's logic — the results of which were for all to see in the great fielding side that India has become.
Gambhir later conceded that he had his difference of opinion with Dhoni on certain matters. However, his rants against the former captain are far too many to be brushed under the carpet. While now he can grab a few headlines with such statements, if his batting form had not declined in 2012, Dhoni would have been forced to keep him in his team. But as history has shown, magnanimity in accepting his mistakes is not his forte.
Not a plate of jalebis: Life is 'truly hard' as a Member of Parliament
In his speech in the Parliament on Tuesday, Gambhir said, "The state is that of a climate emergency — Delhi is the worst affected. The state can no longer get away with gimmicks like the odd-even rule and banning construction sites. We need long-term sustainable solutions and stop the blame-game. It's time to own up and act responsibly."
Instead of blaming each other for political one-upmanship, we should start thinking of long term solutions to curb pollution, so that our kids have a future. My speech in Parliament pic.twitter.com/BigHSDya9a

— Gautam Gambhir (@GautamGambhir) November 19, 2019
Since he became a BJP MP, Gambhir has been very vocal about the lack of efforts by the ruling AAP government in Delhi towards curbing pollution. The pollution levels in Delhi have risen to hazardous levels in recent years, especially during the onset of winter. To address the issue, a meeting of a Parliamentary Standing Committee was to be held on November 15.
However, the meeting had to be postponed as most of the participants, including Gautam Gambhir, were absent.
Gambhir, on his part, was on commentary duty during the Indore Test. His pictures from Indore, enjoying snacks with VVS Laxman soon went viral.
Kabhi pohe se teekhe, kabhi jalebi se meethe ... wonderful start to the day in Indoor, where we had breakfast outdoor 😛 pic.twitter.com/DxIPtNqYi7

— VVS Laxman (@VVSLaxman281) November 15, 2019
He was trolled on social media for enjoying jalebis instead of attending the meeting. Gambhir responded with an essay claiming he was "contractually bound" by his commercial engagements with the host broadcaster and has a "family to support" while claiming that his work will speak for itself.
"Family bhi support karna hai"
Born into a wealthy business family, Gambhir is currently the richest MP in Delhi with assets worth over Rs 147 crore. This was clearly mentioned in his election nomination papers. On top of that, as an MP, Gambhir is entitled to several benefits including free government accommodation, free air and rail travel, free medical facilities, free of cost water and more than 50,000 free local telephone calls, among others.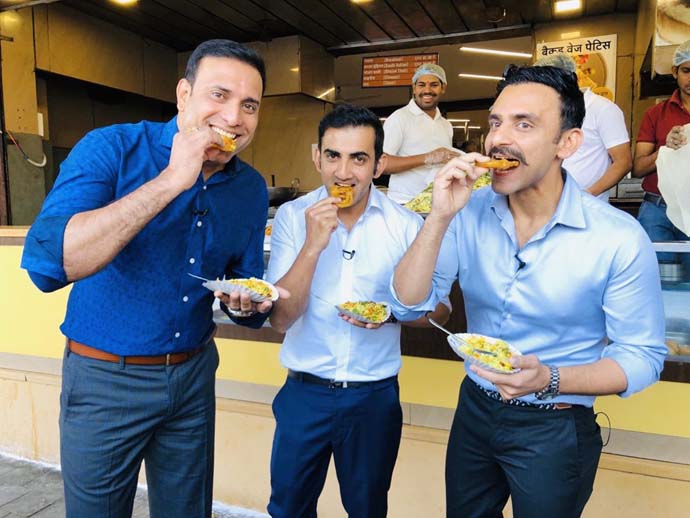 Jalebis instead of finding a solution to pollution? Not so sweet, Gambhir. (Photo: Twitter/ @VVSLaxman281)
It is then fair to say that the argument of skipping a meeting regarding a state emergency issue to support his family financially doesn't hold much water. Later, Gambhir also slammed his critics saying that he would stop eating jalebis if his doing so reduced the pollution levels in Delhi.
The biggest problem with Gambhir's reactions on this issue is that he is not judging himself by the same standards which he so readily applies to others. Listing out all the great work that he has done for Delhi and using his family as an excuse to skip the all-important meeting, Gambhir forgot to fulfil his basic duty as an MP: be accountable to the citizens. The lack of an apology or even remorse at missing the meeting is quite evident in Gambhir's essay of excuses and his reactions in the aftermath of the incident. A simple apology would have given the semblance of at least trying to keep up with his duties as an MP. So much for hard work.
My work will speak for itself!P.S. Agar mujhe gaali dene se Dilli ka pollution kam hoga to AAP jee bhar ke gaali dijiye. cc: Trolls pic.twitter.com/bRyYoFB02c

— Gautam Gambhir (@GautamGambhir) November 15, 2019
Another example of the yawning gap between Gambhir's words and actions was during India vs Pakistan in Manchester in the 2019 World Cup. The match was on June 16, 2019, barely four months after the dastardly Pulwama attack. Gautam was among the first to suggest that India boycott playing cricket with Pakistan, starting with the Asia Cup tournament. However, he did do the commentary for the India-Pakistan match in Manchester. While he will tell you that he was bound by "contractual obligations", the irony was not lost on anyone.
Time and again, Gambhir was found wanting when it was the time to walk the talk.
The list of ironies around Gambhir — as a cricketer and now an elected representative — is too long for this space.
While there is no doubt that Gambhir has been one of the best cricketers India has ever produced, there is very little to admire about the politician. One could argue that it is the case with most politicians, but Gambhir was supposed to be different. After all, didn't he say earlier this year before plunging into politics, "I don't want to be someone who keeps on tweeting on every issue in the country and then forgets about it. I am someone who is different. I am someone who takes that plunge and does something what I tweet about."
Maybe Gautam is not so 'Gambhir' after all.
Also read: Pathetic Gambhir and Tiwary: BCCI must stop being kind to them
The views and opinions expressed in this article are those of the authors and do not necessarily reflect the official policy or position of DailyO.in or the India Today Group. The writers are solely responsible for any claims arising out of the contents of this article.