Indian Chief of Army Staff (COAS), General Bipin Rawat, has reasons to be upset. In the past few days, our forces have lost at least four of its brave men, including an Indian Army major, the 31-year-old Satish Dahiya, in counter-terror operations in Handwara and Bandipora, north Kashmir. Others are injured and are fighting for their lives as we write this editorial.
It is a very grim situation indeed.
However, that is not an excuse for the senior-most member of the Indian Army, General Rawat, to take the tone he has taken in his media statement, saying stone-pelters in the Valley would be treated as "jihadi aides" and would be subject to action. "Those who obstruct our operations during encounters and aren't supportive will be treated as over-ground workers of terrorists," he said.
He added: "We would now request the local population that people who have picked up arms, and they are the local boys, if they want to continue with the acts of terrorism displaying flags of ISIS and Pakistan, then we will treat them as anti-national elements and go helter-skelter for them. They may survive today but we will get them tomorrow. Our relentless operations will continue."
It is important that we note the circumstances of this particular statement from COAS General Rawat. It came when Gen Rawat was paying homage to the late Major Satish Dahiya, whose mortal remains, along with that of slain soldiers Dharmendra Kumar and Ashutosh Kumar, had been brought in at Palam airport in the national capital. Gen Rawat was joined by none other than Prime Minister Narendra Modi, who also laid wreaths.
It's both unfortunate but not unexpected that General Bipin Rawat sounded exactly like the establishment in the Centre that picked him as the chief of Army staff, superseding not one but two of his then seniors, particularly Lt-Gen Praveen Bakshi.
General Bipin Rawat sounded exactly like the establishment in the Centre that picked him as the chief of Army staff. [Photo: Agencies] 
The less said of Modi government's Kashmir policy, the better. Not only did the regime completely mishandle the uprising in the Valley in the wake of Hizbul militant Burhan Wani's death, allowing pellet guns to be fired at agitators and blinding, maiming hundreds of protesters, while fatally shooting at least 120 of them during a three-month lock down, it has persistently and systematically alienated the ordinary Kashmiri, particularly the Kashmiri Muslim with its myopic and Hindutva-laced stance on the conflict-torn state.
The antagonism and one-upmanship with Pakistan has shot up many times, and those stationed in Kashmir, particularly the Army personnel, have paid the price of this doomed foreign policy, becoming themselves the target of terror attacks in Uri, and losing their lives in ever-more frequent counter-terror ops in the region.
The civilians in Kashmir are fed up of their lives under a permanent quasi-curfew, and it's natural that they would feel nothing but antipathy towards the Indian soldiers, the embodiment of Indian Union's military might. While Pakistan-occupied Kashmir is where the terrorists are nurtured and brain-washed, we need to ask why the number of homegrown militants has overshot foreign-born terrorists if everything else was working just fine.
What General Bipin Rawat's unusually harsh statement belies is the fact that most stone-pelters are barely out of their teens and are particularly impressionable, susceptible to violent rhetoric from either ends of the political spectrum. Does General Rawat imply the forces under his command will not discriminate against teenagers now, teenagers who have lived all their lives in the world's most militarised zone?
Not just the youth, women - young and old - come out in large numbers and shout slogans and cry out loud whenever there's a counter-terror operation on. Why do they do it? How can women, who are also mothers, sisters, daughters and wives to felled young men lured in by militancy, not cry out loud when the bullets are being fired at more of their own?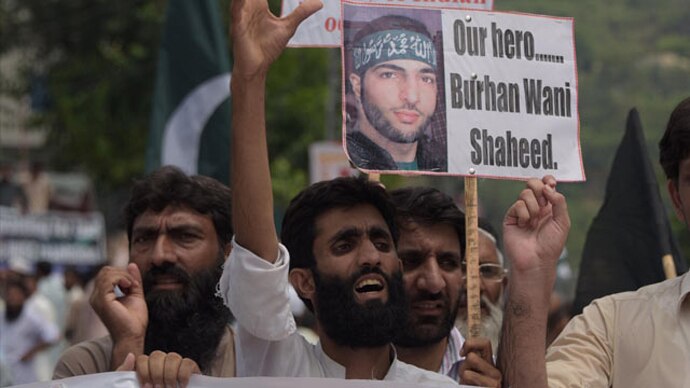 Burhan Wani uprising proved Kashmiri youth are estranged which harsh rhetoric cannot win over. [Photo: Agencies] 
Like Burhan Wani, whom Kashmiri teenagers and women had come to idolise, most of these youngsters, whom General Rawat has branded as "over-ground workers of terrorists", are not afraid of dying: in fact, as the Burhan Wani uprising proved, they are dabbling with death wish of a sort, preferring to go in a blaze of glory rather than take the daily humiliation of living in a militarised zone, questioned over loyalties, not being allowed to feel at home in the land of their birth.
Moreover, as some journalists and commentators have already asked, despite the agitations in Haryana over Jat quota, or in Gujarat over Patidars demanding reservation, or even the recent bouts of angry protests in Tamil Nadu over Jallikattu, when stone-pelting did take place and even the paramiltary forces were deployed for a while, no harsh rhetoric was to be heard during each and every of these agitations.
A "tougher" Kashmiri policy, as echoed by MoS home Kiren Rijiju, will neither yield territorial sovereignty, nor will endear the Indian Union to the thousands of disgruntled Kashmiris, who legitimately fear a potential return to the violent 1990s and are petrified. Confined to their homes, left without internet and mobile services for months at end, constantly battling suspicion from the regime, and repeatedly betrayed by their political leaders, Kashmiris are a melancholy lot.
It is extremely unfortunate that General Bipin Rawat chooses not to acknowledge this dismal reality of the Kashmiris he admonishes in his stern warning. And by issuing this harsh a statement, he's only endangering the lives of his precious soldiers who have risked it all to protect and serve India.