The odd thing about Gujarat election results is that the BJP has triumphed for a sixth time in the state but the anticipation is about the future of Rahul Gandhi and the Congress. It is not hard to discern why, given the progress the party has made in recent months. Few expected the Congress to compete the way it eventually did. Shankersinh Vaghela, its face in the state, quit the party in July; Gujarat elections were expected to be a replay of elections in UP and elsewhere, marked by Gandhi's tireless campaigning that yielded few returns on results day.
India, instead, saw a different spectacle unfold. Rahul Gandhi first had a US tour in September which worked as an important rebranding exercise. It featured some distinctive messaging centring on diversity, inclusion, tolerance and civility while attacking the BJP's governance record. This rhetoric carried over into the Gujarat campaign and resonated to an extent with those Gandhi interacted with. The Congress deftly tapped into social forces chafing under the effects of extended BJP rule and established working relationships with new generation leaders like Hardik Patel, Jignesh Mevani and Alpesh Thakor.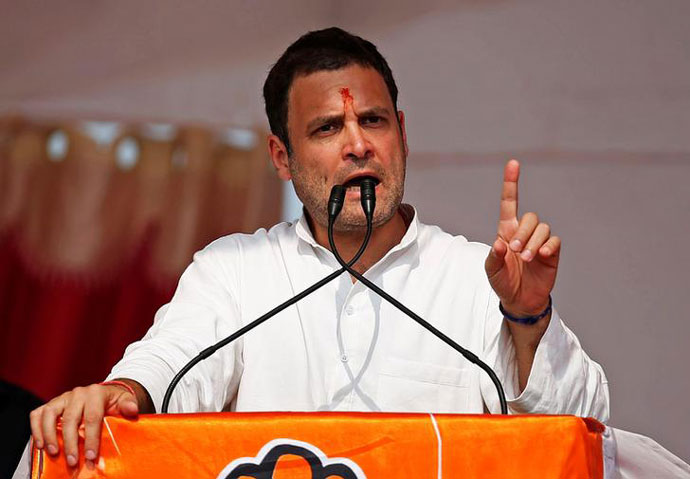 Rahul was taking on Modi in his home state, the BJP spared no political or financial expense. Photo: Reuters
Gujarat's results promise to alter the atmospherics of India's politics. This is not the morning after Yogi Adityanath was chosen as UP's chief minister when the Hindutva juggernaut seemed unstoppable. The Gujarat campaign, in fact, could not have been more different for the BJP.
Its leaders were booed and heckled in some neighbourhoods. Jokes on Narendra Modi and the BJP circulated on WhatsApp – something that was unthinkable in 2014-15. Modi's meetings featured empty seats while Hardik Patel was asking thousands in his rallies to light up their mobile phones at night, take pledges and call family and friends to tell them not to vote for the BJP. The disenchantment was all there to see.
The result is an upswing in Congress' vote share from 33 per cent in the 2014 Lok Sabha elections to 41.4 per cent this time. The BJP won because it retained urban seats.
Post-poll surveys suggest that Modi's campaigning made a difference at the end. Equally, there were, by one count, 13 seats where the BJP lost despite Modi's campaign rallies. 
The Congress could have swung the election with more convincing local roots. It lost 16 seats with a margin of less than 3,000 votes and fell short of 12 seats. This is an impressive outcome in the light of several factors, as analysts have been pointing out: Rahul was taking on Modi in his home state, the BJP spared no political or financial expense, it deployed polarising rhetoric towards the end of the campaign, even accusing Congress of colluding with Pakistan – and it enjoyed friendly mainstream media coverage.
Alpesh Thakor, Jignesh Mevani and Hardik Patel compensated for the lack of prominent state level Congress leaders in Gujarat, but the party will not have that luxury elsewhere. Photo: India Today Group
What now? The Congress is definitely in a different political space. The spectre of 44 is gone and gives way to the possibilities that 77 opens up. Rahul Gandhi has taken over the Congress, the conversation about him has quickly moved on from questions of his credibility, the level of his interest in public life to the potential of his style of politics and his ability to rally like-minded forces.
Writer Raghu Karnad has a great line about Sonia Gandhi's political journey: "It wasn't enough for her to convince us she was Indian - she needed us to forget she had ever been anything else." Likewise, the ideological overreach of the BJP and the growing confidence of the Congress president are enabling India to get over its ambivalence about Rahul Gandhi as a serious politician. The Congress was brave enough to anoint him as president two days before the Gujarat results. A rout would have been disastrous but the strong showing ushers his career in a different direction and lends the needed steam to Opposition politics. India's political theatre will likely be less one-sided hereon.
The Congress now has several opportunities (and challenges) to contend with. It will fancy its chances in state elections in Karnataka, Rajasthan, Madhya Pradesh and Chhattisgarh, with the BJP battling anti-incumbency in the latter three states.
The party may have a capacious ideological tent, capable, in theory, of sewing different interests and castes together but it won't have leaders like Hardik, Jignesh and Alpesh who generated a fair bit of anti-BJP momentum. These three compensated for the lack of prominent state level Congress leaders in Gujarat, but the party will not have that luxury elsewhere.
The BJP and the RSS may not be able to accommodate all the political entrepreneurs that India throws up but Congress' revitalisation of the party at the grassroots will be crucial, particularly as it up against the ruling party's political machine and its granular grasp of the country's political sociology.
What will be worth watching in 2018 is the tenor of politics that the BJP will adopt. Ordinarily, the party, secure in its current electoral dominance, should relax its triumphalism, pull back its extremist and violent loyalists, focus on governance, bide its time and deprive Rahul of the oxygen of criticism. That is unlikely to happen because the state election calendar necessitates constant electoral combat.
The BJP's mode of governing also militates against a more sedate form of politics. It is an ideologically driven party that sees state power as imperative for realising its political agenda; indeed suffusing the public sphere with polarising issues is itself an integral element of its strategy.
The BJP is adept at controlling political conversation but it may not be able to game national politics entirely. Photo: Reuters
The party's ambitions and mode of governing create their own compulsions. BJP's rule has been marked by a distinct lack of transparency in decision-making as regards demonetisation, Aadhaar, environmental clearances, loan waivers to corporates, the Rafale aircraft deal to name a few.
This would make it wary of bureaucratic leaks and one way of forestalling them is to project invincibility by being in a domineering, overdrive mode — which the BJP is constantly in. We are hence likely to see more divisive politics in 2018 through several agenda items, including criminalising triple talaq and possibly pursuing the Ram temple, as senior journalist and columnist Ajaz Ashraf perceptively anticipates.
The BJP is adept at controlling political conversation but it may not be able to game national politics entirely. For one, the economy is not doing well and few anticipate dramatic upswing in fortunes. The jobs crisis is set to intensify as will worries about the quality of India's higher education. Sections of urban youth will increasingly tire of the violent extremism, BJP's illiberalism and its anti-intellectualism.
There will thus be plenty of ferment and disgruntled forces for the Congress to work with. Gujarat was about two things for the Congress: establishing that it had an opportunity structure to offer to political entrepreneurs in the country — and that Rahul Gandhi is credible enough to rally around even in the age of BJP's dominance. They will have been reassured to a degree on both counts.
Opposition parties will be viewing Congress differently and the 2019 election is now a very different game.