Life for Gurmeet Ram Rahim (50), the convicted head of Dera Sacha Sauda in Sirsa, seems to have come a full circle within less than four decades. 
Born in Gursarmodia, a town in Sriganganagar of Rajasthan, (his detractors dispute both his birthplace and his date of birth), the Dera Sacha Sauda guru claims in a book Mere Guru Ka Safarnama that Rajasthan policemen were about to chase him down suspecting that he had stowed illegal arms when he found refuge in Shah Satnamji, his guru in the Sirsa ashram. 
Shah Satnamji had a substantial following in Haryana, Rajasthan, Uttar Pradesh and Punjab, when he passed on the baton to Gurmeet Ram Rahim in 1990. The latter, unlike his guru who led a Spartan life (he would stitch a vest from torn pieces of clothes, had a scraggly beard), chose to build a larger-than-life persona.
Moreover, unlike Satnamji who limited himself to growing crops on Dera's land in Sirsa, running a langar (free kitchen) and prescribing the mantra of meditation to his followers, Gurmeet Ram Rahim decided to spread his wings. 
Along with prescribing meditation technique, Gurmeet Ram Rahim has developed a business model that incurs a minimum of investment and returns large profits. 
Therefore, today, you have tens of thousands of Dera followers working in farms, factories, hotels, hospitals, markets, construction either for free or at minimal wages and also buying farm products, MSG products, aloe vera juices and foods cooked in restaurants, owned by the Dera. 
In the last over two and a half decades, Gurmeet Ram Rahim has built schools, colleges and hospitals, hotels, market complexes, launched factories and MSG products. He has even tried to match Baba Ramdev's Patanjali by opening MSG stores at some places.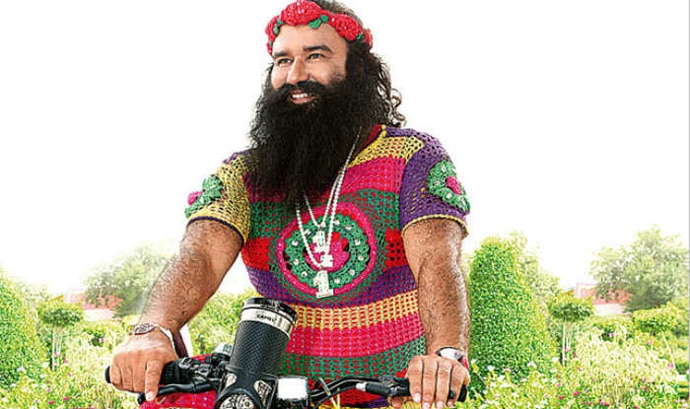 At the same time, the Dera head has launched social welfare programmes – organising health camps, eye and blood donation camps – coveting a place in the Guinness Book of World Records. He claims to have set more than 16 world records. His critics, however, say that 14 out of the 16 records have been set after Gurmeet Ram Rahim got embroiled in criminal cases. 
Gurmeet Ram Rahim leads a lifestyle which flies in the face of spiritualism he claims to preach and practice. His colourful silk robes, diamond-studded jootis (a variant of shoes), plumes, caps, large fleet of luxury cars and retinue of gun-toting guards and stick-wielding male and female followers – everything seems to make fun of austerity that is considered the hallmark of an ascetical life. 
The Dera head has prepared a band of following which is ever ready to die or kill for him. He has repeatedly provoked his supporters by asking if he was prepared to die for them, why should they not do the same for him.
The involvement of his Punjab police and private guards in firing incidents (Mumbai 2008, Dera followers acquitted) and murders (of Dera follower-turned-critic Ranjit Singh in Kurukshetra and journalist Ramchandra Chhatrapati in Sirsa in 2002) is a consequence of this. He as well as his followers believed they could get away with anything. 
Be it sexual ordeal of sadhvis in his Dera, or outraging the sentiments of the Sikh community by appearing in a robe, Gurmeet Ram Rahim has tried to get away by pitting his large following against the state. Every time, he blackmailed and threatened to disrupt law and order. He only buckled after the state administration or the court issued him a stern warning. In 2007, he apologised to Sikhs only after Sirsa district collector turned up in his chamber and read out the Riot Act to him. 
Gurmeet Ram Rahim has over the years raised an arm-wielding militia from among his followers. Gurdas Tur, a former follower of his who is now a witness in the castration case, says he turned against the Dera head after he saw him imparting arms training to his men. 
What further emboldened the Dera guru in taking on the law enforcement agencies was kowtowing from political parties of all hues and colours. In 2014, it was Bharatiya Janata Party (BJP) president Amit Shah who pandered to him for an appeal in favour of the lotus, while in 2007 and 2009 the Congress leadership knocked at his doors for votes first in Punjab and then across the country. 
Gurmeet Ram Rahim has added around eight more states to the tally his guru Shah Satnamji left for him. He has openly flaunted his reach to foreign shores by taking up questions from Indian expatriates through video conferencing during his satsangs (religious discourses). With a sense of great pride, he has put the number of his followers at 50 million. 
The Dera head has not even spared courts. Every time there has been a crucial hearing, his followers have laid siege to the city. His detractors allege he has skipped court hearings to shoot his films on the pretext of security.
A peeved Punjab and Haryana High Court bench were forced to reference from an order on Ashutosh Maharaj's Divya Jyoti Sansthan in December 2014. The bench wrote during a hearing of castration case against Gurmeet Ram Rahim that "superstitions are now a constitutional anathema. Courts cannot be privies to the perpetration of harm on blind faith in the name of religion".
Castration of sadhus was another instance of how he rode roughshod over every norm of the civilised world. A medical board constituted by the Punjab and Haryana High Court confirmed that some of the incarcerated Dera sadhus had their testicles missing. The case is under investigation by the CBI. 
There are critics who believe that Gurmeet Ram Rahim has converted the spiritual ashram of Shah Satnamji into a cult of violence. I, for one, find merit in their argument.