Nothing unusual has happened in Handwara. The Indian state has once again proved to be a killer  in Kashmir. Three people have lost their lives because the Indian armed forces decided to defend themselves against people protesting against what they perceived to be a soldier's harassment and molestation a Kashmiri woman.
The troops that defend India's honour, unity and integrity and other such stuff have been trained to shoot to kill rather than answer a town's questions about the sense of impunity that the Armed Forces Special Powers Act and the entire apparatus of a de-facto military occupation gives to Indian soldiers in the Kashmir valley.
Let's stop pretending this is an exceptional situation, an excess, an anomaly, or even an instance of soldiers going rogue. Whatever be the facts of the case, if the name of the village of Kunan Poshpora, or of two women called Nilofar and Asiya mean anything to you, you will know that a predatory sexual profile is part of the operational signature of the Indian armed forces in Kashmir.
Moreover, if you think that the sudden death of unarmed young people in Kashmir is an exceptional situation, just remember what happened only two months ago. A young student called Shaista Hamid, was killed when a bullet fired by Indian soldiers hit her in the verandah of her own home near Pulwama. This happened around the same time when another young person, a soldier called Hanumanthappa, died in an avalanche in Kashmir. If you weigh the accounts of these two deaths, both tragic, both unnecessary, you will find, many minutes of footage, and reams of newsprint, about Hanamanthappa. The chances are, you will find next to nothing on Shaista Hamid.
When Hanamanthappa joined the armed forces, he knew that he was putting himself in danger. Did Shaista Hamid simply make the mistake of being born in the wrong place, at the wrong time? If you go further back in time, you will find, month by month, unarmed young people falling to the bullets fired from the barrels of guns belonging to the Indian armed forces and paramilitaries in Kashmir. Did they all make the mistake of being simply born in Kashmir, of speaking Kashmiri, of occasionally testing the sound of "Azaadi" on their tongues, in their accent?
The sequence of events that unfolded this time in Handwara went something like this. (It was monotonously familiar). An Indian soldier allegedly attempted to molest a Kashmiri woman.Some young people got wind of what was happening and intervened. The public gathered in protest. They asked for the soldier to be punished. The armed forces stationed at a bunker refused to listen to them. The assembled people threw stones. The soldiers fired. Two young men, one of them a promising cricketer, and a woman were injured in the firing. They all succumbed to their injuries.
One of those killed, according to the Greater Kashmir newspaper was – Nayeem Qadir Bhat, resident of Banday Mohalla, was a first year student in Government Degree College Handwara, was a cricket buff. Nayeem was selected for all-India level coaching camp for cricket three years ago. He had shown extra-ordinary performance in the state level under-19 cricket competition and was especially selected for an All India Under 19 Cricket Coaching Camp.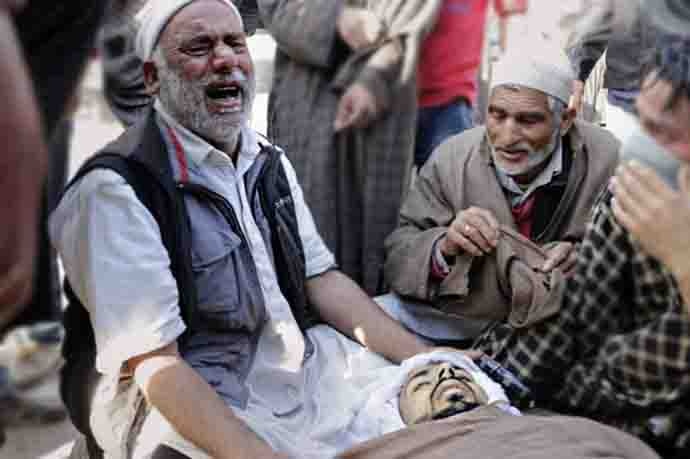 Nayeem Qadir Bhat, killed on the streets of Handwara, mourned by his relatives. [Photo courtesy: Facebook wall of Suvaid Yaseen]
The Indian nationalism that makes some young people decide that the celebration of a West Indies cricket victory by Kashmiri students is unacceptable happens to be the same mindset that pumps a bullet into the body of a Kashmiri young man who could one day have played for the cricket team that Indian patriots lose sleep over. Is it only in Kashmir that the otherwise staid game of cricket has such ridiculously tragic consequences? One good reason for the dismantling of nation-states and their imperial projects is the liberation, not just of peoples, but also of sport from the obscenity of nationalism gone rogue.
What happened next in Handwara could have been pre-scripted, The army issued a statement saying that the incident was unfortunate. The chief minister expressed regret. Tomorrow, when the funerals of these three human beings will be the venue of further protests, in all likelihood, the armed forces will use lethal force again (though we hope better sense prevails).  If there are casualties the cycle will repeat itself. Curfew will be imposed. Flag marches will occur. And gradually, another storm of rage will break over the valley of Kashmir.
An incompetent government at the centre, and its client in the state, will act with characteristic and predictable venality. A chain of military command that has learnt nothing at all over decades of facing the people of Kashmir, will commit, again, a series of horrifying and cumulative excesses. The media in Delhi, which had begun fulminating, not entirely unjustifiably, against the Jammu and Kashmir Police for a "mild lathi-charge" on "non-local" (mainland Indian) students when their petulant, spoilt-brattish, inability to take a defeat in cricket gracefully turned into some stone throwing, will now stay silent, or find ways to blame the people who take the bullets in the streets of Kashmir. We have seen this happen before. The army will open fire, and the people will be blamed for being in the way of the hail of bullets.
Nayeem Qadir Bhat playing cricket on the streets of Handwara. 
The comparison will be obvious, but nobody will make it easily in television studios, so lets make it here  – when "Indian" young people at the National Institute of Technology, Srinagar throw stones after a routine cricket match result related tiff, the police beats them with canes, when Kashmiri young people throw stones after being faced with deafening silence in the wake of sexual harassment, the army shoots to kill.
"Azaadi" in Kashmir is of course an imperative for the Kashmiri people, who understandably, want to be rid of a situation that attempts to normalize an "alien" army shooting to kill young people protesting against sexual harassment, and a thousand other crimes. But echoing the demand of "Azaadi" for Kashmir, from India, is now perhaps the only way, we in India, can be rid of the moral stain of having these acts committed in our name.
In the past two months, we have heard, and read, and thought a lot about young people asking for "Azaadi", or for their dignity, in their own ways, in the campuses of different Indian universities. We have also seen the brutal police response to those calls for freedom. Notwithstanding the fact that each of those instances of police brutality in Indian universities needs to be condemned (and has been condemned), we also need to recognize the fact that so far, no Indian student in Delhi, or Hyderabad, or Jadavpur, or even, "non-local" students in NIT, Srinagar, have been shot down by any soldier, police or paramilitary trooper. But the merest whisper of a protest in a Kashmir town leads to the use of lethal weapons by the Indian army.
Nothing demonstrates more clearly the fact that the Indian state acts differently with different kinds of protestors. When it comes to "mainland Indian students in Kashmir" or protesting students in "mainland India", the Indian state  badmouths, manipulates, imprisons and harasses, in a manner which is vile and cruel, but when it comes to student protestors in Kashmir, it shoots to kill, without hesitation. If anything demonstrates the relationship (and difference) between what Kanhaiya Kumar famously called "freedom in" and "freedom from" India, it is this.
Perhaps Kanhaiya Kumar needs to do a little more hard thinking about what the meanings of the word "in" and "from". He is not alone, many of us need to reflect on our unthinking acceptance of the doctrine of the "unity and integrity" of the nation state and its borders. We need to ask, again –  "is the life of human beings more, or less, important than the integrity of maps drawn on paper?"
I have no doubt that it is once again the right time to ask for Azaadi, not just in, India, but also from, India, for Kashmiris. Likewise, perhaps it is also the right time to ask for Azaadi, for Indians, from the culpability of being constantly rendered complicit in the enterprise of the deeply immoral military occupation of Kashmir. Students and young people in JNU, Delhi Hyderabad and elsewhere need to march, and to keep marching, not just for Rohith and Delta, but also, now, for Nayeem. Otherwise, there will never be any Azaadi, not in Handwara, and not in Hyderabad.
[The three images featured in this post have been taken from the Facebook wall of Suvaid Yaseen. We would be happy to credit the photographer if he/she/they  is/are identified.]
Since this piece was posted in the early hours of April 13, several reports have surfaced quoting a testimony of the girl who was allegedly molested. These indicate that the molestation may have been committed by a person in uniform, perhaps school uniform. A video has also been circulated on social media with the testimony of a young woman.
Here is a news report that also quotes this testimony:
[At present no one has been able to confirm, or deny,  whether the young woman who is seen speaking in the video is the same person around whom the entire crisis erupted in Handwara. If it is indeed true that she was not molested by a soldier but by someone else then the incident needs to be looked at in another light. Whatever be the case, there can be no excuse whatsoever for the army shooting to kill in response to protests about any such incident. The main point of the above post (which has been modified in the light of emerging reports) does not change, no matter what the circumstances surrounding it. The trigger happy nature of Indian forces in Kashmir is an endemic problem. The solution to this problem lies in the scrapping of the AFSPA, the lifting of the military occupation and the eventual departure of all Indian troops from the Kashmir valley.]