The 2019 Lok Sabha elections have opened up many new chapters in our political discourse.
In the run-up to the 2014 national elections, when Narendra Modi started raking up the issue of caste and occupation, which was not in consonance with Hindu principles, neither his opponents, nor his Brahminic Hindutva patron, the Rashtriya Swayamsevak Sangh (RSS), realised he was apparently doing it for votes.
Breaking from the old: Modi has repeatedly raised his OBC status. It has worked politically. (Source: Reuters)
The RSS-BJP in a way backed his claim of the Other Backward Class (OBC) status and the 'chaiwala' background — in reality, as I see it, the RSS has been against OBCs and work involving labour all along.
Their main plank has been Hindutva-driven cultural nationalism.
It was in essence Brahminic culture and civilisation that started with the writing of the Vedas and Upanishads and developed over a period with the writing of the Ramayana and Mahabharat. The RSS/BJP work to protect Varnadharma — but never talk about the caste background of its members. The Varnadharma order established by the Hindu texts was seen as divine and just. Any public discourse that challenges the Brahminic order is seen as un-Hindu.
Though Modi started an ostensibly un-Hindu discourse for votes, the RSS and BJP allowed it and went along with it.
Modi, in some sense, superiorised his legal (if not social) OBC background by asserting his chaiwala background — which, in Hindu dharma, is considered mean work.
The RSS-BJP allowed it for political expediency.
Former Prime Minister Atal Bihari Vajpayee would never have spoken such language because he came from the Sanathan Brahmin background.
While addressing the Bania (trader) community on April 19, Modi reportedly said: "Gandhiji called himself a Bania with pride. But the naamdars of the Congress brand all the businessmen as chor. Today's Congress doesn't know about history. The naamdars don't know about the traders' contribution to the progress of the country."
Modi, thus, identifies himself with the Bania community. 
Attacking 'Harvard educational culture', Modi said he comes from a 'hardworking' background. Though Modi's family does not stand testimony for all that he is claiming, his claims have attracted many political retorts.
A fitting and honest reply to Modi's discourse of caste and occupation came from former Uttar Pradesh chief minister Akhilesh Yadav.
Akhilesh, president of the Samajwadi Party, said, "If Modi is a chaiwala, I am a doodhwala".
Stirring it up: Akhilesh Yadav called himself 'doodhwala' in response to Modi's 'chaiwala' claims. (Source: PTI)
It is a known fact that without doodh, there is no chai — and Yadavs historically, as I said in Post-Hindu India: A Discourse in Dalit-Bahujan, Socio-Spiritual and Scientific Revolution, are 'meat and milk economists'. The buffalo, cow and bull, sheep and goat-based economy, which is the mainstay of the agrarian system, was built by Yadavs and Pals (Kurumas, Kurubas, Dhangars, Bhagales and others who are the main sheep and goat raisers) all over India.
Akhilesh hit the nail on its head by asserting his caste's contribution to the cultural economy — as against the one-time chai-selling job of PM Modi.
His community, called Modh-Ganchi, was not a professionally chai-selling one. It is actually a sect of the Gujarati Bania community whose main occupation is oil selling. It is a business community and it was never part of the historical Shudras. That is the reason why he connects himself with Mahatma Gandhi, as he said in his autobiography, "The Gandhis belong to the Bania caste and seem to have been originally grocers." Though the Banias had agrarian roots, they left that occupation in the post-Gupta period in the 5th century AD. This discourse, however, has its own positive dimension.  
Yet another Yadav young leader, Tejaswi Yadav, the working president of the Rashtriya Janata Dal (RJD), said that Narendra Modi is a nakli OBC. He apparently claims that Sushil Modi of his own state is a Bania with an OBC certificate and with the same family name.
Modis are actually Banias with different sects or gotras.
Whether it is Nirav Modi or Lalit Modi, all of them, perhaps, come from the same roots, but they did not claim OBC status. But they have huge business establishments and took in the whole nation. This, I think, is what Rahul Gandhi referred to when he asked: "Why so many Modis are looting the country".
The discourse around caste and related work is fitted into the post-modern discourse by upper caste left intellectuals, without locating it within the Hindu religion and the productive work ethic.
In my view, the post-modern concept is unsuitable for India. It is actually a post-Hindu discourse. Though Hindutvawadi Narendra Modi got into the post-Hindu discourse, without understanding its implications, in this discourse, the whole caste-cultural exploitation comes into public questioning.
Modi thought of using it for electoral purposes and the RSS allowed it to gain traction, but it does not remain there. It upsets the whole Hindu discourse of practising caste from above — but not allowing caste identity discourse from below.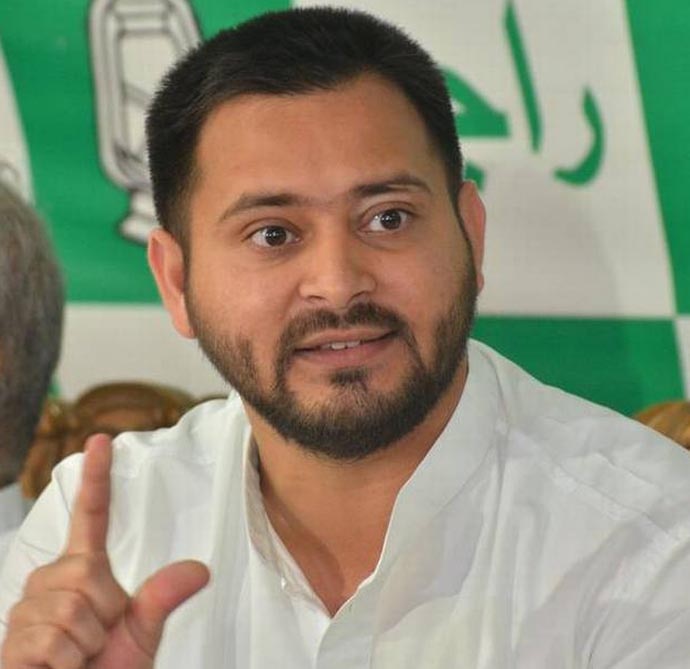 Getting a little stinging: Tejaswi Yadav has reportedly called Modi a 'fake' OBC. (Source: PTI)
In all elections, every political party played up caste — be it the Congress, BJP, the Communists, the Socialists and so on. It was a caste-centered game that did not allow the exploited castes to bring their own caste identity to public discourse.
Modi's OBC, 'chaiwala', 'chowkidar', 'hardwork versus Harvard' have brought caste to the national stage. With young leaders like Akhilesh Yadav and Tejashwi Yadav bringing in 'doodhwala' versus 'chaiwala' discourse and also asking who is asli OBC and who is a nakli OBC, the discourse, to my mind, takes a positive dimension.
Thus, post-Hindu language coming into public discourse is useful for anti-caste movements.
In the normal Hindu discourse, caste is practiced from above. Caste tags are in the names. This structure one can see in every Brahmin and Bania person's name — Sharma, Chatterji, Dwivedi, Gupta, Agarwal and so on. Membership in Congress, BJP, CPM or CPI did not change this basic caste identity structure. Marriages still mostly take place within castes.
All this was happening in the framework of Hinduism.
The post-Hindu discourse opened this up.    
No matter why Modi initiated this new language of political discourse, the way all other castes are owning up to their traditional occupations offers an unprecedented dignity of labour.