Imran Khan Gets Trumped: The Imran Khan-Donald Trump meeting was a desperate job interview, not a state visit
Pakistan is willing to do anything to gain US support. Donald Trump has his eyes on the 2020 election. The meeting, therefore, was hardly equal. It mainly laid out Imran Khan's KRAs.
It was more like a job interview than a state visit by the premier of a 'sovereign country' to the United States.
When Imran Khan, Prime Minister of the Islamic Republic of Pakistan, met President Donald Trump recently, he looked nothing short of a candidate desperately searching for a job, when no alternative vacancy is available, underqualified for other positions, unable to make ends meet by using the available bank balance.
'Mr National Chauffeur of Pakistan' — a title Imran Khan earned after chauffeuring Muhammad bin Salman of Saudi Arabia and the leaders of Qatar and the UAE) around, was welcomed by his own foreign minister, Shah Mehmood Qureshi, and officials of the Embassy of Pakistan to the US. No one — at least in the footage that we saw — from the US administration was seen welcoming him.
Believe me, there couldn't be a worse start to a state visit — that tells you how not-so-important Pakistan is on the diplomatic front right now. The US administration put a list of demands in front of Prime Minister Khan, and he had no option but to nod his head every time he was ordered to 'assist' the US in its "war against terrorism".
Beggars can't be the choosers after all.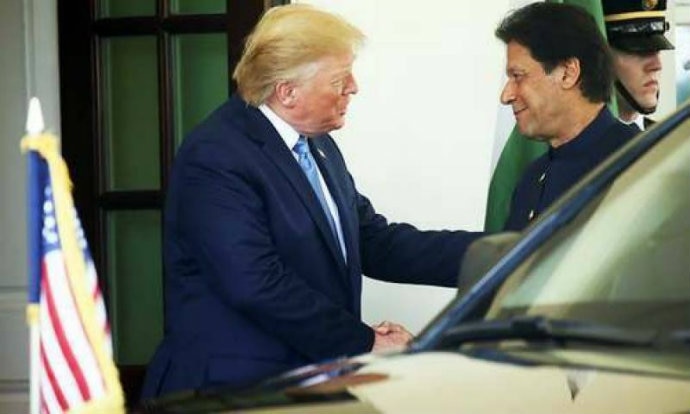 On time, with my folder: Imran Khan was ready with his CV. (Photo: Reuters)
More than just 'aid and investment'
According to a press release from the White House, the initial statement by Imran Khan included the following very important sentences, "You know, we've been fighting wars together: first Soviet invasion of Afghanistan, Pakistan was a frontline state, allied to the US. And then again the War on Terror, which was after 9/11. So I look forward to my conversation with you, Mr President."
Still can't connect the dots?
It's quite clear that Pakistan is ready to offer any sort of help which the US administration might ask for. Khan was showing Pakistan's CV to the US for another vacancy — this time, for the post of a mediator between the US and the Afghan Taliban on the negotiating table.
After all, for Pakistan, $1.3 billion are at stake here.
I think that it is more than just the 'aid and investment' which the bankrupt economy is desperately expecting this time from its previous boss. For Pakistan, at this moment, the situation, both economically and diplomatically, is dissatisfying. The Financial Action Task Force's (FATF) October 2019 deadline is just around the corner, and Pakistan is hit hard by the global financial markets and institutions — an estimated sum of $10 billion per annum loss to its economy — after it was put on the grey list last year for failing to counter money laundering and terror financing. The United States' diplomatic support would be necessary against India's strong lobbying strategy to avoid being put on the FATF blacklist. After all, to get a place on the blacklist is nothing short of a kick — which will lead the already struggling economy towards an absolute meltdown.
Furthermore, the Imran Khan administration might also be looking forward to President Trump's assistance towards convincing the International Monetary Fund (IMF) to show some leniency on the three-year course of its $6 billion Extended Fund Facility provided to Pakistan as far as complying with the Fund's Structural Conditionality is concerned.
The Afghan Taliban are part of Donald Trump's 'return gift'. And Pakistan has to deliver them. (Photo: Reuters)
US–Taliban peace talks
Pakistan has been a great support to the United States since October last year, as it did not just help convince the Afghan Taliban to sit down with the US at the negotiating table, but also to sit down with the Afghan government — a meeting earlier this month in Qatar was a result of it. Also, it released three high-ranking members of the Afghan Taliban to boost peace talks — Mullah Abdul Ghani Baradar, co-founder of the Afghan Taliban, Mullah Abdul Samad Sani and Mullah Mohammad Rasul — on the call of the United States to provide an incentive and show willingness to peacefully end the 17-year-old Afghan War. President Trump said to the media that the US is working with Pakistan and others on getting an agreement signed with the Afghan Taliban.
Before the General Elections of 2020, President Trump wants to end the 17-year-old Afghan War. Pakistan is one of the major stakeholders in US-Taliban peace talks and the recent Afghan-Taliban talks as well. Its support would help President Trump solve one of the biggest foreign policy issues — after North Korea's denuclearization — the United States is facing right now, which could potentially earn popular votes for the Republicans in 2020.
If Pakistan's support results in a successful and peaceful end to the Afghan War by or before September 1, as Mike Pompeo believes, there is no doubt that Pakistan will find itself prospering, both economically and diplomatically, with a possible exit from FATF's greylist.
The $1.3 billion aid — as Trump said on Monday — could be restored if he sees some progress in this regard.
Beyond Khan's pay grade
In an interview to Bret Bair of Fox News, when asked about whether Pakistan will release Dr Shakil Afridi, the doctor who helped the CIA confirm Osama Bin Laden's presence in Abbottabad, Pakistan, Imran Khan said that some decisions are difficult even for a prime minister in a democracy.
Can't he just say that it is beyond his pay grade?
@BretBaier: You're the Prime Minister, you can make a decision actually (regarding Dr Shakil Afridi's release).@ImranKhanPTI : There are some decisions in a 'democracy' which even a Prime Minister find difficult.......Why can't he say clearly that it is beyond his paygrade? pic.twitter.com/QUNviboy6p

— Ali Salman Andani (@an_alisalman) July 23, 2019
He further added that Dr Shakil Afridi could be freed in exchange for Dr Aafia Siddiqui if negotiations in this regard were to take place. I believe that if the Pakistani authority agrees to do that, Khan will indeed be appreciated by the general Pakistani public. Interestingly, Imran Khan did say that the US will get good news with regard to the two hostages it wants Pakistan to release, during the press talk on Monday.
Amid looming economic meltdown with a sharply falling dollar reserves, reducing exports, depreciating Real Effective Exchange Rate (REER) — 21% in fiscal year 2018-19 and 26% nominal depreciation in the same period, declining participation rate, real output and foreign direct investment (down from $3.47 billion in financial year 2017-18 to $1.73 billion in 2018-19), nothing is more important for Pakistan than the United States' 'aid and investment'.
A big fat brownie point: Hafiz Saeed's arrest was a ploy to gain American approval. (Photo: Reuters)
Can't trick the US now
Khan thus gave his best to fully prepare his report card to impress Trump before leaving for the US.
The Counter-Terrorism Department of Punjab arrested Jamaat-ud-Dawa's (JuD) chief, Hafiz Saeed, Shireen Mazari — the Human Right's Minister of Imran Khan's cabinet — deleted an anti-Trump tweet from her official account, in which she had posted the link to the New Yorker article, titled, A Racist in the White House, China–Pakistan Economic Corridor's (CPEC) engine is all-set to fail as neither Pakistan, nor China is showing interest in the projects the way they were initially. Further, after five months of closure post the February 26 Balakot air-strikes by India, the country opened its airspace fully for civilian flights and the Khan administration also agreed to comply with the IMF's structural conditionality which includes compliance with the Fiscal Responsibility and Debt Limitation Act (FRDLA) and undertakings by the Pakistani authorities to the fund that it has received commitments from China, Saudi Arabia and the UAE to keep rolling over the debts which the country owes to them until the Extended Fund Facility expires.
Unfortunately, this fiscal discipline is absolutely opposite to the principles of China's Debt Trap Diplomacy and if successfully implemented, China's dream of snatching Gwadar port, like Sri Lanka's Hambantota port, will be shattered very soon.
But let me make it crystal clear that Pakistan cannot trick the US into providing it with financial or diplomatic assistance, with its unsustainable and insubstantial actions to counter "externally-focused militant groups and UN-designated terrorist organisations operating from its territory".
The times have changed.
The FATF's October deadline is already hanging over the 'almost-crippled economy with an incompetent prime minister' like a sword of Damocles. The country could also be easily defeated on the diplomatic front — we have observed it in the recent past too.
Also read: America's Kashmir Trump Card: Why Delhi should take up Donald Trump's mediation offer on Kashmir
The views and opinions expressed in this article are those of the authors and do not necessarily reflect the official policy or position of DailyO.in or the India Today Group. The writers are solely responsible for any claims arising out of the contents of this article.