It is indeed ironical and highly hypocritical that, on one hand, we proclaim that sports should be kept free of politics.
On the other hand, we allow cricket bonhomie with Pakistan to become hostage to what is essentially a political agenda: our failure to secure an assurance from Pakistan on cross-border terror!
What is even more surprising is that the BJP, which has, in the past, objected to Shiv Sena's demented brand of cricket nationalism, should use the game to leverage its position in a diplomatic standoff.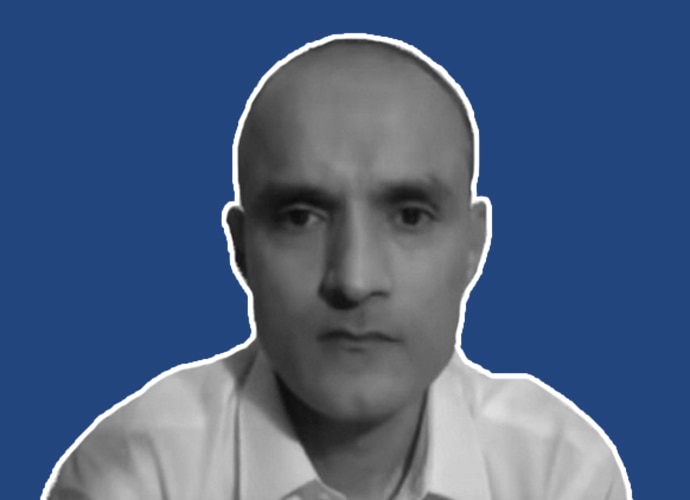 Nobody is arguing that we do not relentlessly pursue Kulbhushan Jhadav's case in the ICJ. Photo: DailyO.in
It is nobody's case that we don't need to call Pakistan's bluff and mount pressure on Islamabad to neutralise the terror threat across the Line of Control (LoC). Nobody is arguing that we do not relentlessly pursue Kulbhushan Jhadav's case in the ICJ.
These decisions must indeed be based on realpolitik but we cannot tie the diplomatic inertia or lack of political will - on either side - to the inherent neutrality of sport. Nor can we disregard its overwhelming contribution to people-to-people contact.
Of course, sport does not change political attitudes; it cannot change the India-Pakistan narrative. But that also does not mean we don't play cricket till there is a definite roadmap on wiping out terror.
When the two sides play together, it is not just about two nationalities colliding; we also recount heart-warming stories about players, we mingle with each other off and on the field, we talk about hospitality, we talk about our other common pursuits. Most important, we talk about that embrace on the field!
It is nobody's case again that sports can bring about a perceptible change in our relations with Pakistan, which have been antagonistic even in the best of the times. But a game of cricket can surely help the two sides to engage with each other; an activity that is at the moment in a state of deep freeze - be it in the economic, social or political arena.
The hype that envelops an India-Pakistan match helps create a catchment area of peace in both the countries. Photo: Reuters
Pakistan's national self-esteem hangs by a slender thread — a game of cricket — and it has been hanging thus by its fingertips, ever since March 2009 when militants attacked the Sri Lankan team in Lahore.
The BJP is smart enough to realise that Pakistanis are starved of international cricket: by not playing, the sadistic Modi government wants to deny them the pleasure of savouring a win against India even in a reverential fantasy.
But even more important is that the BJP does not want the optics of cricket to deflect attention from the divisive RSS agenda and its heady cult of spurious nationalism. The BJP would like these embers to smoulder at least until 2019, when cultural nationalism will vacate space for a more virulent form of national identity.
Sure, cricket has a cult following in India too, but we don't allow it to cloud our thinking beyond a point. At least the points of narcissism don't become pinpricks of hate and venom.
Cricket cannot by itself bring about a diplomatic thaw — the only way to break the logjam is to engage in talks, and keep the momentum going. Sometimes it takes more than a 56-inch chest to take the peace process forward; and it takes less courage to carry out a surgical strike.
Cricket with all its hype — especially the kind that envelops an India-Pakistan match, helps create a catchment area of peace in both the countries. In these vitiated times, even that is a big gain.
That Pakistani heads of state have a penchant for mixing cricket with diplomacy has been well-documented: we have had the likes of President Zia ul Haq landing unannounced at Delhi in 1987, ostensibly to watch a India-Pakistan cricket fixture at Jaipur, against the amassing of troops on the border; General Pervez Musharraf making a similar visit and former PM Manmohan Singh extending a cricket invite to his then Pakistani counterpart Yousuf Raza Gilani.
The Modi government needs to exploit Pakistan's vulnerability to its advantage, as Atal Bihari Vajpayee would have done, rather than allow a game of cricket to become a handmaiden of its agenda on cross-border terror.