While putting out his first statement after the barbaric killing of 20 Indian army men, including a Commanding Officer, by the treacherous Chinese, PM Modi stated that India desires peace but will give a befitting reply to anyone who provokes and tries to intrude into our territory. Protecting every inch of Indian land is of BJP's commitment. PM Modi also recounted the valour of our soldiers who were martyred defending India's borders.
Such strong words definitely signalled the intent of the nation that 1.3 billion Indians are united in the feeling that the dragon must be shown its place and made to go back.
It is strange that during a national crisis some opposition parties in India are questioning the government and army on its China policy. This is especially true of the Indian National Congress (INC) which has party-to-party close ties with Communist Party Of China (CPC). In fact, the relation between INC and CPC is so close that Rahul Gandhi even had secret parleys with the Chinese ambassador during the Doklam crisis.
Rahul Gandhi has gone on record asking why did India send the unarmed to martyrdom. Unfortunately, similar points are being raised even by army veterans like Retired Lt Gen HS Panag. The answer is clear. As Dr S Jaishankar, Minister of External Affairs, said, all troops on duty carry arms and so did those in Galwan on June 15. This is as per the long-standing practice, based on 1996 and 2005 agreements, to not use firearms during any faceoff.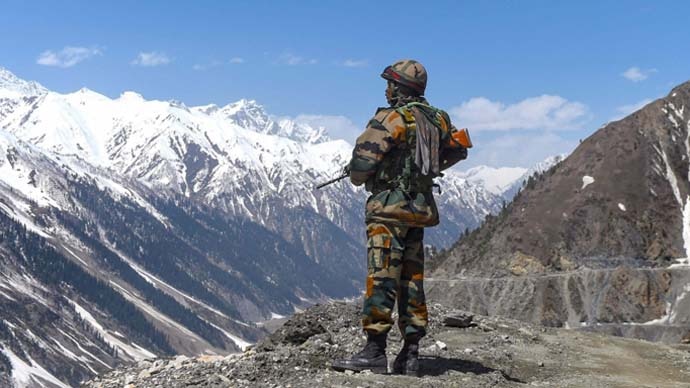 Indian Army understands the Ladakh heights and is better acclimatised to the local conditions than the PLA. (Representative photo: PTI)
Rahul Gandhi must remember that the Indian Army, being a professional force, was following the border management procedures as laid down in various agreements between India and China. Most of these agreements were negotiated during the Congress regime. Hence, it is unpatriotic for people like Rahul Gandhi to question the current government and the leadership of the Indian armed forces, especially at a time when we, as a nation, are fighting to preserve our sovereignty. It clearly shows that the Congress party is out of touch with Indian sentiments — a point which the former spokesperson of Congress, who has now been removed from the post, Sanjay Jha, had also raised.
The Chinese betrayed India's trust and attacked the Commanding Officer of 16-Bihar Regiment Colonel B Santosh Babu and his two escorts. The men were attacked with iron poles and stones by the People's Liberation Army. Col Santosh Babu had gone to oversee whether the Chinese Army had fallen back to a post, as per the disengagement plan decided on June 6. It was then that the PLA troops backstabbed and attacked Indian forces.
But the bravery of Indian soldiers ensured that the PLA suffered larger fatalities. This clearly proves that the PLA is an unprofessional force, which did not follow any border agreement and disengage as agreed upon on June 6.
The lethal weapons used by the PLA prove that China is a nation unfit to engage with diplomatically. India will now harden its stance and make China bleed economically. Today, the Indian Railways cancelled a significant tender to a Chinese company. BSNL and MTNL have also been asked to stop importing Chinese equipment. Trader associations have also been asked to boycott Chinese products. India will now engage in an economic boycott of China and expose the country globally as the aggressor. By associating with Pakistan, China had already proven to be a rogue nation in its mentality.
Indian government under the leadership of PM Modi will give a befitting reply to anyone daring military misadventures against India. China will face the might of the powerful nation with a strong leader who has vowed to teach the enemy a lesson. The Indian Army has superior training and understands the Ladakh heights better. It is also more acclimatised to the local conditions than the PLA. Xi Jinping is already facing hostility from Hong Kong, Taiwan and Japan, and global heat over hiding crucial information which led to the coronavirus outbreak.
Xi Jinping's misadventure would prove to be his biggest folly.