How Modi can save India's foreign policy from being a disaster
If the hard reality of the global power matrix has dawned on the PM, will he reset his neighbourhood policy?
Let's congratulate our PM for having dropped showmanship as an extension of diplomacy. He impressed India's large diaspora and dazzled his supporters back home as a showman during the first two years after taking power.
From Madison Square Garden in New York to Wembley Stadium, London, and drumming in Tokyo, he established himself as our country's best or, perhaps, the only showman politician ever.
But that was then, when his honeymoon with the people was in full swing, which has lasted for a surprisingly extended period.
The honeymoon has begun to wear off - though not soured yet, one has to admit - as the PM has entered the fourth year in office. The diaspora too seems tired with political showbiz, with the reality of Donald Trump's White House sinking in slowly.
With showmanship being discarded as a tool of limited value, substance is coming to the fore in Modi's foreign policy. Though not too late, the government has already lost precious time on showmanship, ignoring the substantive part of foreign policy.
Modi has returned from a four-nation tour, which has gone about without unnecessary razzmatazz. The trip to Germany, Russia, Spain and France was more about realism and pragmatism than expectations built on romanticism.
If the visit to Germany and the meeting with Angela Merkel was overshadowed by the Chinese premier's visit, which followed Modi's, there was expectedly no major take-away from Paris except a warm hug with the new French president, Emmanuel Macron.
However, in France, Modi did show foresight and courage to reassert India's commitment to the Paris Climate Accord. The assertion provides an insight into what's going on in his mind.
Coming as it after Trump's announcement to pull the US out of the Paris accord, Modi's assertion is a timely realisation that India has to reset its policy in the emerging multilateral global power dynamics.
The attempt to reset ties with Russia is a recognition of the shifting dynamics among the major power - US, Russia and China - relations. Nobody can say with authority what shape the dynamics are going to take and how it's likely to impact the world and India.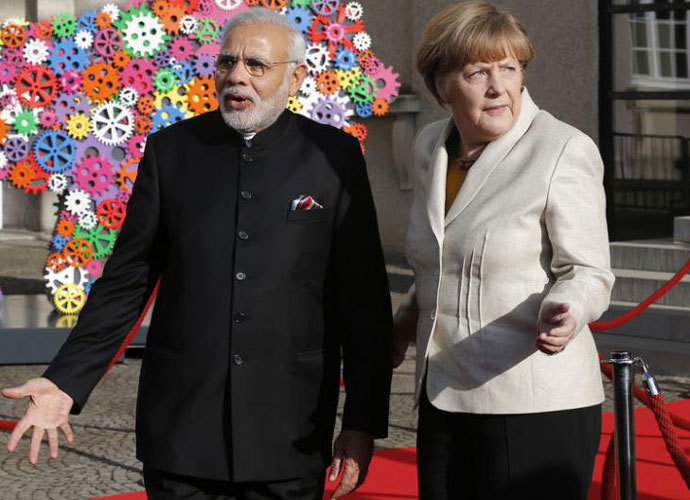 PM Modi with Angela Merkel. Photo: Reuters
The bid to align relations and boost defence cooperation with Russia, while marking 70 years of "special and privileged strategic cooperation", was a positive takeaway of Modi's meeting with Russian president Vladimir Putin.
Putin's words to Modi were reassuring too as the PM appeared to be enjoying the positive vibes he received in St Petersburg.
Except for Megan Kelly of NBC who goofed up by asking Modi, a leader with the second-most number of followers (30.2 million) after Trump, if he was on Twitter and was trolled in India.
But that's a side story, though Modi might have been a bit disappointed with the hotshot prime-time US television news anchor questioning his Twitter status.
The recent tour, especially to Russia, suggests that Modi has realised before long that India's strategic neutrality has been a rewarding experience. Tilting in favour of one power against the other can be unwise and risky.
There was never a more pressing need for realigning India's strategic goals to emerging global power dynamics than now. With the US under Trump retreating from Europe, Trump unexpectedly building stronger ties with China and India's trusted ally Russia aligning its interests with China, Modi has a task cut out for him not to put all eggs in one basket.
It's a mistake Modi appeared to have made in the first two years of government. He expected the incoming Trump administration to look at India as a regional power in Asia to counterbalance China and seemed all but ready to play ball at the risk of annoying both China and Russia.
He ignored Russia until Putin was found dabbling in Afghanistan-Pakistan affairs in concert with China to the rude awakening of India. He has poked China, hoping that Trump would continue Barack Obama's Asia pivot and enlarge the scope of the strategic partnership with India in East and South Asia.
China is going about methodically to realise its superpower status. India does matter but will not be any major factor in stopping China from pursuing its global ambitions. China's dependence on and use of Pakistan to further its strategic interests will continue, no matter what India thinks of it and how India takes it.
Modi seems to have miscalculated in assessing the changing dynamics of global powers. His neighbourhood policy vis-à-vis Pakistan and China was based on assumptions that didn't take account of the shifting dynamics.
Based on uncertain assumptions was the policy to embark on isolating Pakistan in retaliation of terror attacks in Pathankot and Uri and lighting of the Line of Control (LoC).
Pakistan does get its fair share of rebukes and warnings from global powers on misuse of terrorism. But they are equally inclined to understand Pakistan's viewpoint on falling victim to terrorism at home.
The theory of isolating Pakistan hasn't cut much ice with the international community. Nobody ever believed and believes that India can isolate Pakistan, given our neighbour's strategic use for US, China, the Gulf countries, Iran and now even Russia.
If the hard reality of the global power matrix has dawned on Modi, will he reset his neighbourhood policy? Will he begin actively engaging with a world, which fulcrum can no longer rest in Washington?
For active engagement and resetting of policies Modi urgently needs to appoint a minister in the external affairs ministry. He must delegate full-time responsibility to a minister who can pro-actively engage with the shifting realities of international politics.
Sushma Swaraj is a capable minister but she has been reduced to manage protocol affairs and her health won't permit her to take on the tough demand of the office.
If Modi doesn't wake up and carries on "isolating" and isolationist policy, India will find itself standing in splendid isolation.
Also read: India has become a subject of ridicule internationally, thanks to Modi and BJP
The views and opinions expressed in this article are those of the authors and do not necessarily reflect the official policy or position of DailyO.in or the India Today Group. The writers are solely responsible for any claims arising out of the contents of this article.