Prime Minister Rajiv Gandhi's vacations during 1984-89 had always invited criticism — but even his worst critics like Atal Bihari Vajpayee, Bhupesh Gupta, Jaipal Reddy and Inderjit Gupta had spared him from charges of misusing war vessels. On January 14, 1988, the BJP had asked Rajiv to reveal names of "holiday guests" at Lakshadweep. BJP general secretary Krishnalal Sharma had specifically named Amitabh Bachchan as a guest whose "secret presence" had raised doubts.
Now, 31 years later, perhaps it is prudent for Amitabh to set the record straight.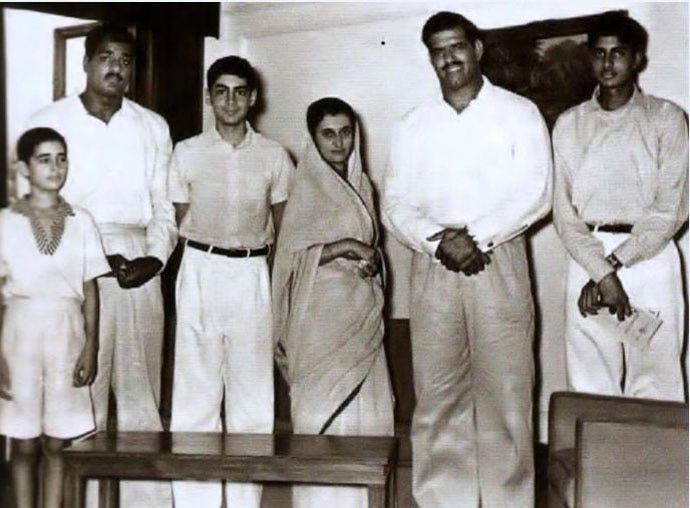 In times of heady friendship. (Photo: Twitter)
When Rajiv was in power, his lifestyle came under close scrutiny. His love for designer shoes, fast cars and expensive items became hot subjects of discussions and debate. In New Delhi, for the first time, the Prime Minister was seen driving himself — and in a swanky Mercedes-Benz gifted by Jordan's King Hussein. Mani Shankar Aiyar, a foreign service bureaucrat-turned-politician, had another explanation for why people, particularly media persons, considered Rajiv a yuppie. 'Perhaps they do not like to see a man born with a silver spoon in his mouth turn it into gold,' he had remarked.
Rajiv also drew criticism for his cherished annual holidays, when he used to pursue his interest in photography and wildlife. Much before he entered politics, Rajiv and Sonia used to regularly vacation in Italy and India. During Christmas and New Year, the entire family — including Sonia's mother, her sisters and their husbands — used to get together. The practice continued when Rajiv became Prime Minister. Sonia's mother and sisters went to Kanha National Park in Madhya Pradesh in 1985 with Rajiv, Sonia, Priyanka and Rahul. Next year, it was Ranthambore, where reigning film actress Sridevi reportedly performed before a select audience. The media lapped up the event.
In a poor country, the chief executive was not expected to have a good time. But Rajiv was unmindful of the criticism. He ignored advice and continued to live his life the way he liked to.
It really was 'A blue lagoon holiday'. And it's still raising a storm. (Photo: Sourced from Wajahat Habibullah via India Today)
At Lakshadweep, Rajiv had reportedly spotted a bruised and bleeding whale foundering in the lagoon. With the help of his bodyguards, the young Prime Minister dived in, pushed the whale into deeper waters as another larger whale watched from the edge of the lagoon. However, when the tale reached Rajiv's arch-rival VP Singh, who had left the cabinet and Congress over alleged Bofors kickbacks, the former Raja of Manda had a different take, "When Rajiv ji moved closer to the whale, he told her, 'I am Rajiv Gandhi and I have nothing to do with Bofors. The whale could not swallow that and moved into deeper waters on her own." Singh used to recall this anecdote with great relish.
In Rajiv Gandhi – End of a Dream, author Minhaz Merchant has sought to give a clean chit to Rajiv. Writing on page 202-203, the biographer's observation is worth noticing for the current generation of young Indians, "A simple family man, fond of the good things in life and of his friends and Italian family, Rajiv now found every action of his being misinterpreted or exaggerated. If he went on a holiday to Lakshadweep or Andamans with Sonia's family, the press called it 'a national security risk' because of the presence of foreigners." 
According to Merchant, the Prime Minister's party reportedly consisted of Rajiv, Sonia and their two children Rahul and Priyanka, Ajitabh Bachchan's three daughters, Namrata, Naina and Nilima, Amitabh Bachchan, his wife Jaya, their children Shweta and Abhishek, Arun Singh's first cousin Brijendra Singh, his wife and their daughter Ambika Singh.
Meanwhile, the Bofors scandal of that era was gathering force.
By the time Rajiv realised that the tide was turning against him, it was too late. Besides being apolitical, Sonia was also media-shy and hated being photographed. Pictures with Rajiv at public functions show her looking tense and stern. Family friends say it had to do with Sonia's lingering fears for Rajiv's life. 'She just could not relax. We told her to project herself as the smiling, charming person that she indeed was. But whenever she faced the camera, tension would show all over her face. We soon gave up,' said a media manager who was associated with Rajiv.
Critics often questioned Rajiv's spending quality time with family, extended family and others. (Photo: India Today)
Rajiv became conscious of the spotlight on Sonia and tried some damage control. He had not realised that except for Lal Bahadur Shastri, previous Prime Ministers were either widowers or widows. Post-the Rajiv era too, PV Narasimha Rao was a widower while Atal Bihari Vajpayee was single. VP Singh, Chandra Shekhar, HD Deve Gowda and IK Gujral were all short duration prime ministers who kept fire-fighting instead of looking for a holiday. Dr Manmohan Singh had ten long years in office - but the good doctor, like his successor, Narendra Modi, did not believe in opting for vacations. Moreover, the Indian masses and media were not equipped to deal with a glamour couple like the Kennedys or the Blairs. Some felt that Rajiv, by projecting himself as a good family man, got the image of a henpecked husband.
Both Manmohan Singh and Narendra Modi are known to put work above leisure. (Photo: DailyO)
As Prime Minister and Congress president during 1984-1989, Rajiv regularly holidayed around Christmas and New Year. In 1985, he went to Kanha National Park, Madhya Pradesh, in 1986 to Ranthambore, Rajasthan. In 1987, Rajiv-Sonia and their circle of friends were in the Andamans and in 1988, they were in Lakshadweep. Rajiv had a genuine interest in photography, wildlife - and spending quality time with family and close friends.
A first for India: A PM who believed in holiday with family and friends. (Photo: Twitter)
Barely nine weeks after trail-blazing success in 1984's Lok Sabha polls, Rajiv had headed for Kanha National Park. A year later, he was in Ranthambore National Wildlife Park where he spent six days over the new year — the park was reportedly kept out of bounds for the public. An open ground served as a helipad where apparently a group of 23 had landed, consisting of wife Sonia and children Rahul and Priyanka, Sonia's parents and eight relatives from Italy, Brijendra Singh and family and Amitabh Bachchan, wife Jaya and two children.
Rajiv was so excited that within half an hour of arriving, he was out in a jeep. The bills running over Rs 4,500 were reportedly personally settled by the Prime Minister. And Rajiv distributed little over Rs 2,000 to the cooks and attendants as tips.