China's great wall: The mysterious case of the missing Interpol Chief
Meng Hongwei was reportedly detained over corruption. But Beijing is steadily 'vanishing' dissidents and diaspora Chinese from around the world.
Meng Hongwei, the Chinese head of Interpol and a vice minister in the Chinese Minister of Public Security, had mysteriously disappeared in the last week of September while on a visit to his country. The mystery surrounding this disappearance was solved on October 7. The Chinese Communist Party announced that the Interpol President was under investigation for having violated the law and was under the supervision of an anti-corruption unit of the party. Interpol headquarters in Lyon, France, also received Meng's letter of resignation the same day.
The mystery of the missing Meng. (Photo: Reuters)
The arrest may seem startling for many — but not in China. Meng has many more powerful predecessors who have been imprisoned by the Chinese in recent years. Zhou Yongkang, the once powerful Security Chief of China and member of the nine-member Politburo Standing Committee, was the most senior leader of the party in 65 years to be sentenced for life in June 2015. This downfall was huge for the once second-most powerful man in the country after President Xi Jinping. Chinese TV televised his confession to charges of abuse of power, bribery and revealing state secrets, along with his sentencing.
Xi was sending a message to all that he was serious about his campaign to eradicate corruption.
Another member of the 25-member Politburo and vice-chairman of the Central Military Commission, General Guo Boxiong, went to prison in 2016 on charges of corruption. The general accepted his punishment and announced, wisely, that he would not be appealing these orders.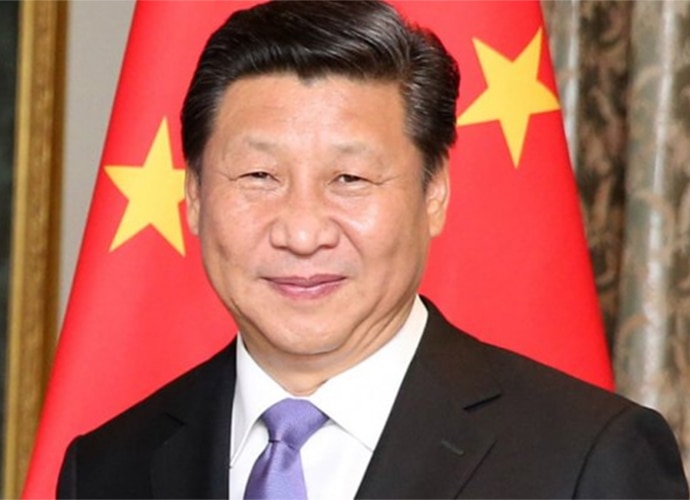 He may be smiling. But he's serious. (Photo: Reuters)
Chinese authorities had claimed that in 2015, their anti-corruption campaign had punished about 300,000 officials, of which 200,000 got away lightly but about 80,000 had received harsher sentences. There was also a campaign on television where convicted corrupt officials made their confessions, much to the satisfaction of the viewers, according to government claims.
The present phase of the campaign seems to be the result of heightened activities of the newly created anti-corruption agency called the National Supervision Commission (NSC) that was established during the annual National People's Congress in March this year.
Saying it together in one voice. (Photo: Reuters)
The NSC is a far better resourced agency and unified — it enhances President Xi's powers in a presidency that has no term limits any more. It is not meant to be a check on his powers. Just before the announcement of the arrest of Meng, the Chinese also announced that China's most famous actress, Fan Bingbing, and others who had been evading taxes, would be heavily punished.
China's most famous actor, Fan Bingbing suddenly went missing for weeks, until her tax case was solved. (Photo: Reuters)
Fan promptly announced that she would pay the taxes and the back taxes as well to avoid criminal charges since this was her first offence.
Meanwhile, Zach Dorfman in his long report — "The Disappeared" — in the Foreign Policy issue of March 29, 2018 had given details of attempts — by the Chinese the world over — to kidnap dissidents and bring them home for "correction".
Dorfman also said that these attempts by the Chinese in other countries could be reaching the US in the future. For the Chinese, acquisition of another nationality was not of any relevance — a Chinese was always a Chinese. They possibly launched their own version of the US extraordinary renditions programme during George Bush Jr's Iraq War in 2005. Western intelligence agencies have been concerned that a paranoid Beijing may be targeting Chinese-origin dissidents legally residing in Australia, New Zealand, Canada, and the UK. Kidnappings have also occurred in Hong Kong, Vietnam and Myanmar.
The Chinese are targeting ex-CCP officials, powerful businessmen, dissidents and activists and those suspected of corruption. Legality of proof in a totalitarian system is undoubtedly not a major issue. Possibly the Interpol chief Meng was lured or coerced into visiting China under this scheme. American intelligence have noticed that some Chinese living in the US have also started disappearing in the last five years.
The Chinese have been exhibiting their zeal for correctional activities elsewhere in the country.
About a million Muslims, mostly Uighurs from Xinjiang province have been herded into vast camps that can hold as many as 6000 persons behind heavily secured barbed wire fences and surveillance systems guarded by armed police, without any legal proceedings. The idea is political indoctrination to reassert party ideology and weaken religious, ethnic or any spiritual leanings among the restive Uighurs.
China's Muslim Uighurs have often gone missing, only to be found in prisons meant to reassert 'Chinese' identity. (Photo: Reuters)
Totalitarian regimes find it easier to be xenophobic and paranoid. They have no compunction in stone-walling or simply ignoring any enquiries that others may want to institute. Silence about Uighur Muslims from China's friends Pakistan and Saudi Arabia will help.
Meanwhile, expect no fallout from the arrest of Meng Hongwei.
The world has moved on.
[Vikram Sood, the former chief of R&AW, is an adviser to the Observer Research Foundation (ORF) and has authored the book The Unending Game — A Former R&AW Chief's Insights into Espionage (Penguin).]
The views and opinions expressed in this article are those of the authors and do not necessarily reflect the official policy or position of DailyO.in or the India Today Group. The writers are solely responsible for any claims arising out of the contents of this article.