Social activist Irom Chanu Sharmila announced yesterday that she will end her 16-year-old fast on August 9 this year and contest elections from Manipur in 2017.
If we are to see things from the BJP's perspective, can we expect that PM Narendra Modi and BJP president Amit Shah offer Irom Sharmila the BJP's CM candidacy for 2017 Manipur Assembly election?
Can the Iron Lady of Manipur be declared as BJP CM face in the Northeastern state if her decision to break her legendary fast and join politics is exemplary enough to bring peace in Jammu & Kashmir?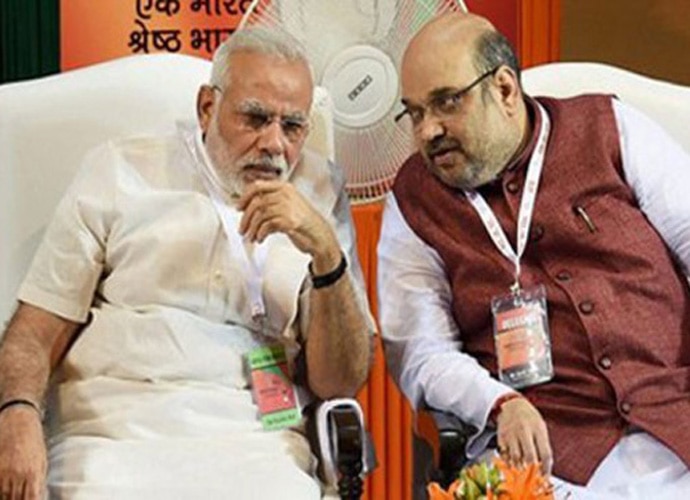 PM Narendra Modi and BJP president Amit Shah. (PTI)
She, as per news report, is eying for her birthplace - Khurai Assembly constituency - to contest in the election. Is she going to defeat the incumbent Congress MLA of the constituency, Dr Ng Bijoy, who is the former vice-chancellor of Manipur University and former director of RIMS Imphal?
If she wins, can she steer the Manipur Assembly not to declare the Northeastern as a "disturbed area"? If she loses, will she accept and respect the verdict of Khurai people?
If she believes that her electoral fight is to put an end to the AFSPA in Manipur, then, she, as an independent or a candidate of any political party, should contest against the incumbent Congress CM Okram Ibobi Singh who has been the main decision-maker to reimpose "disturbed area" in Manipur to maintain the AFSPA in the state.
Or, is she going to be offered Congress ticket so that CM Ibobi may not face an embarrassment from her electorally?
Will Irom Sharmila remain as a politician in an electoral active politics, notwithstanding she wins or loses in 2017?
Can the BJP explain why minister for development of Northeast Dr Jitendra Singh said, "Kashmiri separatists from Jammu & Kashmir should take a cue from Sharmila."
Why is he linking "J&K separatists" with Sharmila's decision to actively participate in Manipur's electoral politics?
What has Sharmila done, other than by quitting her fast and deciding to join politics, which, according to Dr Singh, J&K separatists should pay heed to?
If the BJP views her as a ray of hope to usher peace in J&K, then they should declare her as their CM candidate for the 2017 Assembly election.
And, if the BJP does not declare Sharmila as its CM face in Manipur, then it would not be difficult to deduce that the saffron party used her to diffuse the current tension in J&K, where it has failed miserably.