Irom Sharmila ending her fast won't stop AFSPA protests in Manipur
Widows of men killed in fake encounters will carry on the fight.
Amid a group of women dressed in orange and white, one figure stands out. Dressed in blue, pink, brown, black and white, she watches out protectively for anyone who might break down while offering flowers to the portraits of dead men.
Neena Ningombam was 31-years-old when she was widowed. She learnt of her husband's death from a news bulletin. She believes he was killed in a fake encounter with police commandos.
Neena Ningombam was 31 years old when she was widowed.
But Neena was not one to sit home and grieve. Just like she refused to wear orange and white, the colours of mourning, she refused to take the news of his death lying down.
Neena moved the Supreme Court in 2012 against 1,528 extra judicial killings in Manipur.
In 2012, as the general secretary of Extra Judicial Execution Victim Families Association (EVFAM), Neena approached the Supreme Court and demanded an investigation into the death of her husband and 1,527 others, all of who were allegedly killed in extrajudicial encounters.
Members of the Extra Judicial Execution Victim Families Association (EEVFAM) offer floral tributes to loved ones allegedly killed in fake encounters.
On July 8 this year, the Supreme Court asked for the details of the deaths and issued a stern order to the armed forces not to use excessive or retaliatory force against civilians – offering a semblance of vindication to Neena and others at EEVFAM who have been protesting against the special powers enjoyed by armed forces in Manipur.
Also read: The very lonely and very long battle of Irom Chanu Sharmila
Members of EEVFAM offer floral tributes to loved ones allegedly killed in fake encounters.
It's been a long one month for Neena. On August 9 – almost exactly a month after the Supreme Court ruling - Irom Sharmila, the most visible face of protest against the Armed Forces Special Powers Act (AFSPA), is calling off her fast.
"Sharmila is speaking of ending her fast and continuing her protest outside the bars. We will support her in this," says Neena.
"AFSPA affects members of EEVFAM. We continue our protests until the law is repealed from here."
For the widows of Manipur, beyond the big-ticket headlines of AFSPA protests and court rulings, is the everyday reality of widowhood - filing for compensation, bringing up their children, and being branded as "wives of terrorists". For them the fight is far from over.
Yaikhom Edina struggles with the left side of her body as she juggles running her grocery store and collecting data on 1,528 deaths to submit to the court. Soon after learning about her auto-driver husband's death – allegedly at the hands of police commandos and paramilitary soldiers - she suffered paralysis on one side.
"It's a good that Sharmila is ending her fast. The government didn't listen to her for the past 16 years. There was no use continuing the fast."
"If there is any one issue she decides to take up for elections, I want that to be AFSPA."
Edina is confident that a breakthrough in the EEVFAM case could decide the fate of armed forces in the state. "If we get justice, something will change about AFSPA in Manipur."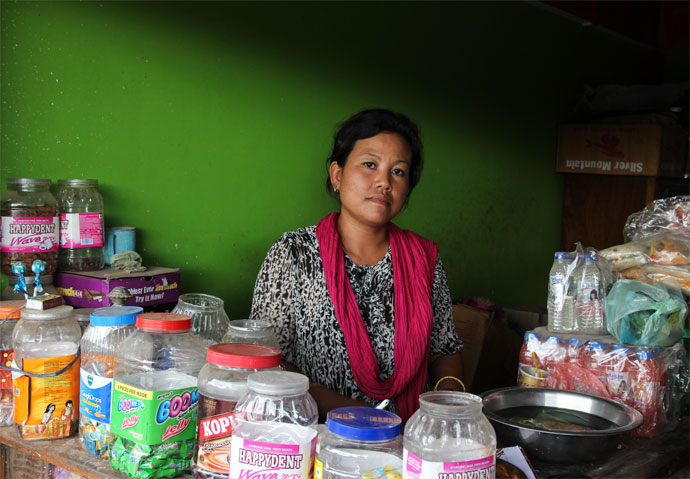 Edina says if widows get victory in the Supreme Court case on fake encounters, it will bring about a change in the use of AFSPA in Manipur.
Babloo Loitongbam of Human Rights Alert, a co-petitioner in the case, says a thousand widows might fill the vacuum that Sharmila leaves.
"Irom Sharmila is a very important symbol in the AFSPA struggle. But her role is more symbolic than functional. The struggle of widows will not change just because she ends her fast."
Babloo Loitongbam of Human Rights Alert is a co-petitioner in a case asking for a special investigation into extrajudicial killings in Manipur.
Besides the recent Supreme Court ruling, there are already some victories for the widows fighting AFSPA.
"One of our greatest achievements is that there are no more young widows in cases of fake encounters," says Neena.
And the fight against AFSPA will continue for those who were widowed young.
Kongkham Gangarani, a visually impaired widow, is confident that civil society groups can build pressure against AFSPA.
Kongkham Gangarani, a visually impaired widow, cooks with charcoal instead of cooking gas to save money.
The views and opinions expressed in this article are those of the authors and do not necessarily reflect the official policy or position of DailyO.in or the India Today Group. The writers are solely responsible for any claims arising out of the contents of this article.