Why Kashmir is silent on Ishrat Muneer's IS-style killing
Unarmed 25-year-old Ishrat was shot dead by 'unidentified gunmen', this horrific act circulated on social media. Ordinary Kashmiris are silent. And belated reactions from Kashmir's top politicians only emphasize this echoing darkness.
With folded hands, she begged for mercy. And in return, a rapid fire of two bullets silenced her forever.
This is the short story of the brutal execution of 25-year-old Ishrat Muneer, carried out by suspected militants in the apple town of Shopian, south Kashmir.
According to the police, she was shot dead at point-blank range by the militants, who reportedly made a video of the incident and circulated it on social media. In the short clip, Ishrat, a resident of Dangerpora in Pulwama, can reportedly be seen begging for life, till she falls to the bullets.
Kashmir sees crowds pouring out for militants' funerals. In comparison, the funeral of Ishrat Muneer was a quiet affair. (Photo: Reuters/file)
On the morning of January 31, Ishrat had left her home as usual to attend computer classes at a private institute in her town. Her bereaved family says she would usually return home by around 2:00 pm.
That fateful day, she didn't.
Worried, the family started looking for her. After a night of helpless searching, her bullet-riddled body was found at an orchard in the neighbouring district the next morning. A police handout said, "Police investigation is focused on some credible leads and it is expected soon the culprits shall be brought before the law."
The mourning at her village, however, looked unusual.
Unlike a sea of mourners pouring down the streets to attend militants' funerals, or those of civilians killed in firings, Ishrat's last rites remained low-key.
Nobody among the mourners condemned the killing — not even her own family members.
The reasons behind the uneasy silence are palpable.
Ishrat's father, Muneer Ahmed Dar, is a policeman. But there's an even bigger side of the story.

Ishrat was the cousin of Zeenat-ul-Islam — one of the most wanted militant commanders in Kashmir, who was killed by security forces in a gunfight on January 13.
Rumour mills are rife that she 'may have been an informer' and 'might have played a role' in Islam's killing.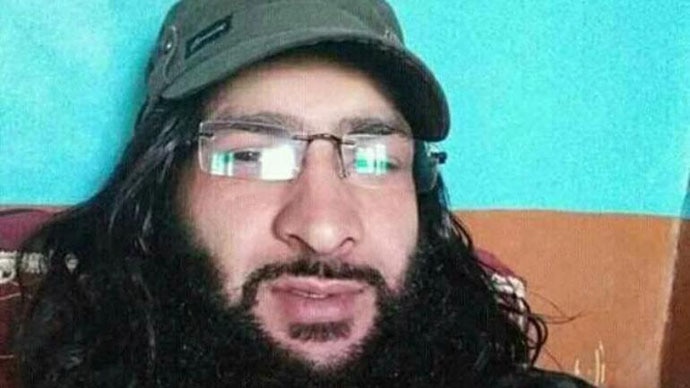 Zeenat-ul-Islam was a wanted militant, killed on January 13. He was also Ishrat's cousin. (Photo: India Today)
Well, amid speculations over 'may' and 'might', many are groping for the reasons behind ordinary people's silence. But what about the powerful and mighty, who are equally mute?
The purported video of the killing went viral in Kashmir on the night of January 31.
But Omar Abdullah, the very-Twitter-friendly ex-CM and National Conference leader, took over 30 hours to condemn it. And even that tweet came only after the New Delhi-based electronic media persistently questioned the silence of the Kashmiri politicians on the incident.
Horrific murder & deserves the strongest condemnation. There can be no place for such brutal acts in a civilised society & apologists for these murders are just as guilty as the perpetrators. https://t.co/e0kDTJcWyO

— Omar Abdullah (@OmarAbdullah) February 2, 2019
Ishrat came from South Kashmir, the PDP's stronghold — yet, PDP chief Mehbooba Mufti found time to condemn her killing only on February 2.
Women living in conflict areas like Kashmir have faced unimaginable pain & trauma. No words are enough to condemn her gruesome and barbaric murder. https://t.co/jnvZ82vjvR

— Mehbooba Mufti (@MehboobaMufti) February 2, 2019
The separatist leadership sounds no different.
Syed Ali Geelani's Hurriyat-G issues statements on almost a daily basis on rights abuse in Kashmir — this gruesome killing, however, didn't find a mention in the Hurriyat handouts.
In the bloody Kashmir conflict, the fear of getting silenced often prevents sane voices from speaking out. This is mainly because in cases where militants don't claim responsibility for a killing, and the police fail to legally fix the responsibility, the incidents get attributed to 'unidentified gunmen'.
In the last over 30 years of armed insurgency in Kashmir, most of these 'unidentified gunmen' were never identified in a court of law.
The displaced Pandit community, too, saw victims of 'unidentified gunmen' — over three decades on, the killings of Pandits continue to be an unsolved mystery. In July 2017, the Supreme Court rejected a public interest litigation (PIL) seeking a fresh probe into the killings of Pandits. The apex court apparently observed that it was 'too late'.
According to the first comprehensive report compiled by the Jammu and Kashmir Police in 2008, from 1989 onwards, 209 Kashmiri Pandits were killed. As many as 109 were killed in 1990 alone.
But then, even the first reported killing of a Kashmiri Pandit remains unsolved.
According to the police, the first Pandit to be killed was Prabhavati, a woman from Budgam. She was killed in Srinagar on March 14, 1989 — by unidentified gunmen. The killers continue to be unidentified since.
Over the years, not much has changed about the mystery behind unidentified gunmen.
Even the first reported killing of a Kashmiri Pandit, way back in 1989, remains unsolved till today. (Photo: Reuters/file)
Veteran Kashmiri journalist and editor-in-chief of Rising Kashmir, Syed Shujaat Bukhari, was killed in broad daylight in Kashmir's media hub on June 14, 2018. Though police say Bukhari was killed by militants, till date, their identity has not been legally established.
As if mere killings were not enough, now there are even more horrific murders, captured on camera to feed social media — in short, IS-style executions.
In November 2018, suspected Hizbul militants killed two civilians in south Kashmir on two consecutive days.
On November 16, a Class 11 student, Nadeem Manzoor from Safanagri village of Shopian, was shot dead in Pulwama district. The Hizbul, in an audio message released on social media, claimed responsibility for the killing, and accused him of being an informer of the Indian Army. The 'confessional' video of the teenager and the video of his killing were also released on social media.
A day later, in a similar modus operandi, suspected militants killed one Huzaif, son of Mohammad Ashraf, in Shopian.
Earlier, in the summer of that year, another ugly execution had taken place.
On the night of May 26, some five gunmen stormed the house of 38-year-old Mohammad Yaqoob Wagay in Gund Preng village, and slit his throat before his seven-year-old son and wife. While the police said he was killed by militants, militant groups refuted the claims.
Now, Ishrat Muneer's killing, captured on camera, has added another bone-chilling chapter to Kashmir's tragedy, written in human blood.
But as fate would have it, her funeral prayers were led by Ghulam Hassan Shah, father of the slain Hizb commander Zeenat-ul-Islam — the very man whose death she was accused of having a role in.
Having recently lost his own son to the Kashmir conflict, Shah broke down at his niece's funeral. Reciting Quranic verses, he prayed for peace for the departed souls of both Zeenat and Ishrat. And the fellow mourners collectively pronounced: Aameen!
Also read: Gone with the icy wind: Four reasons why Kashmiri Pandits will never return to Kashmir
The views and opinions expressed in this article are those of the authors and do not necessarily reflect the official policy or position of DailyO.in or the India Today Group. The writers are solely responsible for any claims arising out of the contents of this article.