Shah Faesal: 'Article 370 gives J&K the right to have its own PM: No one should have a problem with this'
Debutante politician Shah Faesal spoke with Rohit E David on why he thinks J&K could have a separate PM, why India should talk to Imran Khan in Pakistan, and how AFSPA has not helped curb militancy.
Q Omar Abdullah has said that there should be a separate PM for J&K — what is your view?
There used to be a separate PM for J&K and this arrangement was well within the Indian Constitution. This system was abolished in view of the series of erosions in the Article 370 — we believe that the demand is not unjust, it is justified.
However, coming at a time when elections are happening and more so, coming without taking care of what has happened to the Constitution in the last 70 years, apparently emerging from a party which has been responsible for the erosion of the special status in the state — that is something I don't agree with. I do agree that this demand of a separate PM in the state is part of the political aspiration of the people of J&K.
Article 370 does give special privilege to the state to have a separate PM, I don't think people should have any problem with this.
Q Removal of Article 370 will end accession of J&K: is this right?
Article 370 is a covenant as part of the accession process — it reflects the spirit of accession and those conditions which have been envisaged in the accession process. This was made by none other than the former PM of India, Jawaharlal Nehru. So, we believe that it's a bridge between India and the state of J&K. It should stay.
If you want to burn the bridge, then nothing will remain.
'Nothing wrong in having J&K's own PM' — Shah Faesal echoes Omar Abdullah's recent remark. (Source: ANI)
Q What are your views on the Balakot air strike which followed the Pulwama attack? Was it an effective response?
There has been a lot of debate on the effectiveness of the Balakot strike. Fundamentally I'm an anti-war person. At the end of the strike, we lost our own aircraft, we almost lost Wing Commander Abhinandan Varthaman, he had to be returned and Pakistan scored a point over it.
There was a war-like situation — I don't think we gained much.
Q Will removing/reducing AFSPA end militancy in Kashmir?
Congress is talking about removal of AFSPA now. It has been a long-pending demand of the people of J&K. We saw recently, the act was scaled down in Arunachal Pradesh.
AFSPA is not in any way helping in reducing militancy, because, despite 30 years of armed forces with this act, there has been a huge escalation of militancy in the last four to five years.
We don't believe that such a draconian law will help in building the confidence of the local population. This in fact promotes a sense of injustice.
Q Should India have talks with Imran Khan and Pakistan on Kashmir?
Totally — India should have talks with Imran Khan on all issues.
When India and Pakistan have had talks, the situation in the state has improved. The condition of people living at the borders has improved, shelling has stopped and we have some sort of peace process taking place. We need this dialogue process.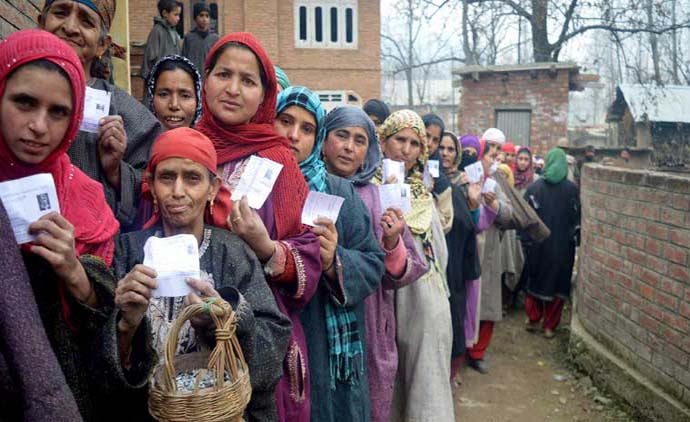 The EC is well within its wisdom, it knows Kashmir has special and sensitive ground conditions. (Source: PTI)
Q Are you of the view that elections in Kashmir should have been held simultaneously?
I believe that the Election Commission is an autonomous body, they are well within their wisdom. They have considered the security situation in the state and then, they have taken this decision. We need to understand that J&K is a very sensitive and special state, which has its own unique ground issues.
Q Your have recently formed a new political party — what are your predictions for the coming elections?
We are not participating in the Lok Sabha elections but we will take part in the Assembly elections. We are hopeful we will be able to develop a new sort of leadership, bringing youth towards the political mainstream.
Also read: Because promises are made to be broken? Congress manifesto on Kashmir promises a great deal
The views and opinions expressed in this article are those of the authors and do not necessarily reflect the official policy or position of DailyO.in or the India Today Group. The writers are solely responsible for any claims arising out of the contents of this article.