BJP is running a government with the Peoples Democratic Party (PDP) in Jammu and Kashmir. But it looks like the PDP with chief minister Mufti Mohammad Sayeed seems to be in full control. There is no sign of the saffron party in Kashmir even though "Lotus" is on everyone's lips in the Valley.  
However, this lotus has nothing to do with the BJP. He is Sonam Lotus and he heads the meteorological department in Jammu and Kashmir.
For the past few years Kashmiris believe him more than anyone else. Since September 7, 2014 when Kashmir was hit by one of the worst floods in history, Lotus shot to further prominence as he had predicted heavy rainfall which ultimately led to floods. 
In villages and cities, the main topic of discussion is what Lotus has to say about the future. Everyone talks of him as if they know him personally. As Lotus had predicted heavy rains from March 28 onwards, the Mufti Mohammad Sayeed led government acted fast and kept an eye on the rising water-level of river Jhelum and its tributaries. As the water level rose to dangerous levels, the government was quick to declare Kashmir "flooded" and asked people living in vulnerable areas to move to safer places. No one wanted to take a chance this time, neither the government nor the people.
And Lotus is not in the habit of taking chances. In Karewas of Budgam, soil erosion and landslides are taking place at a fast rate due to continuous rains. The landslide has already buried 16 members of two families in Budgam. In Karewas of Baramulla in north Kashmir land is sinking and with it homes are developing cracks making them unliveable. These are worrying times in Kashmir.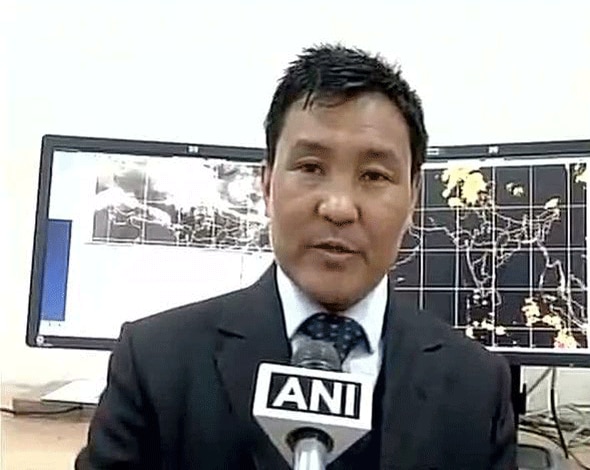 Sonam Lotus heads the meteorological department in the state.
Last year's floods devastated the entire economy of the state and it fell to the new government to rebuild the economy. Thousands of small business people with no insurance lost everything. This week's flood-like situation has already led to sharp dip in tourist flow to the Valley with a large number of tourists cancelling their bookings. 
Last year, the state government led by Omar Abdullah described the September 2014 floods in Kashmir as an international disaster and pegged the losses upto Rs 1 lakh crore as floods affected 12.5 lakh families. Abdullah submitted a proposal to the central government for a special financial package of Rs 43,960 crore for the rehabilitation of flood affected people and for raising infrastructure.
The Centre is still sitting on the proposal. Now the BJP-PDP coalition government argues there is need to reach out to "flood impacted" areas, not merely "flood affected", but it has also expressed reservations over the proposal of Rs 43,960 crore submitted by Abdullah to the Centre. 
"I am neither convinced by the method in which it has been estimated nor the manner in which it has been designed. It is far too ad hoc and arbitrary for comfort," says finance minister Haseeb Drabu. But in the interest of speedy disbursement, Drabu says, he has no choice but to endorse it.  
What if floods hit again? Will Kashmir's concrete houses, which last year, withstood devastating floods and saved people, withstand another flood this year? Will their houses crumble? Does the government have any contingency plan? There are questions and only questions. 
The concern is that since October 2014 only Rs 33 crore have been spent on flood spill channel of the river Jhelum and repairing of embankments of Jhelum. No fresh flood infrastructure has been raised. Jhelum continues to have capacity of 35000 cusecs and flood spill channel 12000 cusecs.
What if it rains again for a week or more and 1.20 lakh cusecs flow into river Jhelum? This is worries every Kashmiri. 
With Lotus predicting rainfall in the coming months and experts saying that the 100 year flood data of Jhelum shows that whenever there is an extreme flood in the river, there had been a small magnitude flood the following year or the year next. People are in a panic and there is nothing Lotus can do for them.