John McCain, the well-known and widely respected US Republican senator, who died fighting cancer on August 25, will be remembered as a combative, complex, contradictory and courageous American sailor-turned-politician.
Born into an illustrious naval family (both his father and grandfather were four star admirals, the only such instance in the US Navy), he was captured in the Vietnam War when his plane was shot down in October 1967. The young McCain defied all odds as a prisoner of war who was subjected to extreme torture and survived in an extraordinary saga of indomitable will and superhuman endurance.
A young McCain defied all odds as a prisoner of war who was subjected to extreme torture and survived. (Photo: Reuters)
Seeking early retirement from the navy, McCain entered US politics in 1982 when he was elected to the US House of Representatives and later to the US Senate in 1986, where he became a strong and credible voice on matters of national security and foreign policy. The senator from Arizona was a tenacious legislator who had his own scrape with ethical misconduct in politics and after being exonerated, became a zealous advocate of probity in public life.
They were from opposite camps, but known for similar courteous behaviour. (Photo: Reuters)
John McCain was a serious Republican contender for the high office and had a shot at the White House, when he lost to Barack Obama in the 2008 elections. But, to his credit, he never lowered the bar of personal invective and attack — which has reached a coarse and vulgar new low in US politics in the last few years. The Donald Trump diatribe against Ms Hilary Clinton and the lewd sexual innuendo during the 2016 campaign are cases in point.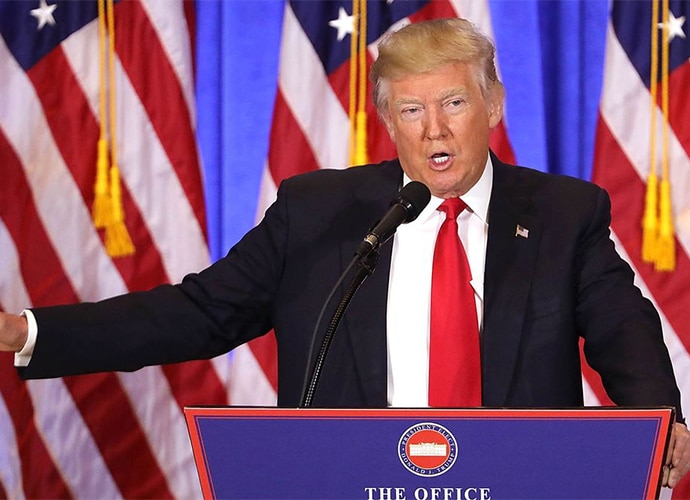 Trump used phrases like 'lock her up' which shocked many Republicans too. (Photo: Reuters)
In a memorable quote attributed to John McCain, at one of the election rallies that pitted the Republican senator from Arizona against the Democrat senator from Illinois, a woman voter asserted that she could not trust Barack Obama because "he's an Arab". The McCain response that is now recalled with nostalgia was: "No, ma'am. He's a decent family man, a citizen that I just happen to have disagreements with on fundamental issues."
Regrettably, the McCain-Trump relationship was reduced to a deplorable level of personal insult — at one point, the latter even cast aspersions on senator McCain's war record. In one statement, Mr Trump claimed: "He's not a war hero... He's called a war hero because he was captured. I like people that weren't captured."
The no-holds-barred political diatribe in US politics during electioneering has an interesting South Asian link in relation to John McCain and the 1999 campaign for the Republican nomination for the White House.
George Bush and John McCain were pitted against each other. The Arizona senator and his wife had earlier adopted a young Bangladeshi girl from a Mother Teresa shelter — this was portrayed by the Bush team as a case of McCain having secretly fathered a 'black' child. The negative impact of this malicious slander had its intended effect. George Bush won the Republican nomination and the race to the White House in 2000 after the second Clinton tenure.
McCain lost the 2000 nomination to Bush. The world lost a fine American president. (Photo: Reuters)
Senator McCain's contribution to the US political discourse and legislative process is immense and was also critical in certain cases — as, for instance, in his casting the swing vote that prevented the repeal of Obama's Affordable Care Act. This was interpreted as a case of McCain turning the tables on Donald Trump and denying him the pleasure of overturning yet another Obama initiative, but McCain defended his action as being in the larger interest and welfare of the American people.
John McCain was a staunch advocate of greater US-India engagement. I had occasion to meet the senator at a couple of conferences where the subject was deliberated upon. Gracious to a fault, he acknowledged the bond between veterans and was candid in his assessment of the potential and the pitfalls in the bilateral relationship that was slowly moving from deep estrangement to one of cautious engagement.
A true friend and true believer in the Indian republic. (Photo: PTI)
In June 2016, senator McCain noted: "As chairman of the Senate Armed Services Committee, I am confronted every day with the security concerns and threats to our own nation's safety, as well as threats to the rest of the world. And in a time when threats seem to be only increasing and chaos increasingly fomented, I see in India a country that can and should fight with us to maintain global security. In the coming years, I see an India that provides critical stability in a rapidly changing Indian Ocean region. I see an India that maintains regional balance against expansionist adversaries in the Pacific. And I see an India that is a stronger, more capable ally in the struggle against global terrorism and piracy. And this is just the beginning. If we can come together as defence partners, our countries can be immensely positive forces for increased global peace and security."
He also noted the constraints and, in his candid manner, his advice to both countries merits extensive recall. To the US side, he noted: "Getting there, however, will not be easy. To achieve all this, the United States will need to begin treating India the same as it does its close partners and allies. Asking India to increasingly take on global responsibilities, yet not providing the associated benefits, is not a sustainable strategy. Whether it is streamlining the approval process for defence exports, jointly developing military technology or coordinating defence activities, the United States needs to make a clear, unambiguous commitment to our joint future in defence."
The message to Delhi was equally unambiguous.
"India must begin acting like a close partner and ally. Despite the growing closeness, it is no secret that frustration continues to exist in many areas, both defence and non-defence. Whether these frustrations are justified or not, they represent a hindrance to progress. The United States expects a lot of its partners and allies, including joint patrolling, significant contributions to armed conflicts, and a strict adherence to human rights, among other things. The sooner India can showcase these commitments, and wipe away the lingering frustrations, the further it will move toward achieving the global power status it seeks."
 In an unintended manner, this sets the agenda for the forthcoming 2+2 talks that will be held in Delhi in early September.
The McCain template for US national security will have an abiding relevance — this may well be the most befitting legacy of a US military hero and diligent legislator, who, till the very end, served his country with conviction and courage.