How Rang de Basanti changed India
Didn't it at some point seem as if you are watching the final sequences of RDB with Siddharth addressing the people via radio?
In January, 2006 when Aamir Khan starrer Rang De Basanti was released, I was in college pursuing my engineering degree. Just another one among thousands who aspired to go to America for higher studies. But in 2011 everything changed.
I joined the India Against Corruption (IAC) movement and the dreams to go to America were left behind. When a faction of IAC went ahead to form a political party, I became one of its founder members. The party was named as Aam Aadmi Party (the nearest English translation would be "Common Man Party").
Anna Hazare (centre) with Delhi CM Arvind Kejriwal (right) and Prashant Bhushan (left) at the IAC agitation.
Interestingly, I was not alone.
There were hundreds of others like me who changed their paths as I did. There are people like Kapil Mishra who took time off from his MNC job to participate, Nandan who left his job in an international bank, Charanjeet who came to Delhi to pursue his MTech and never took admission, Durgesh and Akhilesh who gave up their IAS preparations, Rashmi and Sunil who left their well-paying jobs in America and Saudi and Vandana and Vikas who left their jobs in Noida and Gurgaon based IT firms. I can go on and on with the list, naming person after person.
The phenomenon was not limited only to the Aam Aadmi Party. I know several other individuals who joined some other movements and parties aiming to bring a change in the Indian system.
A few nights ago, a friend shared his movie bank with me, in which I chanced upon a copy of Rang De Basanti (RDB in short).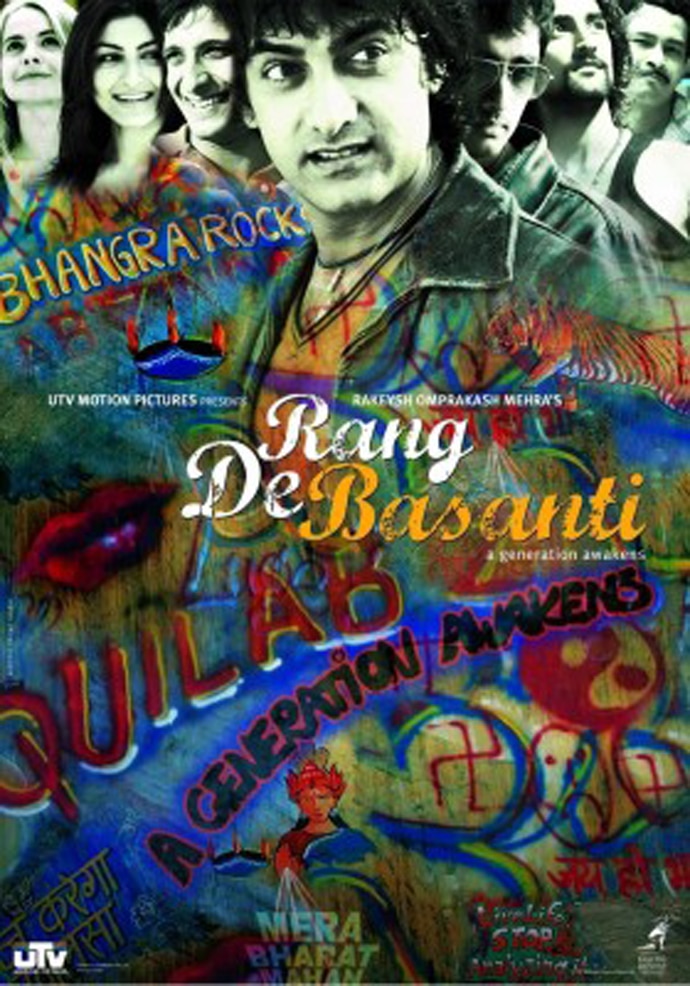 Rang De Basanti (2006)
One fine evening, I sat down to watch the movie on my laptop. Reason being nothing else but that it had been years since I had watched it last. As the movie progressed, it dawned upon me the kind of influence this movie had upon my generation and how relevant it is even a decade after its release and that is when I decided to write this piece.
I will take three specific incidents from the movie and try to compare it with something that has happened, or is happening in real life.
In parallel I'll also try as a representative of my generation to voice how exactly the movie has affected the actions and judgments of people like me.
The first incident is that of the protest at India Gate demanding justice for a movie character played by R Madhavan who died in a MIG crash.
In real life, this translated into a similar moment around justice for Jessica Lal and eventually led to the verdict being announced in December 2006, almost a year after the movie was released.
Thousands of people participated in the non-institutional protests organised via a SMS campaign, demanding justice for Jessica. That might have been Delhi's first brush with such citizen driven movement but it wasn't for sure the last.
Few years later in 2011, when a 72-year-old Gandhian from Ralegan Siddhi village in Ahmednagar sat on indefinite fast at Jantar Mantar, demanding a strong anti-corruption law, a lot of people, including me rallied around him.
Anna was not a relative to any of us assembled at Jantar Mantar, nor had he lost his life due to a government mismanagement as was the situation in the movie, nor was he providing us free food and transport. Yet, there were young people, thousands of them supporting him in his cause. We carried out protest marches from Jantar Mantar to India Gate, performed street plays at India Gate and agitated in front of the house of the prime minister, finance minister, home minister and leader of Opposition. Many of us were detained multiple times, beaten and dragged around by policemen during these protests.
Also read: How Aamir saved Rang De Basanti and SRK went out of his way for Swades
However, the Janlokpal Bill for which we fought could not be achieved. A rather toothless version has been passed by Parliament but that too is awaiting implementation till date.
Then the Nirbhaya gang rape took place.
Nirbhaya was our Rang De Basanti moment.
All the people who were at President House and India Gate felt a deep connection. The girls knew that it could have been them instead of Nirbhaya on that fateful night, and the boys knew that it could very well have happened with their sister or girlfriend. But these people who raised their voice were baton charged, shot with water cannon and tear gas shells, and arrested. There were some gimmicks like the Congress president Sonia Gandhi meeting NSUI people in the name of meeting protesters. All this was like a movie or TV serial being played out in front of our eyes.
The protest led to formation of the Justice JS Verma committee and setting up of the Nirbhaya fund. The committee recommendations are still awaiting concrete action and the non-utilisation of Nirbhaya fund has been reported multiple times by media.
The eventuality in the movie as well as in real life has turned out to be the same. Street protests have failed to achieve the desired results!
Then comes the second part, looking for a possible solution. In the movie, the bunch of youngsters resort to violence looking for a solution to the problem. It was a quick fix solution, which gave them personal gratification, but as shown in the final scene of the movie, didn't lead to any concrete changes but did jounce the people.
Kanhaiya Kumar after his release.
For us, the challenge was much, much bigger. We weren't characters in a movie and whatever action individuals took would lead to changes in real life. The nation was aspiring for change and was fed-up with the UPA regime whose end years were marred with various corruption cases right from Adarsh Society to 2G to coal scam.
Different individuals chose different paths, however, thankfully, no one chose the path chosen in the movie.
Apart from one incident where Sharad Pawar was slapped, I do not recall any violent incident despite so much anger against the then government.
Many chose to go silent and use the power of their vote when the time arrived. Some others decided to participate actively. At this time of great flux, some people like me, decided to work towards building an alternative to the current political narrative. Some others decided to back the only potent alternative, the Bharatiya Janata Party (BJP). But, at the least, the people of India chose change in 2014 general elections.
AAP was young and as most would expect the people put their bet on the experienced alternative i.e. BJP and more so on its prime ministerial candidate Narendra Modi. Unlike the movie, both BJP and AAP have chosen the path of electoral politics to try and win the mandate.
Both the BJP at the Centre and AAP in Delhi are trying to do things differently and there are certain things that work better than expected and some less than expected. The important part however is that young people like me are being able to be a part of the electoral process.
The third and most important lesson that RDB raised and teaches us still is about the conflict between liberals and Right wing extremists.
In the very beginning of the movie, it is shown how political parties maneuver motivated individuals for their own vested interests. Put that in the current context where right from IIT Chennai to IIFT to JNU there is a tug of war going on between the liberals and the ultra-Right. The turmoil between the Right and liberal is not only about what the students believe.
Be it the ban on Ambedkar-Periyar Study circle or tragic death of Rohith Vemula or the mob lynching in Dadri or sedition against Kanhaiya Kumar, in each of these incidents, the Right wing extremist forces had a clear agenda to subvert opposing voices. Over all this, there was active intervention from the Union HRD ministry on multiple occasions.
What is shown in the movie in form of a small incident of people being forced out and couples being manhandled at a party spot is something that valentine couples of our times associate with.
However, the most tragic part of this is that these right wing extremist elements see of themselves as saviors of the nation. They claim to be saving the cultural fabric of this nation. To be true, I can't blame them. They are hardly literate enough to understand and those who indoctrinate them make sure to share only a partial truth. The part that suits their need.
As Kanhaiya Kumar put it in his speech after return from Tihar jail, "A political opposition is not an enemy." It is this piece of the democratic ideology that the right wing leaders miss and that percolates down to the cadres as well.
And last but not the least, Kanhaiya's speech.
Didn't it at some point seem as if you are watching the final sequences of RDB with Siddharth addressing the people via radio? Well, to me it did. Kanhaiya said what the youth of India has been struggling to say for years. And now that he has said it, it will be no wonder that India has been shaken and is thinking about it.
India has been witnessing a battle going on in its backyards for decades now. This battle is between the privileged and the under-privileged. This battle is between the upper caste and the lower castes. This battle is between the person tilling the land and the person owning it. This battle is between the person who needs water to drink and the one who owns the well!
Now a similar battle is happening in the urban centers as well. A battle between those who want to take their own decisions and those who want to control the decision-making. Those who want to decide what to eat and wear and those who want to dictate what one can eat and wear. Those who want to decide whom to marry and those who want to tell whom to marry and who not to.
Interestingly, the ones who are trying to dictate the terms are the same. Thus for the first time in history of India, the rural poor and the urban liberals have a common enemy, the common bully.
Only time will tell if the urban liberal and rural poor will join hands but if they do it will sure result in a better India. Not a perfect one, but better for sure!
The views and opinions expressed in this article are those of the authors and do not necessarily reflect the official policy or position of DailyO.in or the India Today Group. The writers are solely responsible for any claims arising out of the contents of this article.