A single positive speech will not be enough to assuage the mountain of negative feelings accumulated on both sides of the border. Sympathetic sound bytes will probably generate some positive vibes but the blood, tears and deaths that have marked Indo-Pak relationship will be hard to put behind. A direct snub may have hurt Pakistan's new PM Imran Khan but India was simply reiterating its stated stand that talks cannot happen while cross-border terror continues to receive official support from Islamabad. Pakistan should not expect much positives from the groundbreaking ceremony for the Kartarpur corridor.
The decision to open up a corridor at Kartarpur, the presence of high-level representatives from both countries during the function, Pakistan PM's strong arguments for peace with India, Sidhu speaking about personal rapport with the Pakistan PM, these are all positives.
(Photo: Screengrab/ AP)
Imran Khan spoke about improving relations, looking beyond the Kashmir issue. Questions were asked that if warring neighbours from WWII could put behind them the terrible bloodshed and peacefully co-exist and cooperate then why not India and Pakistan. The questions were relevant, the delivery impressive. But the fact remains that even he knows very well that there is little chance for a positive reply from the other side. For India to reply positively Imran Khan would have to ensure positive action, steps on ground.
The Pak PM had spoken about Indo-Pak friendship earlier too, in different forums. While acknowledging the positive vibes it must be remembered that the incumbent Pak PM is yet to act against terror in his own country. He is yet to crack down on the jihadi elements, in the society and in the Pak army and intelligence.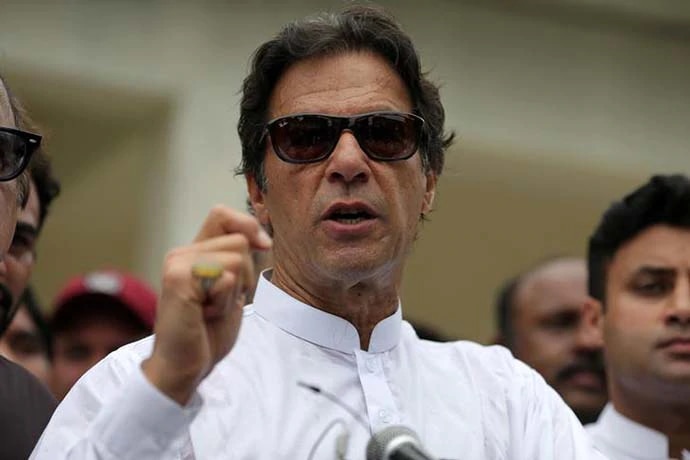 (Photo: AP)
There is no evidence to suggest that attempts at terror training and cross-border infiltration in Jammu & Kashmir have abated after Imran Khan assumed the role of prime minister of Pakistan. Actually, the real trend on ground zero shows evidence to the contrary.
Pakistan has actually stepped up efforts to fan the fire in the valley. Amongst all these negatives the Kartarpur corridor is a remarkable development. People on both sides of the border will welcome the step. But it will be too much to expect that this single move would cause a thaw in relations.
That Pakistan is trying to rekindle pro Khalistani forces to fan trouble in Punjab is a proven fact. The presence of avowed pro-Khalistani separatist leader Gopal Chawla in the ground-breaking function should be a revelation. It would be interesting to hear Imran Khan's version of why he was allowed in an official function involving dignitaries from both the countries.
(Photo: Facebook)
Nobody is expecting a reaction from him, but just in case it is aired we can only hope that it would not mirror his close friend Navjot Sidhu's alibi "I do not know who is Gopal Chawla." The Pak PM must have been in a jocular vein when he said: "I hope we don't have to wait for Navjot Sidhu to become India's Prime Minister for the two countries to become friends."
He hopes, yet as long as terror masterminds are having their political careers legitimised and fast-tracked, as long as terror remains a cornerstone of Pakistan's foreign policy, as long as the history between these two countries is interspersed with incidents like 26/11 there is little hope.
Such is the hold and sway of terror operatives in Pakistan, even the all-weather ally was not left untouched. Its Consulate in Karachi faced a terror attack. Fortunately, it was foiled, but this brings to focus on what India has been harping for years without its neighbours hardly ever lending a meaningful ear – there is nothing called a good terrorist or a bad terrorist.
It is not as if Pakistan has not paid the price of nurturing terror on its soil, but it refuses to learn, or worse, it is unable to control it. If the second assumption is the case then the fire would singe the neighbourhood, allies, enemies and all.
Call it bad timing, bad sense of humour or whatever you want to, Pakistan was left exposed by Foreign Minister Shah Mehmood Qureshi"? Was this the "wink" followed by the hug, the much publicised improvement-of-mutual-relationship speech by Imran Khan? In trying to embarrass India, Pakistan Foreign Minister may have ended up embarrassing his country.
Any thaw in the bilateral relations of India and Pakistan would need a long time, a series of confidence-building measures from both sides. It would need action on the ground by both Islamabad and New Delhi. To start with, Imran Khan will have to act big time against terror originating from Pakistan, else risk a rebuff every time.