The gloves are off in Jaipur Rural, one of the 25 Lok Sabha constituencies in the northern Indian state of Rajasthan that borders Pakistan.
Two sporting heavyweights have locked horns for this seat — in the fray are sports minister and former Olympian Rajyavardhan Singh Rathore, pitted against Congress MLA from Sadulpur in Churu, Krishna Poonia.
Poonia is the first Indian woman athlete to win a gold medal in the 2010 Commonwealth Games (CWG).   
Who's the winner here? Congress' Krishna Poonia says BJP nominee Rajyavardhan Singh Rathore did nothing for sports. (Source: PTI/Reuters)
She is the first Indian woman to win a gold medal in track and field events of the CWG — and the first Indian to win a gold medal in such events after Milkha Singh who had won the gold in the men's 440 yards race in the 1958 Cardiff CWG.
Poonia's competition is tough, with Rathore, who was introduced into politics by former chief minister Vasundhra Raje, riding high on the confidence of having trounced Congress giant CP Joshi from Jaipur Rural in the 2014 Lok Sabha elections. Added to the odds stacked against Poonia is the fact that Prime Minister Narendra Modi is himself expected to address a rally in the constituency, which goes to polls on May 6, asking voters to ensure that Rathore returns to the Lok Sabha.
"Janta Modi se naaraz hai (the people are angry with Modi)," she told me. "This isn't 2014 where tall promises were made both by Modi and Rathore ji. This is 2019 and the people are angry over promises that were not delivered. But Modi ji is welcome to campaign anywhere he wants. It doesn't make any difference to my campaign. I have the people's support," Poonia, kicking up the heat and dust in this arid constituency, remarked.
"Everywhere I go, people are showing me proof of what Rathore promised to do — but never delivered on. The BJP talks about jobs, the return of black money, corruption-free governance, but none of it has been delivered," Poonia said.
So, how is the Congress candidate planning to get the people of Jaipur Rural jobs?
"If the Congress government comes to power, Rahul Gandhi ji has made it clear we will fill all central government vacancies. Schemes that Rahul ji has been talking about will boost the rural economy and help generate more jobs," Poonia said.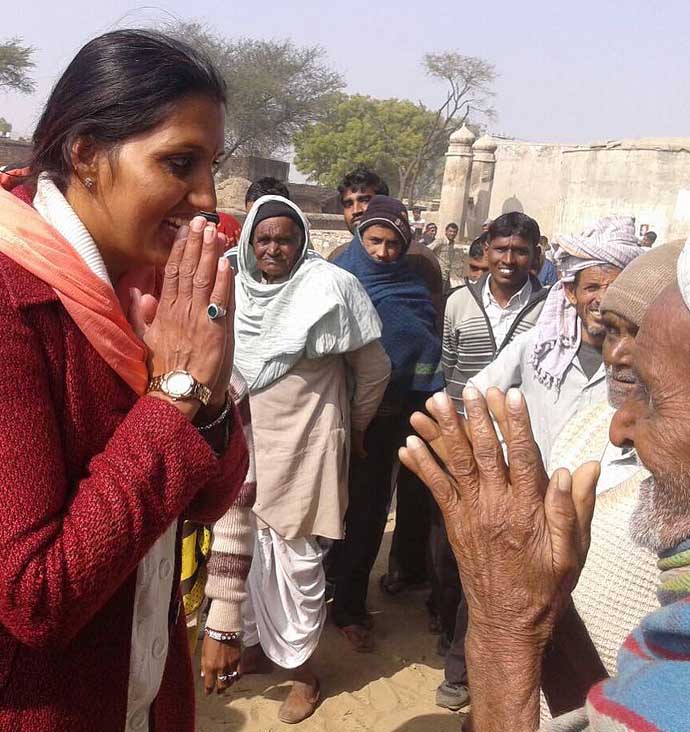 Krishna Poonia says the love she's received from people is overwhelming — and she is confident of defeating Rathore. (Source: Facebook/)
Poonia also said she chose to fight against Rathore because he disappointed the sporting fraternity.
"I was happy when he was appointed sports minister. I thought he would take up the issues of sportspersons. He should have built some academy in his own constituency, organised some sporting events and development would have followed. Five years down the line, Rathore has nothing to show in his report card," Poonia stated.
But is Churu not disappointed with its MLA who has chosen to pursue a seat in Parliament less than a year after winning a seat in the Rajasthan Assembly?
"When my candidature was announced, people were very happy that I have been given a larger platform to represent them. The BJP camp has been so rattled by my candidature that it is busy spreading rumours about me. First they said the Congress has nobody to field against Rathore. When my candidature was announced, they spread rumours that the Congress was mulling a change of contestant. But people know my truth — and they will ensure my victory," Poonia said calmly.
With the 2019 elections seeing the politics of polarisation being played openly, Poonia believes communal barbs are only a ploy to deflect attention from the failures of the Modi government.
"Muscular nationalism is being used to hide the dismal track record of the Modi government. Was there no nationalism in the country five years back? I appeal to people to vote for issues, not emotions," Poonia remarked. In a state that has seen several instances of lynching in the name of gau raksha, Poonia also told me, "Killings in the name of cow protection were wrong — this cannot be allowed in a democratic set-up. No such incident has been reported since the Congress returned to power — such things won't be allowed under the Congress."
No, it's not about gau raksha. Krishna Poonia says the BJP is using cow protection to cover up its missteps. (Source: Reuters)
So, does this sporting pride of the country see any difference between facing a sports contest and contesting a political challenge?
"In sports, it's your performance alone that decides your success. In politics, you are dependent on people to judge your work," she mused.