Imagine the unbearable loneliness of Bharatiya Janata Party (BJP) original and the party's true "Hindu Hridaya Samrat" (emperor of Hindu hearts) Lal Krishna Advani - the Rath Yatri who blazed a bloody trail across India for the Ram mandir. He was hoping to be the choice of the Sangh, to be elected as India's first "saffron mahamaheem" president. Political insiders knew it was never to be, but Advani cherished hopes and did share them with his acolytes.
Eighty-nine-year old Advani, who took BJP from a two-MP party to forming the first NDA government was always the best man, never the groom. When Atal Bihari Vajpayee was prime minister, Advani had to be content with being deputy PM, then for a while he was described as "PM in waiting", with even the mild mannered then PM Manmohan Singh taking an uncharacteristic jibe at his "eternally waiting" status.
Advani led the BJP in two unsuccessful election campaigns, which he still feels were sabotaged from within. Unusual for a top politician, Advani was devoted to his wife Kamala, who he lost last year in April, and his two children: Pratibha and Jayant.
I have had many encounters with the man whose appearance personified RK Laxman's common man. I still remember his penchant for the understated dramatic. At a meeting in North Block, when he was home minister sitting in the beautiful wood-panelled office in his well-tailored bandgala, I remember asking Advani why India was not acting after the attack on Parliament.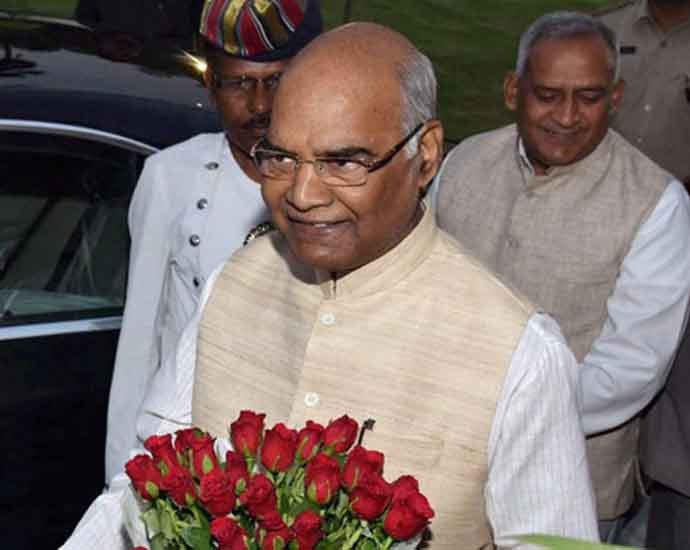 The strategy behind Ram Nath Kovind's candidature is obvious. Photo: PTI
Across the table, Advani smiled and took out a document. That was the one-year stand-off at the border in the 2000-2001 Operation Parakram, where soldiers had been kept war-ready for a year.
I got my scoop and was thrilled. Another time, when his entire family was present at a lunch, his son Jayant told me that he was keen on joining politics and asked if could pose a question to "Dada" and ask him what he felt.
I was quite nonplussed but since we were at the same table, I did ask saying, "What would you feel about Pratibha and Jayant joining politics. He seems quite keen."
Advani got up and said extremely dramatically: "As long as I am alive I will never allow my children to join politics. I don't believe in dynasties."
It's a testament to Advani's progress in public life that while now he's on trial for the conspiracy to destroy the Babri Masjid, even West Bengal chief minister Mamata Banerjee said on June 21 that she would have supported a consensus candidate if Advani or Sushma Swaraj had been nominated by the BJP in the 2014 Lok Sabha polls.
That was never to be as the RSS has long nursed a grudge against Advani after his ill-starred trip to Pakistan, where he tried to reinvent himself in a secular mould by calling Mohammad Ali Jinnah "secular". 
This was rich and particularly hard to swallow, coming from a man who invented the Hindu persecution complex by repeatedly railing against "pseudo secularism" and had campaigned ardently for the construction of the Ram Mandir.
Advani was always conflicted, calling the day the Babri Masjid was brought down by the kar servaks as the "saddest day of my life". He, perhaps, realised that the potent issue was politically over and he had an albatross around his neck for life.
Modi, the man who replaced him as the uber "Hindu mensch", had no such qualms. After Advani publicly opposed his candidature as PM and was shot down by the BJP and the RSS, Modi retaliated by putting him out to pasture in the quaintly-named "margdarshak mandal" along with his old enemy Dr Murli Manohar Joshi.
His protégés, the second-generation leaders Advani had nursed in the BJP, publicly deserted him. Only Sushma Swaraj and Shivraj Singh Chouhan stayed loyal to the Sangh veteran and are still paying the price.
Ironically, when Vajpayee wanted Modi to resign after the Gujarat 2002 riots, Advani virtually led a BJP revolt and saved Modi to checkmate Vajpayee.
Modi did not choose to be the bigger man and did not return the favour, preferring to stump the Opposition and nominate Bihar governor Ram Nath Kovind, a Hindi heartland Dalit, to further his and the Sangh's project to reimagine the BJP as a party of the larger "Hindu Samaj" and not just the Hindu upper castes.
Advani must have been heartbroken.
Advani was always conflicted, calling the day the Babri Masjid was brought down by the kar servaks as the 'saddest day of my life'. Photo: India Today
Political observers express surprise that Advani even nursed hopes as both the RSS and Modi have neither forgotten his Opposition nor forgiven him.
Advani's cause was doomed when another sidelined rebel leader, Shatrughan Sinha publicly batted for him. It was a sign of how utterly marginalised Advani was within the Sangh parivar where once he had ruled unquestioned.
While Advani has become a chronic rebel, the case of Joshi is even more tragic. The third president of BJP, Modi was his "sarthi" (charioteer) during his "Ekta Yatra" to Kashmir where he unfurled the flag in Lal Chowk.
Joshi even gave up his Varanasi seat for Modi and was on reasonably good terms with him. He has always maintained the best of terms with the RSS. Yet, when the time came, he too was discarded by both Modi and the RSS.
At the end of their political careers, with no "guru dakshina", both leaders who never got along now share a common pain and the loneliness of being forgotten leaders.
Perhaps, it's the Babri ghosts extracting retribution.