Is Asaduddin Owaisi a vote-cutter, an agent of the BJP, or the Last Man standing for Indian Muslims? What is certain is that the Hyderabad MP will remain controversial but will enter Parliament again in the 17th Lok Sabha (Telangana votes in the first phase on April 11).
Owaisi's AIMIM (that can be translated to All India Council of the Union of Muslims) has held the Hyderabad seat since 1984. First, the father, Sultan Salahuddin Owaisi, represented Hyderabad from 1984 to 2004, after which Asaduddin has been at the helm.
In 2019, his campaign consists of walking through the lanes and bylanes of old Hyderabad, microphone in hand, saying, "Salamalekum, please vote for the Majlis, please come out and vote on April 11, ensure the victory of the Majlis." Across the streets, big speakers have been installed that are belting out an old Hindi film song: Chali Chali Re Patang Meri Chali Re ('My kite is flying high') from the 1957 film Bhabhi. The reason for that song being played with ferocity is that the AIMIM election symbol is the kite.
But in the post-Gully Boy age, there's some foot-thumping rap music as well. A very popular rap song titled Mian Bhai Hyderabaadi by Ruhaan Arshad is played by the younger followers as the MP walks the lanes. At the time of writing, the song had 119,358,109 views.
The catch line is Apan ko bolta hai Mian Bhai (They call me Mian bhai). 
Asaduddin Owaisi is today arguably the most forceful and significant Muslim voice in Indian public life.
In the age of optics, when he first gained prominence (largely through TV), there was discomfort among those who would like to project the community as being more liberal, and Owaisi is a conservative on matters pertaining to personal laws. But, at the end of the day, as the majoritarian push in Indian public affairs has reduced minority representation, Asaduddin Owaisi is there, speaking forcefully on issues that other "secular' parties have begun to distance themselves from.
It helps that he is a trained barrister from London's Lincoln's Inn, quick with responses and apparently quite fearless about speaking and tweeting his Mann Ki Baat. On issues such as the arrests of Muslims on trumped-up cases, he is one of the voices that still is ready to engage in the discourse (and be heard). He invites stereotyping but also the ability to cut through the clutter of prejudice and speak out quite bluntly.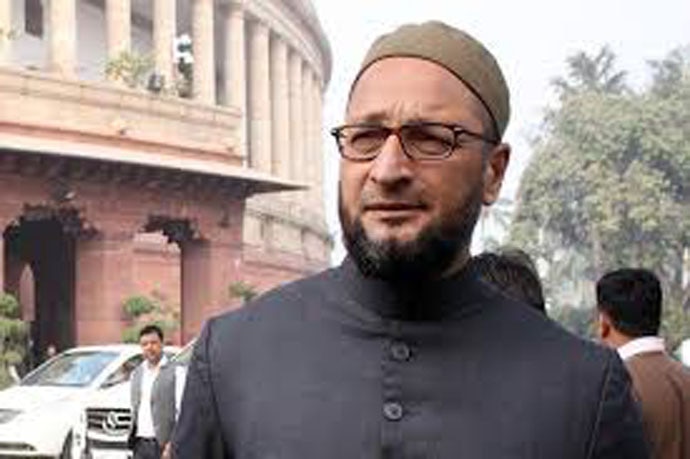 A master of communcation and quick, gutsy repartee, Asaduddin has emerged as the strongest voice of Indian Muslims today. (Photo: Reuters)
In Hyderabad, I ask Asaduddin Owaisi about the thin line that he skates on.
Does he believe in secularism? 
Asaduddin Owaisi (AO): When any elections take place in India, the immediate position that is taken by those that I call the Chaudharys of Indian democracy is to tell Muslims that it is a question of their life and death and now, they have to keep secularism and Indian democracy alive. I have been hearing this for 25 years — all Urdu papers will dedicate one page, saying it is a question of your future, culture and democracy. Then the elections end and we die every day —Akhlaq, Junaid, Pahlu.
Every time such a scary face is shown to me that all my other issues are rendered irrelevant. You are training the community to live in fear — no talk of education, equity, livelihood. We are stuck at this point.
How did his background shape him?
AO:  I have grown up with these slogans when RSS people would stand outside my home and say, "Run, Owaisi, run to Pakistan."
I have spent my entire childhood with these slogans, so it is not an entirely new phenomenon. But in the last five years, these forces have got emboldened. Two months ago, Yogi  Adityanath came to Hyderabad and said if BJP wins, we will drive Owaisi out of Hyderabad.
Am I a refugee or a child that Yogi will drive me out?  
AO: If someone has this crazy notion of asking me and judging me on my clothes, then that man is the craziest person who has not accepted the diversity of India. Walk in the central hall of Parliament and see the portraits of national leaders. I have counted five or six wearing sherwani — and they are not Muslims.
On being a vote-cutting force
AO: On April 12, after my polling is over, I will go to Bangalore to speak in favour of Prakash Raj, the actor who is strongly anti-BJP and is standing there. So, am I supporting BJP? Let them say what they want, I will do what I want as an independent man. I would like to ask the Congress: they are fighting against Mayawati-Akhilesh in Uttar Pradesh — so, are they the BJP's B Team? The minute you oppose the Congress, you are described as a vote-cutter.
Rahul Gandhi came here during the assembly elections last year and called Majlis the B team of BJP. They did not get Muslim votes in entire Telangana. Even in the Lok Sabha polls, you will see that TRS will get the votes — not the Congress. The BJP is planning for 2024 and their vote shares will increase. They are helped by the Congress that has vacated the opposition space. Many of the old Congress leaders have just given up in Telangana and Andhra — they have no leadership, no passion, no guts.
On Rahul going to Wayanad
AO: There was a Muslim candidate who had to step away to make way for Rahul Gandhi — so, he took away the seat of a minority candidate when their numbers are falling. So did Rahul sacrifice for secularism? Shashi Tharoor could have offered him his seat.
Kerala always sent 3 Muslim MPs to Parliament — now there will be two. Let us thank Rahul Gandhi for saving secularism.
Is TV stressful due to stereotyping?  
AO: Now, when I sit on TV channels, I know what to expect. I know what the particular anchor would say and what the other guest would say. It has become so easy to read them. I know their thought process and their limitations.
I make my point and that is important.