Well, they belonged to the Mewat area, which cuts across Rajasthan and Haryana. A region which has transformed into a major battleground between cow vigilantes and cattle traders, or "smugglers".
The border areas of these two states have much in common, and have similar festering troubles. Bloody confrontations between cow vigilantes and those ferrying cattle across have become commonplace in the region. And it is not untrue that often, the battle lines are drawn deeper, given the communal tinge lent to alleged violent incidents of vigilantism and smuggling involving the two sides.
Confrontations between cow vigilantes and those ferrying cattle have become commonplace in the Mewat region. Picture for representational purpose. (courtesy: theamericanswillcome.blogspot.com)
India Today travelled deep into ground zero, the Mewat region, considered the virtual hotbed of cow vigilantism. The area has become notorious in recent months for incidents wherein people took law into their own hands, allegedly in the name of gau raksha.
"When cow smugglers come, the vehicles that they use during daytime are slightly different from those used at night in terms of identification. There is bumper that is installed in the front, or there are two diesel tanks. None of the vehicles have number plates at the back. On recognising the mode, Hindu people in the area inform cow vigilantes that a vehicle has left from here. So, it's confirmed that they will come back through the same route," Naval Kishore Mishra, chief of the VHP's local Gau Raksha cell, told India Today.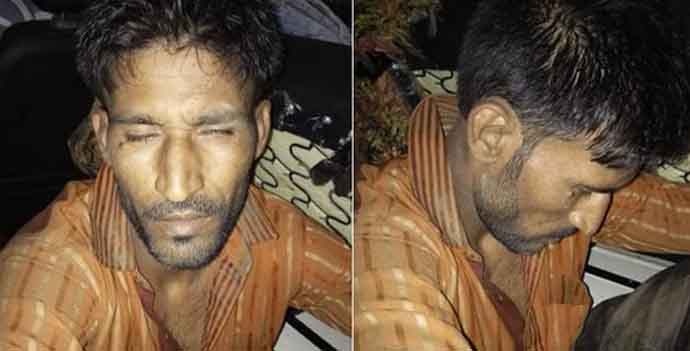 Rakbar Khan was allegedly beaten by cow vigilantes in the early hours of July 21 on suspicion of cow smuggling. (Credit: Twitter)
According to Phool Singh Chaudhary, a VHP activist, "Those people have bullets. They fire bullets in retaliation to our stones. We face them with stone, log of wood and sticks to stop such vehicles. Normally, there are 10 to 14 cows in one pick-up vehicle, 15 to 18 in one Tata 407. Cow vigilantes should not take law into their own hand, should work in consonance with law."
"In Pehlu Khan's case, the video that came to the fore was after they were arrested by the police, but they were acquitted by court with their honour completely intact," Chaudhary added.
India Today also interacted with some cattle traders from Ghatmika area in Bharatpur, an area from where most "smugglers" allegedly belong to. They refuted allegations of smuggling, but admitted that cattle trading has been an age-old business in the area.
"It's a tricky business. Sometimes even when there's a Kattu cow (forsaken cattle — mostly old and feeble) bought by cattle traders, cow vigilantes stop them and then tie a different cow in its place. And if the matter goes to the police, they say this cow is being smuggled. The police then arrest [the cattle trader for smuggling] and challan them, lock them up and slap a case [on them]. And this has been happening with a lot with us," said Issaq, a resident of Ghatmika village, Bharatpur.
"The police and the administration don't conduct any investigation, don't try to find out the truth," he lamented.
While Pehlu Khan hailed from Haryana's Nuh, he was lynched by a mob in Alwar's Behror region while returning from Jaipur after purchasing cows. The fact that a video of the attack surfaced led to a massive outcry after which the police began making arrests in the case.
Pehlu Khan hailed from Haryana's Nuh and was lynched by a mob in Alwar's Behror while returning from Jaipur after purchasing cows.
Pehlu Khan died a few days later at an Alwar hospital. Umar Khan, another cattle trader, on the other hand, was allegedly shot at by cow vigilantes in Alwar's Govindgarh region, his body thrown on the railway track, to destroy evidence.
Rakbar Khan hailed from Kolgaon area of Haryana and was travelling along with his accomplice, Aslam, and two cows when they were allegedly attacked by cow vigilantes.