Madhya Pradesh elections: How people can get Congress and BJP's attention to the Bhopal gas tragedy victims
People need to think before they cast their vote.
Both the ruling BJP and the Opposition Congress in Madhya Pradesh are battling on the development plank offering a slew of populist measures for the November 28 state Assembly polls. But the two principal political parties are silent on the issue of providing relief to Bhopal gas tragedy victims, Narmada dam oustees and other marginalised sections of the society.
The BJp and Congress are silent on the plight of the survivors of the Bhopal gas tragedy. (Source: India Today)
The BJP is working on its manifesto offering free electricity for farmers, houses for the urban poor, bonus for farmers growing wheat, rice, maize, improvement in infrastructure, etc. The opposition Congress' manifesto plans to offer loan waiver for farmers and various sops for the students, unemployed youths, and constitution of Vidhan Parishad (second chamber in the state assembly) in its manifesto.
However, both political parties are silent on the plight of the survivors of the Bhopal gas tragedy. The survivors have suffered in silence for about 34 years now ever since the world's worst industrial disaster struck the city. Activist Abdul Jabbar, who has been fighting for justice, insists that babies are still born ill-formed in three Assembly constituencies of Madhya Pradesh capital Bhopal. The three constituencies were the worst affected by the disaster. Jabbar, who is convener of Bhopal Gas Peedit Mahila Udyog Sangathan, says some of those born around 1984-85 have grown up to be unhealthy adults.
There are large piles of toxic waste in and around of what used to be the pesticide plant of Union Carbide India. The groundwater is reported to be highly contaminated, yet elected representatives and those vying for electoral seats have no words or concern for the survivors. Nearly 5,70,000 survivors are still suffering due to an indifferent government, a callous health service and meagre compensation.
According to official records, over 3,000 people were killed on the intervening night of December 2-3, 1984, when over 40 tonnes of poisonous methyl isocyanate (MIC) leaked from the storage tanks of the Bhopal-based Union Carbide India Ltd (UCIL). But campaigners like Jabbar insist that the killer gas killed more than 25,000 people leaving 5,50,000 others injured and disabled. The horrific effects of the gas continue to effect life to this day, says Jabbar, who is himself a survivor.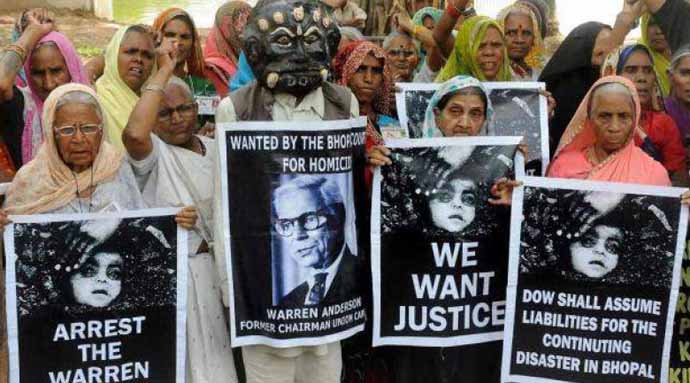 Thirty-four years on, victims of the Bhopal gas tragedy await justice. (Source: PTI)
Local Congress MLA and Congress candidate for Bhopal (North) seat Arif Aqueel was minister for gas rehabilitation in Digvijaya Singh's government between 1998 and 2003 when he did the unthinkable by getting himself photographed drinking the contaminated water. The photograph was produced in US courts by lawyers to show that reports about water contamination were exaggerated. Several NGOs had filed law suits against Union Carbide and Dow Chemicals seeking damages for the environmental and health destruction caused by the December 2-3, 1984 gas leak.
The plight of thousands displaced by the Sardar Sarovar project from the bank of the Narmada is no different. Except for the Aam Aadmi Party (AAP) nobody is talking about Narmada oustees. AAP has a little presence in Madhya Pradesh due to its urban profile and leadership pattern. For most political observers, prospects of AAP's success are negligible in the largely tribal-rural state where the political narrative is dominated by caste.
In 2017, Narmada Bachao Andolan (NBA) convener and rights activist Medha Patkar had spent Independence Day in a Madhya Pradesh jail. Patkar, 63, who is a moving force behind NBA, was on a fast in support of the oustees of the Sardar Sarovar Project in Chikilda village of Dhar district when she was held. She was booked under various charges, including kidnapping state revenue department officials and under Section 151 of the CrPC and breach of peace.
Medha Patkar is a moving force behind the Narmada Bachao Andolan. (Source: PTI)
NBA activists say resettlement and rehabilitation work to over 40,000 families spread over the 214 km submergence zone has remained incomplete. Even basic amenities like water, electricity and sewage lines are not available for oustees. Considered by many as a holy river, Narmada passes through 1,300 kilometres of the state.
Issues related to Bhopal gas survivors and Narmada oustees had not found a place in either Congress or BJP manifesto of 2008 and 2013 state Assembly polls.
Some NGOs want voters sympathetic to the Bhopal survivors and Narmada oustees to use None of The Above (NOTA) option when they set out to vote rejecting all candidates put forward by parties.
But Jabbar is convinced that exercising the NOTA option does not help the survivors. "This kind of pressure tactic can work in villages but not in a city where lot of people have different ideologies divided in different camps. If NOTA is used as an option then groups which we don't like at all will stand to gain," he said.
Also read: Why Shivraj Singh Chouhan's many failures may still not be enough for Congress to win MP
The views and opinions expressed in this article are those of the authors and do not necessarily reflect the official policy or position of DailyO.in or the India Today Group. The writers are solely responsible for any claims arising out of the contents of this article.