Mamata Banerjee's poetic protest: The West Bengal CM has chosen rhyme over shouting
This week, she penned one on Centre's intrusion in to private life — Unki (Peep) Online.

Romita Datta
She has sobered down, or so it seems. Screaming less. Not ranting aloud in microphones, her forefinger raised. Her anger and frustration are singeing the paper. The mode and method of expression have changed, and so has the weapon. Someone said the "pen is mightier than the sword," and so the pen is active these days.
Mamata Banerjee is writing more and speaking less. And why wouldn't she when her loud hullabaloo against PM Narendra Modi and his policies at national and state level earned her more sticks than carrots?
She was the first one to raise her voice against demonetisation, GST and Aadhaar; the first to flaunt her courage to bell the cat (read Narendra Modi), when others in the Opposition were purring away, clawing at and fretting in private. It cost her lot and the most. A senior leader and party chief in the Lok Sabha was arrested in connection with a chit fund scam. Yet, she was not afraid.
Obviously, she was not shouting or crying hoarse for nothing. She was trying to project herself as a principal contender, a challenger, who had the guts to cross swords with Modi. Initially, she was successful. People in the Opposition bloc, cutting across party line, rallied around her, encouraged her to take the battle to the centre-court. Big names in politics were behind her, backing her. She was also dreaming big.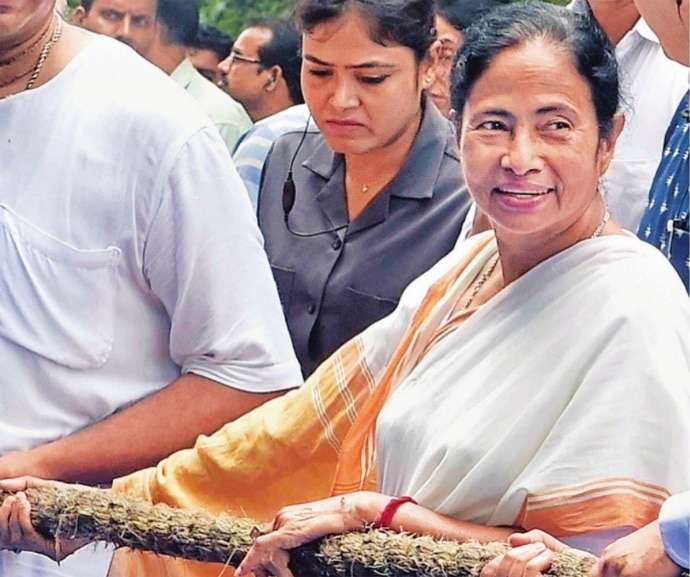 Mamata Banerjee is writing more and speaking less. (Photo: Indiatoday.in)
But she was horribly wrong to underestimate over-ambitious people and in a way, presumptuous about getting consensus all across the board over being a Prime Ministerial candidate.
There was almost a consensus on Mamata Banerjee as a possible Opposition, but now, the name doesn't even pop up in her own party's soliloquies. She has called off two meetings with the leaders of the Opposition parties. She didn't even attend the memorial service of Karunanidhi, which could have been used as another occasion to reaffirm the demand of ousting Modi and take stock of the leaders on board in this exercise.
In the initial days of contemplating an Opposition front, Mamata was of the view that the leaders involved in stopping the NDA from coming to power would meet occasionally and that she would tour all over the country to mobilise support. But somehow it didn't happen and now it seems it cannot happen.
Two of her close allies who advocated for Mamata's candidature and rooted for her post as the convener, have expressed their desire to walk out. The excitement and enthusiasm over Mamata seems to be fizzling out as the Lok Sabha 2019 elections is drawing near. More and more veterans are now batting for the AICC president Rahul Gandhi.
Naturally, Mamata is hurt and she's smarting. Surprisingly she's gone quiet, choosing to voice her agony and protest through written words. Sometimes the rush of passion and poetry is such that she's penning two poems a day. But the poems are serious, concerning the economy, finances, socio-political and cultural situation, under the Modi regime. One poem, named 'Identity' begins with the burning issue of NRC but goes on to say things beyond the politics of religion, the diktat on food and clothing preferences, the threat of using agencies and finally the fear of being branded as a traitor.
The cancellation of a few of Mamata's foreign trips to China and Chicago came out through a poem 'Untouchable'. She writes on how her visit to China got cancelled for as flimsy a reason as 'political diplomacy'. Her proposed Chicago tour also got called off for what she felt was 'religious monopoly' and when she was stopped from delivering a lecture at the St Stephen's College, she pointed it out to her 'class struggle'.
This week, she penned one on Centre's intrusion in to private life — Unki (Peep) Online. It's a commentary on how life will be under constant surveillance, courtesy the Centre's Aadhaar move.
And Mamata's poetry is definitely becoming palatable, welling up from the abysmal pits of sadness — the sadness of having to relinquish her national aspiration, the sadness of getting to know the true faces of some of the friends and of course the sadness, that has befallen manush (people), necessarily may not be in that order.
Also read: Why the case against Robert Vadra will boomerang on the BJP
The views and opinions expressed in this article are those of the authors and do not necessarily reflect the official policy or position of DailyO.in or the India Today Group. The writers are solely responsible for any claims arising out of the contents of this article.