AMU row: How student-turned-terrorist Mannan Wani's death got politicised
Instead of engaging in petty politics, it is the whole country's duty to make sure no other student is forced to shut his books and take up arms.
While the entire country is outraged over #MeToo allegations against many men, when the nation is demanding answers from the Modi government over allegations of sexual harassment on Minister MJ Akbar, the leaders of the ruling Bharatiya Janata Party (BJP) chose to speak on controversy that sparked inside the campus of Aligarh Muslim University (AMU). Since the time the former scholar of the prestigious AMU was gunned down by our security forces in Kashmir, the university has been into the headlines for all wrong reasons and thanks to politicians.
27-year-old Mannan Wani, who had won many awards at the national level, was pursuing his PhD in geology at the Aligarh Muslim University when he quit and joined the terror outfit Hizbul Mujahideen in January this year. On October 11, he was killed in an encounter by security forces in Handwara in north Kashmir's Kupwara district.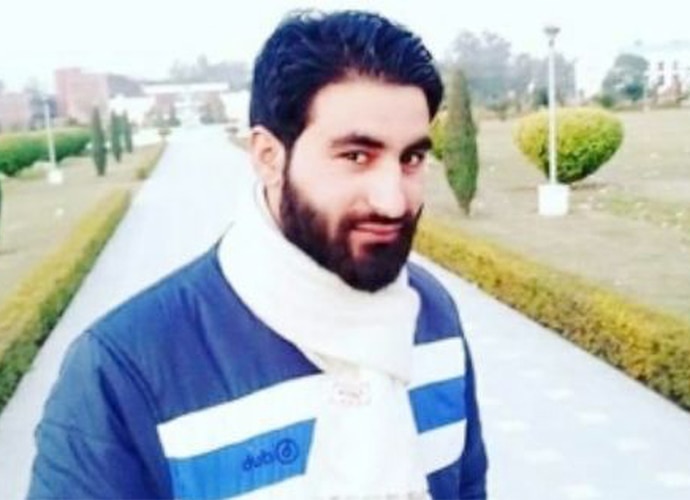 Mannan Wani. (Photo: Indiatoday.in)
Few Kashmiri students of AMU allegedly planned a namaz-e-janaza (prayer) near the Kennedy Hall inside the AMU campus; but before they could have conducted prayers for the slain militant Wani, other AMU students intervened. Kashmiri students were roughed up by non-Kashmiri students and they were forced to leave. However, before leaving they chanted slogans of "Azadi-Azadi".
This incident proved to be a perfect opportunity for politicians — from Kashmir to Delhi — and a matter that was limited to the inside a college campus suddenly managed to cross international boundaries. Politicians from both India and Pakistan have tried to use the death of terrorist who nine months ago was one of the most brilliant scholars of country as an opportunity to further their agendas.
The BJP lawmaker from Aligarh Satish Gautam, apart from stating that there is no place for students in AMU who want to read namaz for terrorists, went on to write a letter to the vice-chancellor of AMU in which he stated that: "The University seems to be out of control. I advise you to empty all hostels and check details of all students, especially of those who belong to Kashmir."
When cricketer Gautam Gambhir expressed his thought over a tweet, "Mannan Wani's death: We killed a terrorist and lost a radicalised talent. @OmarAbdullah @MehboobaMufti @INCIndia @BJP4India all should bow their heads in embarrassment that they left a young man drift from books to embrace bullet," Omar Abdullah wasted little time in responding and replied, "It's been less than a week since I had two of my colleagues killed by terrorists, my party has lost 1000s of workers, both senior & junior since 1988. I don't need a lecture in nationalism and sacrifice from someone who wouldn't know sacrifice if it kicked him."
This man wouldn't be able to find Manan's home district on a map much less his village & yet he presumes to know what drives young men in Kashmir to pick up the gun. Mr Gambhir clearly knows less about Kashmir than I do about cricket & I know almost nothing. https://t.co/oZ8hc5VcgH

— Omar Abdullah (@OmarAbdullah) October 12, 2018
Mufti too was not behind and called Wani a "victim" and urged the government that the University revoke the suspension of Kashmiri students who planned the namaz-e-janaza for Wani.
The police, over a 13-second video, in which all one can hear is "Azadi-Azadi", booked two AMU students, including others accused under charges of sedition. To say this was shocking is an understatement, because sedition charges are grave and are enough to ruin lives.
Of course, in between all this political mudslinging, no one actually approached the AMU students, asking them what they want.
In the last week, I have met dozens of AMU students, Kashmiri and non-Kashmiri, and not one of them ever told me that they support Wani. Amood Gulzar who hails from Kashmir said, "We are here to study, to make our career but due to politics, all Kashmiri students have been branded as terrorist. I am happy that the suspension has been revoked after investigation, but even if the police want to investigate, they can probe sedition charges. When did 'azadi' become an anti-national slogan?"
Amood is the only Kashmiri student who was ready to come on record on the issue. "We should think about Manna Wani, who was such a brilliant student but chose gun over pen. It's the responsibility of the government, society and institutions to create an environment that our minds are not diverted towards illegal or anti-national activity," added Gulzar.
Aligarh Muslim University. (Photo: Indiatoday.in)
This incident is a grave reminder of how serious the issue is and efforts should be made collectively from all strata of society and political systems to make sure we don't see another Mannan Wani. But cops levelling sedition charges, or politicians implying that all Kashmiri students as terrorists is only going to make things worse.
"Our university has a glorified history. We will never let anyone divert the mind of any student in wrong direction, be it Kashmiri or non-Kashmiri. We have best brains in country which should be utilised for nation building," said Omar Peerzaada, a spokesperson for AMU.
Wani, the student-turned-terrorist was awarded "Best presentation of paper" at a conference where participants from 22 countries were present, just few weeks before he decided to put down his pen and replace it with gun.
What made him do so is a puzzle for many but right now, it is time to think and do something, instead of engaging in petty politics, to make sure no other Mannan Wani is forced to shut his books and take up arms.
Also read: Rahul Gandhi fighting hard to revive Congress in Uttar Pradesh: Will achche din return for the grand old party
The views and opinions expressed in this article are those of the authors and do not necessarily reflect the official policy or position of DailyO.in or the India Today Group. The writers are solely responsible for any claims arising out of the contents of this article.