August 20, 2017: A sanitation worker died of asphyxiation while cleaning sewer at a Delhi hospital.
August 12, 2017: Two sewage cleaners - brothers - died while cleaning a septic tank in an East Delhi mall.
July 15, 2017: Four died of asphyxiation while cleaning a septic tank in South Delhi's Ghitorni.
Thirty-five days. Seven deaths (maybe more). Within the national capital — an area of 1,484 sq km.
Hundreds of sanitation workers descend into manholes, and it's not uncommon for some of them to not come out alive. They themselves know how easily these chambers can turn into death traps due to the build-up of poisonous gases.
Forty-five-year-old Rishi Pal, the one who died cleaning a sewer at a Delhi hospital, chose to work on a Sunday for Rs 650 promised to him by a contractor. His work, like many other manhole cleaners, involved descending into narrow manhole shafts, septic tanks, or drains; sometimes standing waist-deep in the muck and sometimes submerging fully, to de-clog it with nothing more than a hoe or wooden stick, without any safety gear.
The filth is collected in sewer buckets or baskets and carried on head for dumping by another helper.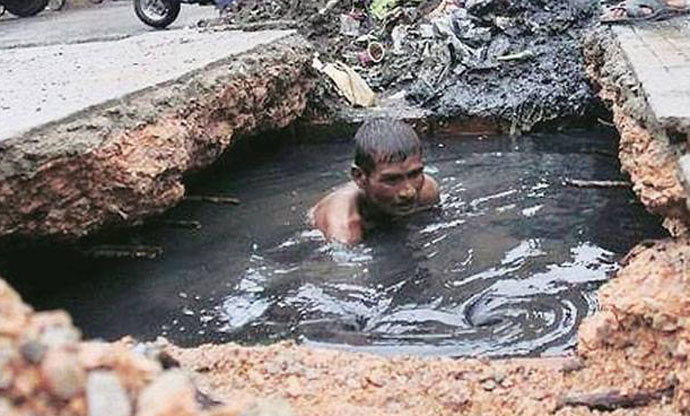 Image credit: Mail Today
The job done, they emerge from their work chambers with poop and filth clinging to their bodies. For their 10-12 hour day, sometimes, that's how they'd be forced to take their meals.
This is their job. And the aforementioned men died on their jobs. A job so invisible that these deaths on the line of duty fail to shake people in power about the blatant violation of law.
A 2014 study by Praxis India called "Down The Drain!" claimed that "about 100 workers die every year while entering the confined space at high temperatures, with slippery walls and floor, and in the presence of toxic gases, chemicals, and insects".
100 people dying a year on their jobs is a staggering number.
In the last few years these deaths have been reported widely too. Which makes it difficult to believe that authorities are not in the know of such blatant violations of Prohibition of Manual Scavenging Act, 2013, by contractors or municipal corporations. The act prohibits engagement or employment of a person for such jobs without proper equipment and safety gear.
The lack of empathy towards such workers is astounding. In fact, in 2015, the National Career Service portal which was launched as a part of Skill India went as far as listing manual scavenging, an illegal job, as a career option. And even listed removing of "night soil using spade and broom" as a description for "Sweeper, Wet".
This faux pas is the result of casual ignorance to their existence.
Who keeps your drain running
The Socio-Economic Caste Census 2011 puts the number of people doing sanitation work for their livelihood in urban India at 13 lakh; many among them would be sewer cleaners. The Praxis India report says that Delhi itself employs about 5,500 sewerage workers. The conditions they work in has been hitting headlines lately.
The Delhi government's announcement of blanket ban on manual scavenging may save many lives in the national capital, but outside this patch of land death still looms over manholes.