RIGHT Foot Forward
2019 Lok Sabha polls: How Rahul Gandhi's NyAY could bring the focus back to jobs and agrarian distress
Whether the scheme can bring political dividends would now depend on how the Congress cadres are able to take this message to the base line.
Rahul Gandhi is a privileged politician — he gets to relaunch himself and 'come of age' every other year. He can announce new 'game changers' at regular intervals.
He seems to be a great believer in the 'rinse and repeat' formula, voiced usually by a shampoo and detergent salesman.
And Again — Rahul Gandhi's announcement of the Minimum Income Support scheme is being touted as 'a game changer'. (Source: Reuters)
In previous elections, Rahul Gandhi would harp on the 'rights' that the Congress had brought for the people — these ranged from information to education. But that did not convert into votes for his party. Coming down to 44 seats in the Lok Sabha may have made him realise that 'rights' are abstract but 'cash' is real. So, he has gone back to what the Congress has always been good at — promising sops and doles.
Thus, wherever Rahul Gandhi goes to campaign these days, he carries some goodies in his pocket. So, if it is farm loan waiver in Odisha, it is the restoration of transport subsidy in the Northeast.
Now, with the Minimum Income Scheme, Rahul Gandhi appears to have found his B-HAG — the Big Hairy Audacious Goal, as they say in marketing parlance.
To be fair, however, the 'Nyuntam Aay Yojana' (NyAY) or Minimum Income Scheme may not be a recycled idea. While the fine print is yet to come out, it should not be dismissed as yet another electoral hype.
Rhetoric apart, it merits serious consideration.
I say this not just because my childhood Boy Scouts buddy, Abhijit Vinayak Banerjee, Ford Foundation Professor at Massachusetts Institute of Technology (MIT), is reported to be one of the co-authors of the scheme. Banerjee — or 'Jhima', as we called him — is one of the top development economists in the world today. He has done some path-breaking work at the Abdul Latif Jameel Poverty Action Lab at MIT with his partner, Esther Duflo.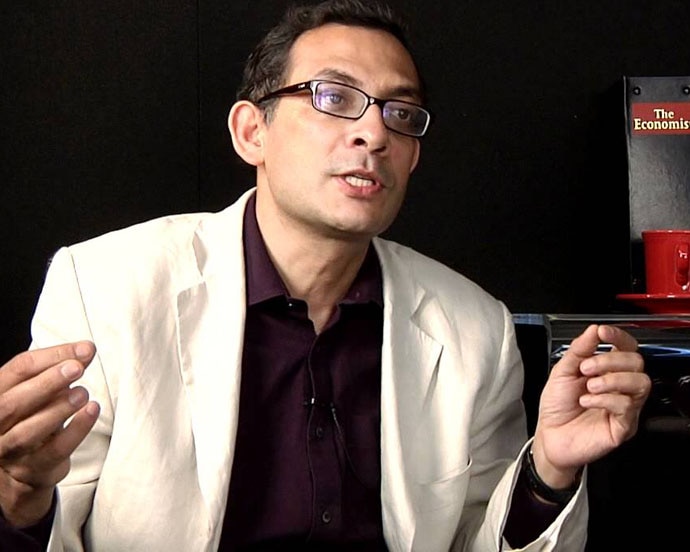 The famous development economist Abhijit Vinayak Banerjee is said to be one of the co-authors of the NyAY scheme. (Source: YouTube)
I recall Jhima explaining to me many years back how empirical evidence in poor economies shows '(re)skilling' is a challenge and cash transfer is a surer way to alleviate poverty. From my limited understanding, that was also the essential underlying principle of MNREGA formulated under the advice of Banerjee's famous Amartya-Kaka (Sen was a junior of Abhijit's dad, Dipak Banerjee, the illustrious professor and HOD of Economics at Presidency College, Calcutta) and his associate Jean Dreze.
But I shall stop delving into economic theory before I am reminded of my lowly chartered accountant roots. The purpose of this article is not as much to analyse the merits of the scheme — but its potential to be a political 'game changer' in the coming elections.
Whether NyAY can be the 'final assault on poverty', as Rahul Gandhi thundered, one would not know till all its contours are revealed. However, politician, psephologist and academic Yogendra Yadav was perceptive in pointing out that it might force the discussions to come back to real issues of farm income, jobs and poverty, from Rafale and Balakot. That is something Rahul Gandhi's advisers and well-wishers have been urging him to do for quite some time.
Rahul Gandhi's #MinimumIncomeGuarantee promise: Game-changer or non-starter? Swaraj India's president Yogendra Yadav on @LRC_NDTV pic.twitter.com/mDNwsJTe79

— NDTV (@ndtv) March 25, 2019
The good student that he is, Rahul Gandhi has quickly changed his script.
So, apparently when asked at the press conference on NyAY about how the subsidy will be funded, he reportedly retorted, "I am here to talk about NyAY — and not Rafale."
He went on to say that if Modi can give money to the richest people in the country, then the Congress party can give money to the poorest.
But the Congress has a problem of its own making — having lampooned Modi's Rs 15 lakh analogy earlier, or giving unsubstantiated numbers for the Rafale deal and Non Performing Assets (NPAs), it runs the risk of the BJP returning the compliment, calling this Rahul Gandhi's 'jumla'. Besides, voters may compare it with actual on-ground experience of loan waivers in states where the Congress has come to power. From reports, it appears there is considerable dissonance between expectations and delivery. This could make voters sceptical about benefits that might actually come their way.
The BJP will, of course, try to showcase its own DBT (Direct Benefit Transfer) programmes, such as Jan Dhan, Ujjwala, Ujala, Mudra Loans and the latest Kisan Samman Yojna and Ayushman Bharat. It will hope that the impact of these mega initiatives is beginning to be felt on the ground, giving greater credibility to the government.
In contrast, the Congress will have to rely a great deal on trust and faith of its once core Below Poverty Line (BPL) constituency. What it can certainly boast of is the success of MNREGA — which saw actual cash transfers, notwithstanding the leakages that are endemic to the Indian system.
Here, Rahul Gandhi's communicating and convincing ability will be put to test against Narendra Modi's oratory.
The Congress can also count on voices from the left liberal media and intellectuals supplementing its own efforts.
Much will depend on how the Congress cadres are able to take this message to the base line — for that, they will have to be provided aerial support with carpet bombing through electronic and digital means. One can, therefore, expect a saturation blitz on TV, YouTube, WhatsApp and Twitter in the coming days. But how much of this will create just surround sound and how much will translate into a 'wave' on the ground to reach the actual target audience is to be seen.
Equally, it would be interesting to watch how Congress' estranged friends in the Mahagathbandhan — the Bahujan Samaj Party (BSP), Samajwadi Party (SP) and All India Trinamool Congress — react to this 'Maha-gambit'. Acknowledging it as a breakthrough idea will, to some extent, dilute their own 'socialist' criterion and hand over the thought leadership mantle to the Congress.
Therefore, they are unlikely to greet NyAY with huge enthusiasm.
The Congress can certainly boast of the success of MNREGA. It is important to study NyAY for its merits now. (Source: Reuters)
Rahul Gandhi's challenge will be on how to shift gears from a negative campaign against Modi to a positive campaign for his own affirmative agenda. To try and fire from both cylinders might end up in mixed messaging that would take the punch out of the campaign.
This is something that Rahul Gandhi's communication team will have to deftly manage.
Ironically, for NyAY to succeed, any government will have to rely heavily on Aadhaar. So, the Congress, if it comes to power, should be grateful that Narendra Modi did not disband the UID mission.
Equally, if Modi comes back to power, he would do well to examine NyAY on its merits — as he did for Aadhaar and MNREGA, rather than throw the baby out with the bathwater.
Abhijit Banerjee's grandfather was a legendary headmaster of South Calcutta's iconic Ballygunge Government High School. He looked at some of us studying in so-called 'English medium schools' with contempt. His trick question for us was, "What is the passive voice of 'he killed himself'?"
Rahul Gandhi has to straddle between the 'active' and the 'passive' and balance Rafale versus NyAY in the last lap to May 2019.
Also read: The 'Tashkent Files' trailer: Whom will a 'dead PM' help now?
The views and opinions expressed in this article are those of the authors and do not necessarily reflect the official policy or position of DailyO.in or the India Today Group. The writers are solely responsible for any claims arising out of the contents of this article.